Soltek EQ3801: Chassis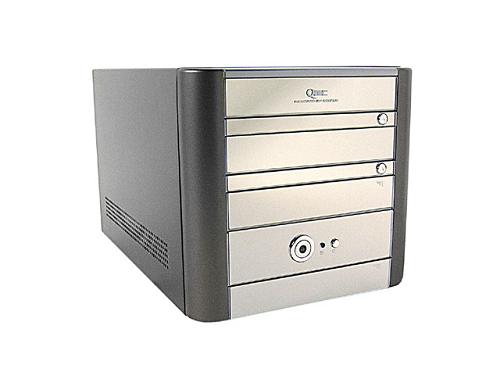 The attractive black version of the Soltek EQ3801.
The front panel of the Soltek EQ3801 contains a standard set of I/O ports, specifically two USB 2.0 ports, one IEEE1394 port, and the USB card reader. The panel itself is reflective, essentially mimicking a mirror. The sides and top of this SFF are completely white, nicely complementing the mirror-like front of the EQ3801. Thankfully, Soltek doesn't replace the floppy drive bay with a 6in1 card reader, something on which we continue to be critical of manufacturers. As you can see, you won't encounter any such problem with the EQ3801.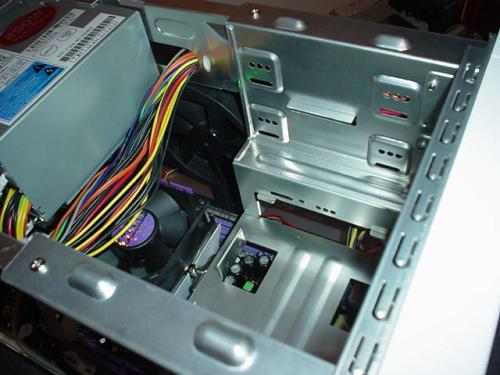 There are two ATAPI drive bays for your optical drives of choice. Any CD-RW, DVD-ROM/RW, or CD-ROM will suffice. Installing two ATAPI drives is indeed a tight fit, leaving very little room between components and cables in general. But that's to be expected from an SFF; its purpose isn't to be roomy or to have every possible feature and option available, but rather to be small (yes, stating the obvious, I know).
There's a good deal of room for two HDDs as well. We outfitted the EQ3801 with two Seagate 120GB 7200.7 hard drives and were happy to see that they weren't too cramped and cables weren't too hard to route to their destinations. All in all, in addition to the two ATAPI drives, everything fit well enough and all four drives (both optical drives and both hard drives) worked perfectly. The rounded IDE cables included with the system didn't fail or degrade performance as has been reported by some users in the past.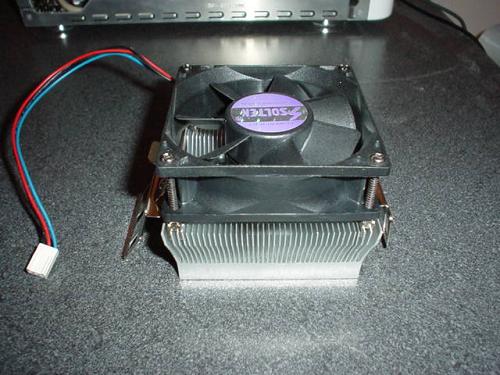 Unlike other SFF manufacturers who use specialized heatpipe cooling, Soltek uses the standard Socket 754 bracket and HSF. The EQ3801's B9A-FGR motherboard is just a smaller version of a standard Socket 754 motherboard with its components and layout rearranged to fit neatly and conveniently into a SFF. The base core of the EQ3801's HSF is copper and its fan spins below 2000 RPM regularly, as dictated by the BIOS' fan speed control option. This allows for something most SFF users greatly desire, quiet operation, which is one of the better aspects about this SFF.
Speaking of quiet operation, Soltek has constructed the EQ3801 with a pretty nifty cooling system. It contains a rear exhaust fan dubbed the STF, or System Tunnel Fan, which pulls in hot air from inside your case and discharges that air back out the rear of the case. It does its job quite famously, and at a reasonably low noise level too. The PSU fan was also very quiet, and was cool to the touch. Combined with the quiet operation of the CPU HSF, these qualities make the EQ3801 quite the silent system. In general, system temperatures were low and no one component was too hot to the touch. This is an impressive feat, as SFFs are notoriously difficult to keep cool. Unfortunately, we couldn't do any controlled testing for noise or temperature readings to quantify these subjective findings, but we are currently working hard to bring those results to you shortly. For more information on how we have measured dB readings in the past, take a look at
this page
of an SFF article we released a while back.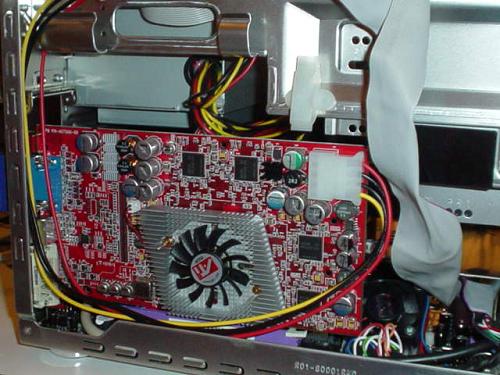 Like most good SFFs these days, the Soltek EQ3801 left enough room for high end video cards such as the Radeon 9800 Pro or GeForce FX 5900 Ultra. We were, therefore, able to fit a standard 128MB 9800 Pro inside the EQ3801 quite easily. Even though both ATI and NVIDIA's high end cards are still primarily 9800 Pro cards or 5900 Ultra cards, their next generation cards are just now starting to hit retail. ATI's X800 and their various iterations have been on the market for several weeks in low quantity, and we were able to test one out successfully inside the EQ3801. Just as with the 9800 Pro, the X800 was easy to install and didn't really take up any space that could interfere with other components in the EQ3801. Unfortunately, since GeForce 6800 cards aren't available in retail (or are only barely trickling in), and because we couldn't get the few samples that are available at the moment, we were unable to confirm whether a GeForce 6800 of any kind would fit in the Soltek EQ3801's AGP slot. Obviously, we realize that a GeForce 6800 Ultra won't fit due to its two slot design, assuming manufacturers follow reference design. But a slimmed down version of the GeForce 6800 Ultra, like say a GeForce 6800GT,
should
fit.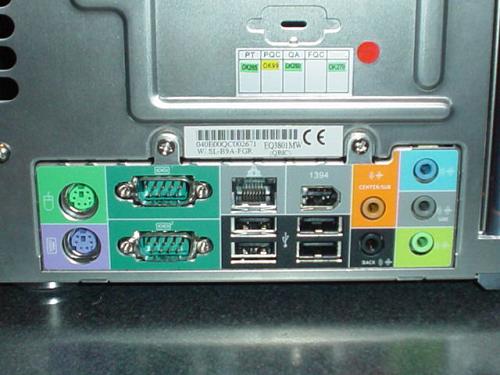 The EQ3801 includes a good collection of I/O ports in its back panel. These include such ports as four USB 2.0 ports, one IEEE1394 FireWire port, one SPDIF out port, audio ports (Mic in, Line in, Line out), and two serial ports. We like that Soltek keeps the serial ports here because they are still very necessary for users who have old devices that they still find incredibly useful in everyday activities.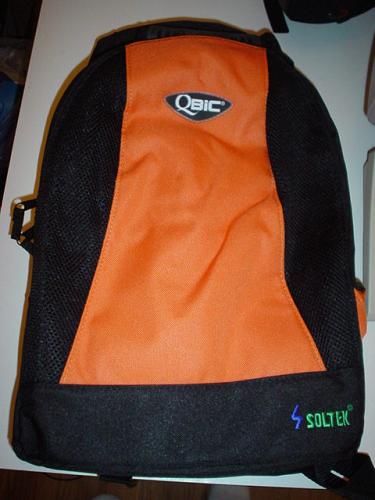 Bundled with the EQ3801 is a traveling backup for those who want to take their SFF to events such as LAN parties or simply those who desire their SFF to be at least partially portable. While a SFF certainly isn't as portable as a laptop, it is still much more portable than a full size ATX tower. The major problem with transporting SFFs, obviously, is the display issue, unless you don't mind lugging around an LCD or CRT of course.
Another part of Soltek's bundle includes your standard set of cables, screws, floppy disk, etc. Some of the cables bundled with the EQ3801 are two SATA cables, one IDE cable, and one Floppy cable. The IDE cable is actually a variation of the rounded cables that you find bundled in desktop motherboards. This is exceedingly useful because rounded cables make it much easier to route and organize cables within a system as cramped as the dimensions of a SFF system (and yes, even the Floppy cable is round). The Floppy disk included with the EQ3801 bundle is NVIDIA's Windows XP/2K RAID driver, version 5.10.2600.0415_a. This driver is for the Serial ATA RAID functionality found in NVIDIA's nForce3 250Gb chipset. Like most other onboard Serial ATA technologies, this system supports RAID 0 and RAID 1.