Display Analysis
Lenovo's default panel in the ThinkPad A285 is a 1366x768 TN panel, while a 1920x1080 IPS panel is offered as an upgrade option. I find it hard to believe that anyone really wants the TN, but clearly people are still buying it to save a few dollars, especially when they buy in bulk. Some day laptops that cost this much won't ship with TN displays, but that day is not today. Luckily the review unit is the IPS panel, which also offers touch.
Unlike most device makers, Lenovo still offers a matte coating on their touch displays, which you can see in the image below.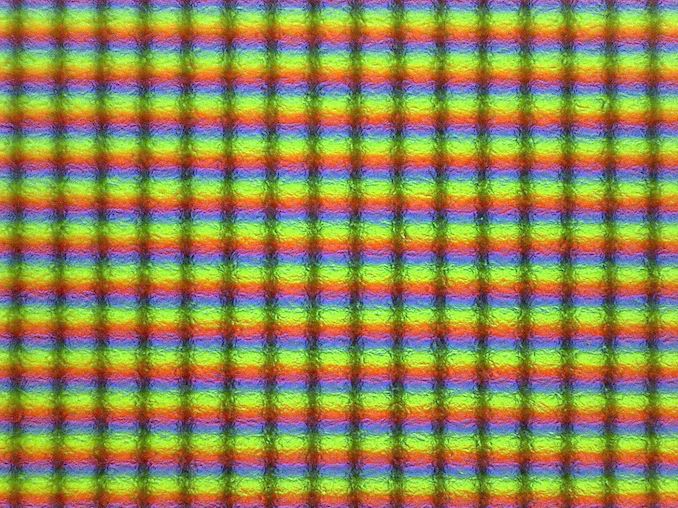 The matte coating blurs the pixels, making it not quite as crisp as a clear coating, but in the office, matte still has a lot of support. It generally helps with lighting, although a quality anti-reflective coating can help as well.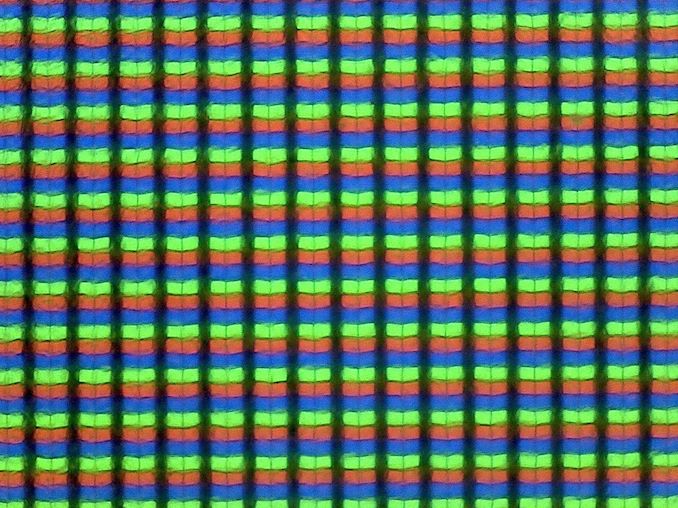 While not high-DPI by most PC standards, the 12.5-inch panel still offers a respectable 176 pixels per inch. There is always a trade-off between resolution and battery life, although TFTs like LTPS and IGZO can help claw back some of the extra power drain.
To measure the display accuracy and characteristics, we use SpectraCal's CalMAN software suite, along with an X-Rite i1 DisplayPro colorimeter for brightness and contrast readings, and an X-Rite i1Pro2 spectrophotometer for color accuracy testing.
Brightness and Contrast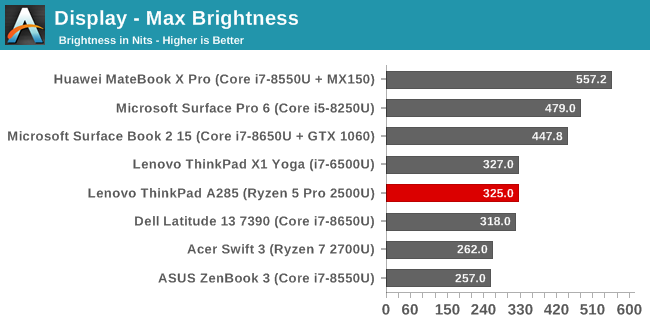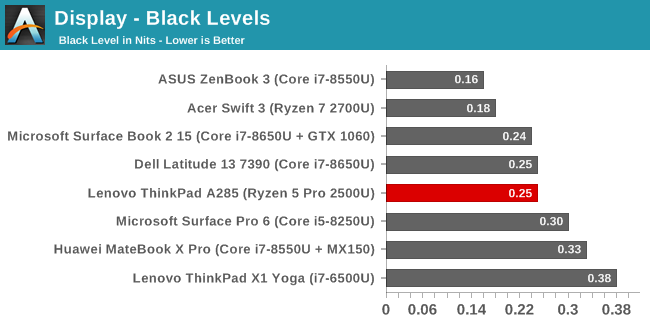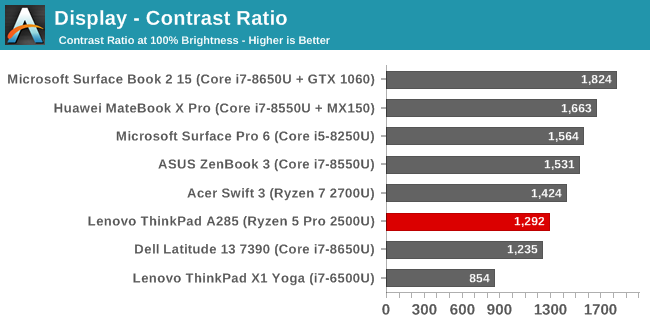 The ThinkPad A285 is rated for 300 nits, and manages to achieve a bit over that at 325. It isn't the brightest device, but the anti-glare coating should help outdoors. The black levels are quite good though, leading to a decent contrast of almost 1300:1. The brightness also goes down to an impressive 3.4 nits.
Grayscale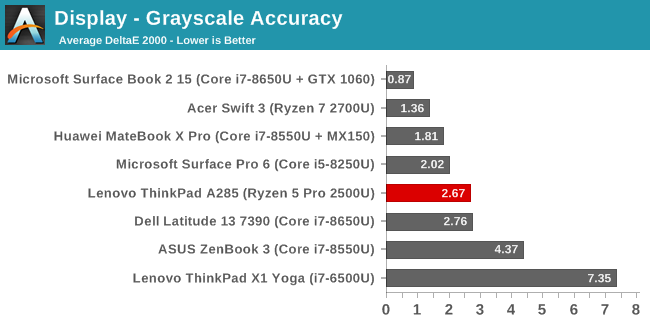 The laptop has a good average grayscale result, although there are definite issues when looking past the averages. The red drops off quite a bit before 100% white, while the blue is too high, leading to a fairly cool display temperature of 7400. The gamma is also too high for most of the range, but then falls off as the brightness gets close to 100%. It isn't terrible, but it's pretty average for an IPS panel and clearly there's no calibration here.
Gamut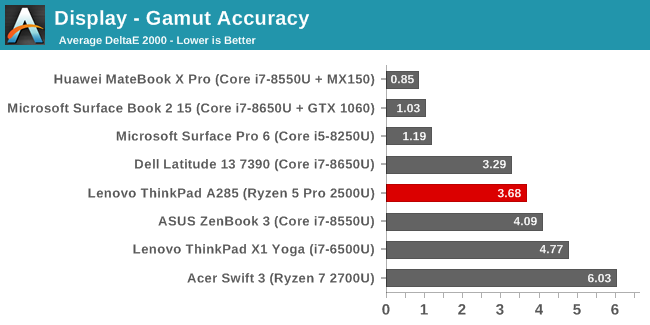 When looking at the sRGB gamut accuracy, we can see that blue is well beyond the correct amount, which pulls magenta off as well. Red is not quite able to hit 100% sRGB, and green is close but slightly out of line.
Saturation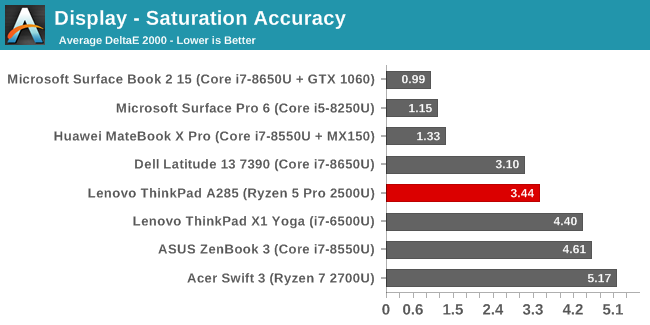 Looking at the 4-bit spaced saturation sweep, you can see that there's a consistent error level which increases linearly to the 100% levels. None of the colors are in their range, although the average error level isn't too bad since it's much closer near the black end of the scale.
Gretag Macbeth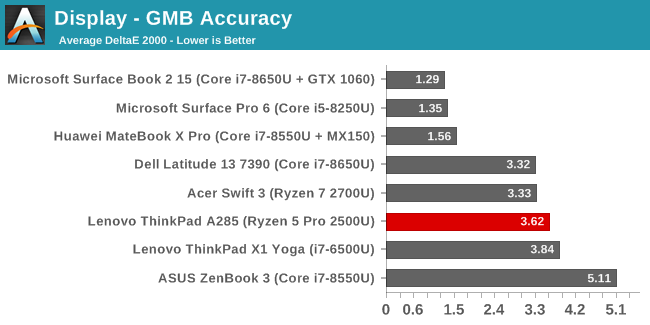 The Gretag Macbeth colorchecker tests various colors, and not just the primary and secondary values. It also includes the important skin tones. As you can see in the graph, there is quite a bit of error on some colors, and others are much closer to where they should be.
Relative Result

This image shows the requested color on the bottom, and the relative result on the top that the display output. The result is relative due to errors in your display, but it does make it fairly clear as to the color drawbacks with this display.
Display Conclusion
The TN option would be better for everyone if it was just gone, so lets just pretend it is. The IPS is very much just a middle of the road display. It offers a good choice in resolution, but it's not a high-DPI panel. The IPS display offers good off-axis viewing and good contrast levels, but it's not the brightest around. The color accuracy isn't great, but it isn't terrible either. If you're just doing office tasks, then there's likely no issues here regardless, and offering the matte coating on a touch display is something that most office workers will appreciate.