Office Productivity Performance - SYSMark
SYSMark's Office Productivity suite consists of three tests, the first of which is the Communication test. The Communication test consists of the following:
"The user receives an email in Outlook 2002 that contains a collection of documents in a zip file. The user reviews his email and updates his calendar while VirusScan 7.0 scans the system. The corporate web site is viewed in Internet Explorer 6.0. Finally, Internet Explorer is used to look at samples of the web pages and documents created during the scenario."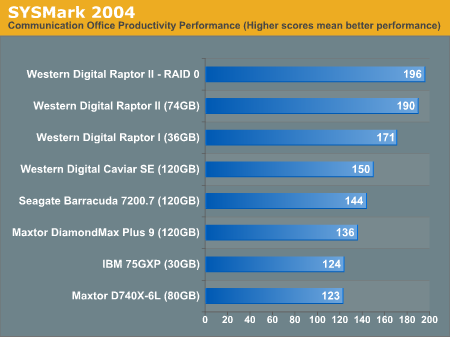 The Communication test generally shows decent differences between drives, but we see here that RAID-0 brings just over a 3% performance boost. In one of our most disk-influenced tests of the suite, the nail is beginning to shut the coffin for RAID-0 on the desktop.
The next test is Document Creation performance, which shows very little difference in drive performance between the contenders:
"The user edits the document using Word 2002. He transcribes an audio file into a document using Dragon NaturallySpeaking 6. Once the document has all the necessary pieces in place, the user changes it into a portable format for easy and secure distribution using Acrobat 5.0.5. The user creates a marketing presentation in PowerPoint 2002 and adds elements to a slide show template."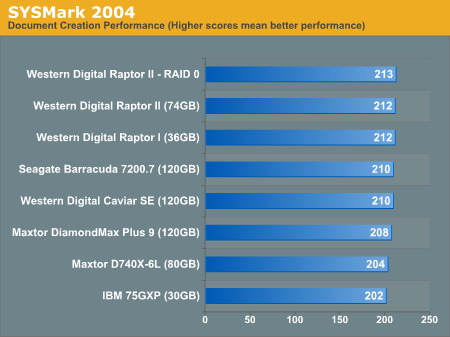 Once again, we see identical performance between the RAID-0 and single drive setups.
The final test in our Office Productivity suite is Data Analysis, which BAPCo describes as:
"The user opens a database using Access 2002 and runs some queries. A collection of documents are archived using WinZip 8.1. The queries' results are imported into a spreadsheet using Excel 2002 and are used to generate graphical charts."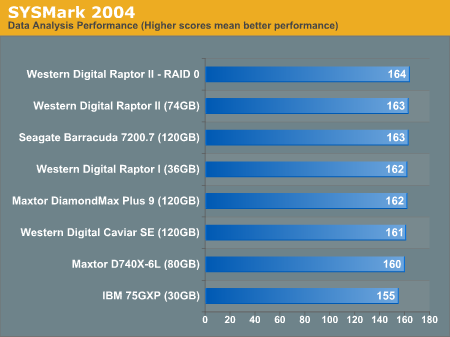 To finish off our individual SYSMark tests, our comments are little more than echoed once more with these results; RAID-0 does nothing for desktop performance.