AnandTech Storage Bench - Heavy
Our Heavy storage benchmark is proportionally more write-heavy than The Destroyer, but much shorter overall. The total writes in the Heavy test aren't enough to fill the drive, so performance never drops down to steady state. This test is far more representative of a power user's day to day usage, and is heavily influenced by the drive's peak performance. The Heavy workload test details can be found here. This test is run twice, once on a freshly erased drive and once after filling the drive with sequential writes.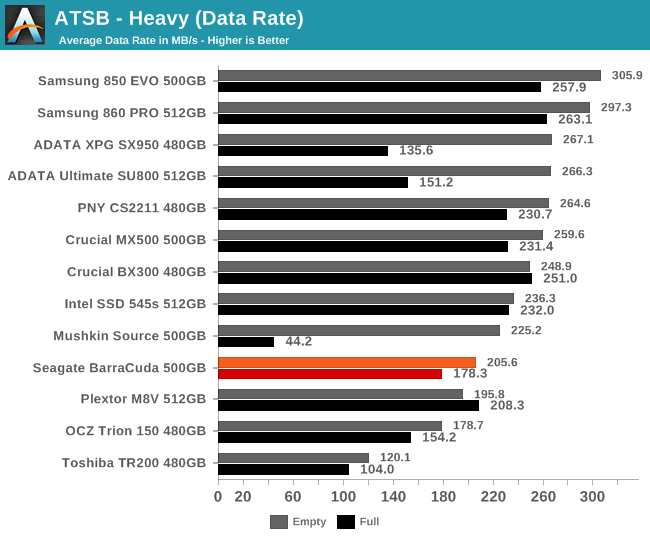 The Seagate BarraCuda's average data rate on the Heavy test is lower than normal for mainstream TLC SATA drives. The Plextor M8V performs similarly, suggesting that the Toshiba 3D TLC NAND is a more important contributor to this poor performance than the aging Phison S10 controller that the BarraCuda uses. Overall performance from the BarraCuda doesn't suffer much when the test is run on a full drive, but that's also generally true of current-generation mainstream drives.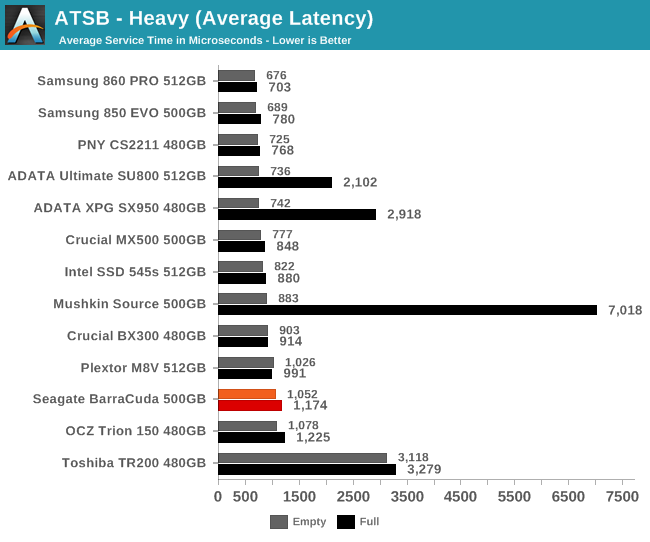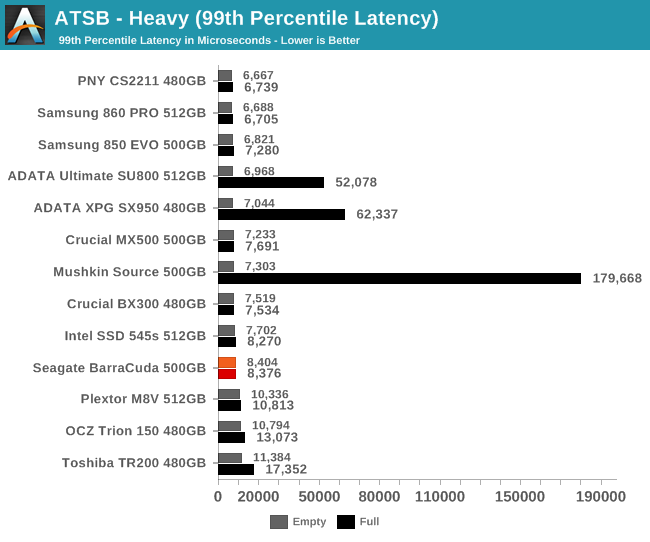 The average and 99th percentile latency scores from the BarraCuda are a bit on the high side, but the gap between the BarraCuda and the fastest SATA drives is less than a factor of two. More importantly, the BarraCuda is not a severe outlier even for the full-drive test run, and it does not appear that the BarraCuda suffers from any severe stuttering even under intense workloads.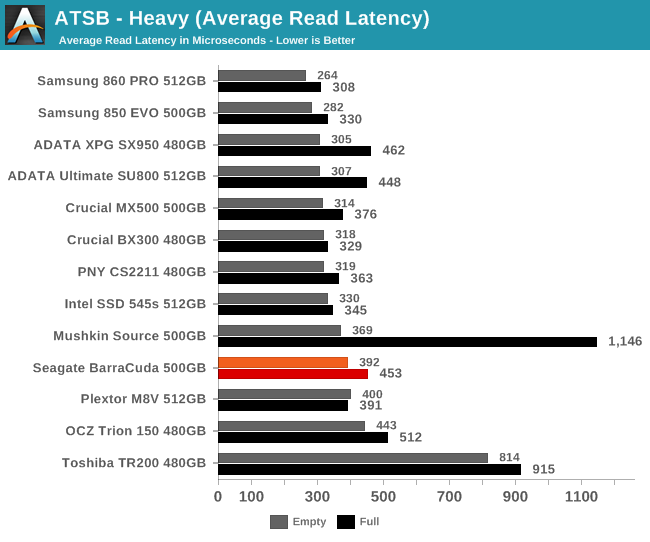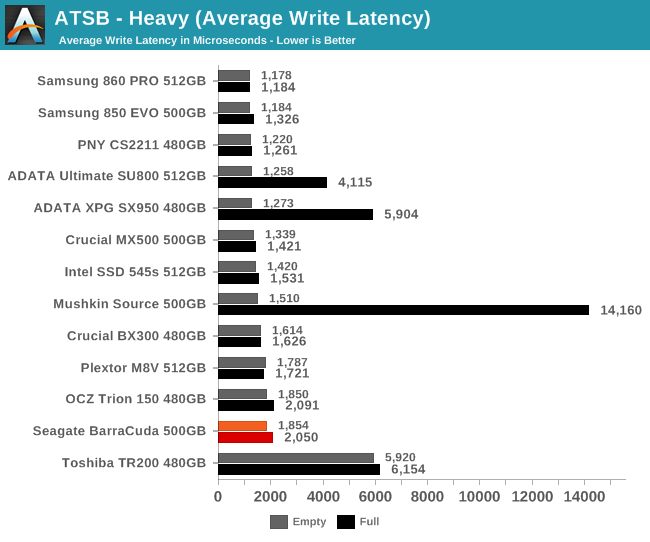 The average read and write latencies for the BarraCuda aren't vastly slower than other mainstream drives, but the BarraCuda does rank near last place among its primary competitors, with write latency being a bit more of a problem than read latency.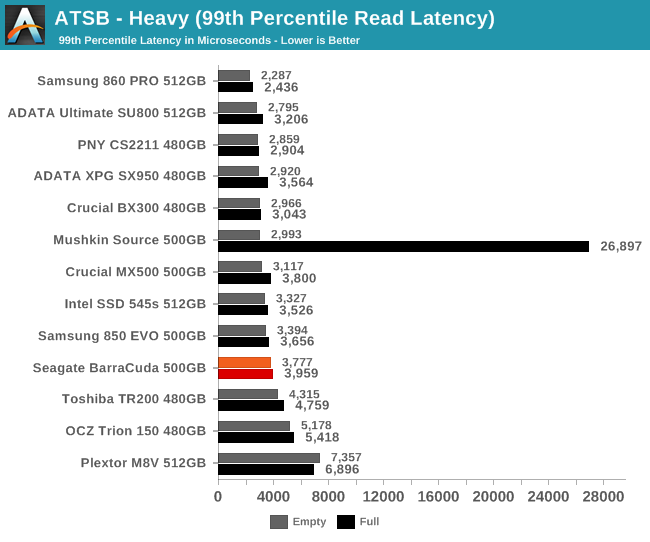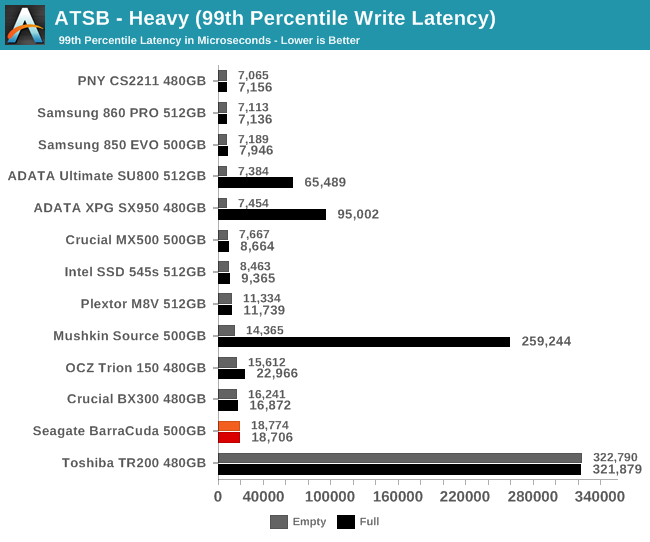 The 99th percentile read latency from the BarraCuda is only slightly worse than other mainstream TLC drives, and fortunately much better than the Plextor M8V's score. The BarraCuda's 99th percentile write latency is worse off, with more than twice the latency of its primary competition.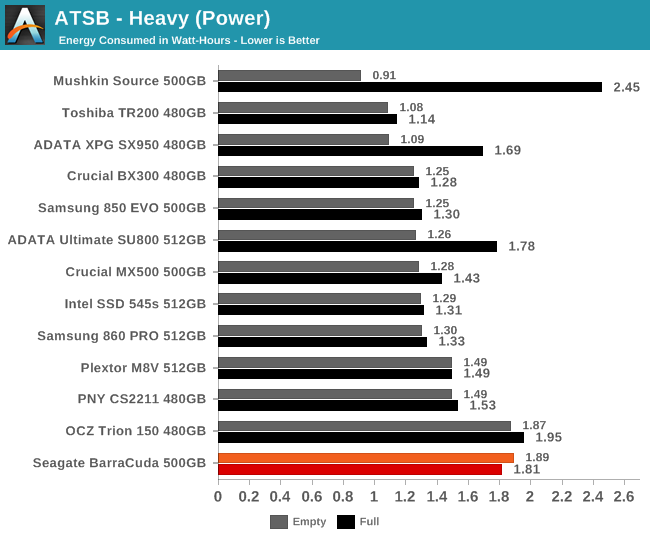 The Seagate BarraCuda is more or less tied with the planar TLC-based OCZ Trion 150 for worse overall energy efficiency on the Heavy test, though the DRAMless Mushkin Source is so slow on the full-drive test run that its energy usage outstrips everything else.