Overclocking the Athlon 200GE
In recent weeks, motherboard manufacturers have been releasing BIOS firmware that enables overcooking on the Athlon 200GE. It appears that this has come through an oversight in one of the base AMD firmware revisions that motherboard vendors are now incorporating into their firmware bundles. This is obviously not what AMD expected; the Athlon is the solitary consumer desktop chip on AMD's AM4 platform that is not overclockable. Since MSI first starting going public with new firmware revisions, others have followed suit, including ASRock and GIGABYTE. There is no word if this change will be permanent: AMD might patch it in future revisions it sends out to the motherboard vendors, or those vendors will continue to patch around it. As it stands, however, a good number motherboards can now offer this functionality.
The question does arise if there is even a point to overclocking these chips. They are very cheap, they usually go into cheap motherboards that might not even allow overclocking, and they are usually paired with cheaper coolers. The extra money spent on either an overclocking enabled motherboard or even spending $20 on a cooler might as well be put into upgrading the CPU to a Ryzen 3 2200G, with four cores and better integrated graphics, which comes with a better stock cooler and stomps all over Intel's Pentium line, and is also overclockable without special firmware. The standard response to 'why overclock' is 'because we can', which if you've lived in that part of the industry is more than enough justification.
Given that our resident motherboard editor, Gavin, has been on a crusade through 2018 looking at the scaling performance of the AMD APUs, I asked if he could do a few overclocking tests for us.
Overclocking the 200GE
Enabling our MSI motherboard with the latest overclocking BIOS was no different to any other BIOS flash, and with it, the multiplier options opened up for the chip. Even though AMD's chips can go in quarter multiplier steps, we could only push this processor in full multiplier jumps of 100 MHz, but with a little bit of voltage using our usual overclocking methodology, we managed to get 3.9 GHz without any trouble.
To be fair, we are using a good cooler here, but to be honest, the thermals were not much of a problem. Our practical limit was the voltage frequency response of the chip at the end of the day, and our 3.9 GHz matches what other people have seen. The base frequency is locked, so there is little room for fine adjustments on that front.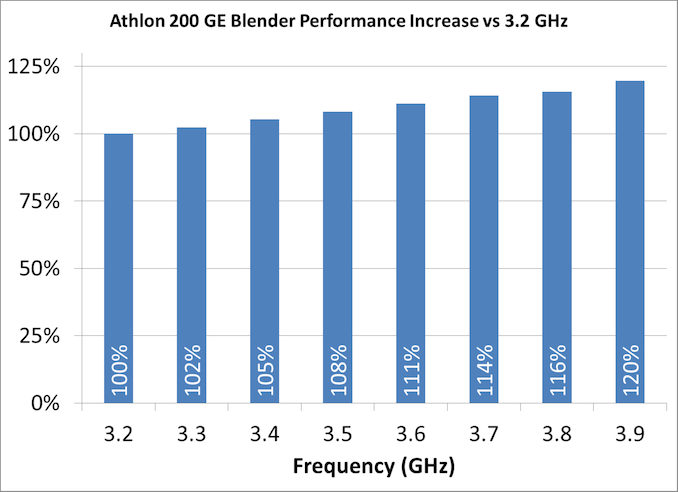 At each stage of the overclock, we ran our Blender test. The gains went up almost linearly, leading to a 20% performance throughput increase from the stock frequency to the best frequency.
Thoughts
A 21 percent performance increase across the range of benchmarks would put the 200GE either on par with Intel on most tests or even further ahead on the tests it already wins. This now changes our conclusion somewhat, as explained on the next page.
If you want to see a full suite test at the overclocked speed, leave a comment below and we'll set something up in January.