Overall System Performance - SYSMark
SYSMark 2004 is divided into two separate suites: Internet Content Creation and Office Productivity. What makes SYSMark an ideal hard disk benchmark is that its scores are totals of response times, meaning that the benchmark measures how long the system takes to respond to a task (e.g. how long before a search and replace is completed after it is initiated) and sums up all such response times to generate a score. This score is generated for six total subcategories: three under Internet Content Creation and three under Office Productivity.
For the most part, SYSMark is CPU/platform bound, but we will see some variations in performance according to disk speed; at the same time, there are a couple of benchmarks within SYSMark that are heavily disk dependent.
First, we start with Internet Content Creation performance; the first category that we will deal with is 3D Content Creation. The tests that make up this benchmark are described below:
"The user renders a 3D model to a bitmap using 3ds max 5.1, while preparing web pages in Dreamweaver MX. Then the user renders a 3D animation in a vector graphics format."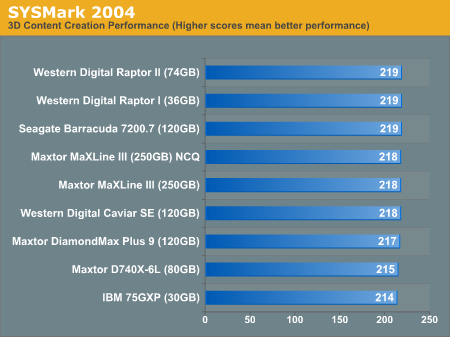 With no real performance differences among the drives here, the MaXLine III performs on par with the rest of the contenders.
Next, we have 2D Content Creation performance:
"The user uses Premiere 6.5 to create a movie from several raw input movie cuts and sound cuts and starts exporting it. While waiting on this operation, the user imports the rendered image into Photoshop 7.01, modifies it and saves the results. Once the movie is assembled, the user edits it and creates special effects using After Effects 5.5."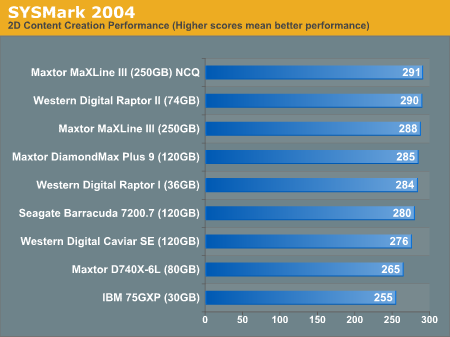 Once again rising to the top, the MaXLine III manages to slightly outperform the Raptor. Here, we see that NCQ does give us a slight performance boost, but nothing significant at all.
The Internet Content Creation suite is rounded up with a Web Publishing performance test:
"The user extracts content from an archive using WinZip 8.1. Meanwhile, he uses Flash MX to open the exported 3D vector graphics file. He modifies it by including other pictures and optimizes it for faster animation. The final movie with the special effects is then compressed using Windows Media Encoder 9 series in a format that can be broadcast over broadband Internet. The web site is given the final touches in Dreamweaver MX and the system is scanned by VirusScan 7.0."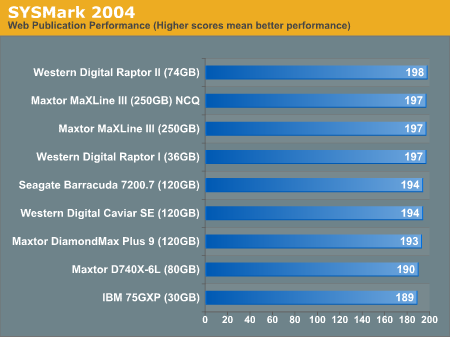 The Raptor and the MaXLine swap positions, but once again, all of the contenders perform about the same here.