Multitasking Performance
As we mentioned earlier and as we have seen thus far, NCQ does basically nothing for desktop applications, games and just about anything you'd use your desktop PC for. However, where NCQ can shine is in multitasking environments where the disk access patterns are a little more random. We could have very easily illustrated such a situation using a synthetic benchmark, but staying true to our commitment to focus on real world benchmarks for hard drives, we instead turn back to Business Winstone 2004.
Business Winstone 2004 includes a multitasking test as a part of its suite, which does the following:
"This test uses the same applications as the Business Winstone test, but runs some of them in the background. The test has three segments: in the first, files copy in the background while the script runs Microsoft Outlook and Internet Explorer in the foreground. The script waits for both foreground and background tasks to complete before starting the second segment. In that segment, Excel and Word operations run in the foreground while WinZip archives in the background. The script waits for both foreground and background tasks to complete before starting the third segment. In that segment, Norton AntiVirus runs a virus check in the background while Microsoft Excel, Microsoft Project, Microsoft Access, Microsoft PowerPoint, Microsoft FrontPage, and WinZip operations run in the foreground."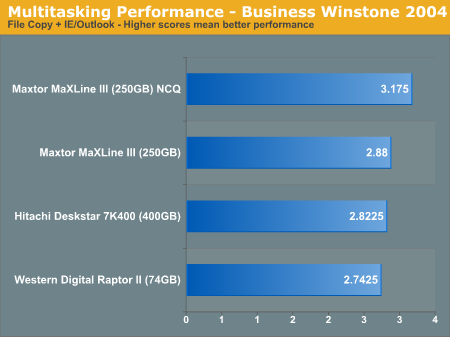 Without NCQ enabled, the MaXLine III performs about on par with another very fast 7200RPM drive - Hitachi's new 400GB 7K400 (we've got a review coming soon). The 5% performance difference between the MaXLine III and the Raptor is a bit larger, but still not too great, but enabling NCQ changes all of that.
The impact of NCQ is tremendous in this test, increasing the real world system performance of our test bed by an incredible 10%. That's more than what most processor upgrades will give you. The beauty of this test is that it is definitely real world, and there are a number of times where a similar situation may occur during your normal system use.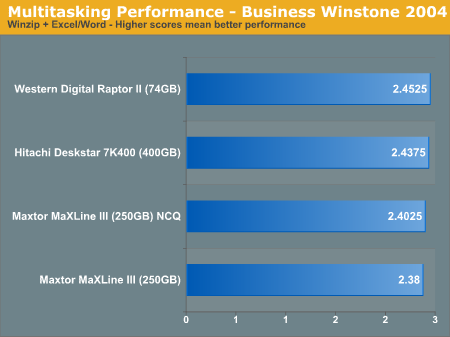 Unfortunately, it doesn't look like every multitasking scenario can receive as great of a benefit from NCQ. Here, it helps Maxtor a bit, but not enough to propel the MaXLine III as far as it did in the last test. Here, we see about a 2% difference between the Raptor and the MaXLine III, definitely nothing to write home about...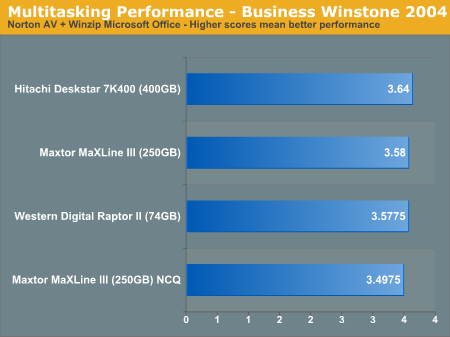 ...and not all multitasking scenarios will actually show a performance increase, thanks to NCQ. Here, we see a slight performance drop - but again nothing noticeable (~2%).