Celeron D vs. Celeron
As the following graph shows, over all our benchmarks, the new Celeron D outperforms the Northwood based Celeron even when clock speeds and FSB speeds are equal. This leaves only the core improvements and extra L1/L2 cache as variables in performance difference.
We would be happy with a small performance increase considering we first expected a performance drop. Of course, the reality is that most of our benchmarks see more than 10% performance increases (with one improving over 25%).
For these benchmarks, both the Celeron D and the Celeron were run at a 100 MHz FSB with a 20x multiplier.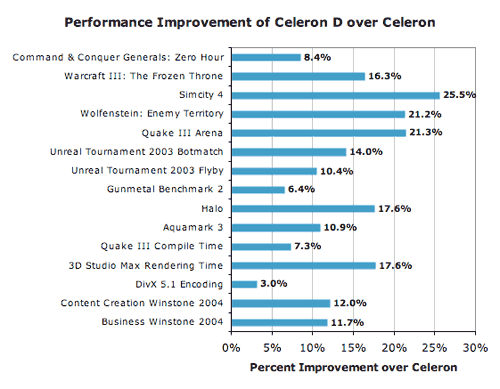 We definitely didn't see numbers like this when comparing Pentium 4 E to Northwood. But enough ado about this. Now let's see how Intel's new Celeron really stacks up.