Asus Breaks the Lock . . .
Asus is one of the largest motherboard makers in the world, and they were also the company that first brought PAT-like features to the 865 chipset. It is probably apropos that Asus is also one of the companies that has apparently broken the Intel Overclock Lock. We say "apparently" because there are still questions after our tests as to whether the lock is completely bypassed by Asus or anyone else.
To complicate matters further, the rumor mill has it that the overclock lock only affects retail locked chips, and not the unlocked Engineering Samples that Intel supplied with their press evaluation kits. Fortunately, we have a retail 3.2 chip in addition to the 3.6 ES supplied by Intel. This allowed us to determine if this rumor has any merit, or if it is just speculation.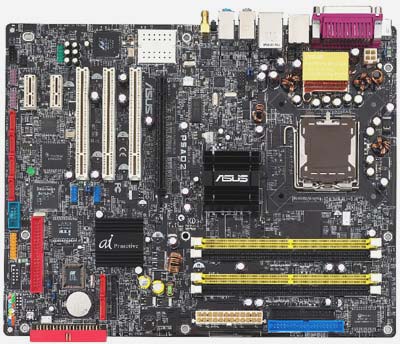 To test whether or not Asus has broken the lock, we benchmarked both the 3.2E and the 3.6 ES on the Asus P5AD2 Premium motherboard. The 3.2E was overclocked to the highest overclock that we could achieve adding no more than 0.1V to the stock 1.3875V voltage. We then found the highest overclock we could achieve with the 3.6 ES at the base speed of 3.6 (18x200). We also tested for the highest overclocks at lower multipliers to see if the overclock lock is truly bypassed.
 Asus P5AD2 (Intel 925X) - Highest Stable Overclock - Retail 3.2
 CPU
 Multiplier
 Voltage
 Highest FSB
 CPU Speed
 % Overclock
3.2 Retail
16
1.425V
992 (248)
3968
24%
Asus certainly cracked the 10% overclock lock with their P5AD2. In fact, at first glance, it appears that taking a 3.2 to over 4Ghz is allowing the CPU to do all it is capable of doing with air cooling.