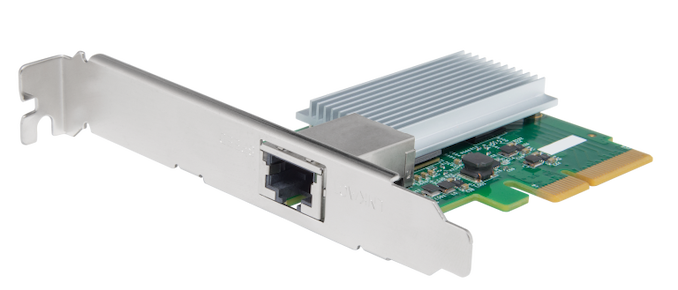 One of the interesting elements in NBase-T networking is how and when companies are releasing new multi-gig 2.5G+5G+10G controllers to the market. This week Buffalo lifted the lid their newest card, which is using a unique controller implementation we've not seen in the wild before.
The LGY-PCIE-MG expansion card is a PCIe 2.0 x4 card designed for commercial systems with a standard RJ-45 port but capable of 1G, 2.5G, 5G and 10G networking connectivity. The key part of the card, the MAC and PHY, comes from a combination of a Tahuti Networks TN4010 multi-speed MAC and Marvell's Alaska M 88E2180 PHY. Up until this point, any multi-gig Base-T working implementation has been using Aquantia solutions, or we've recently seen Realtek controllers for 2.5G, but now we have a true second player in the multi-gig space. The Marvell controller was actually announced back in May 2017, so it seems there has been a long lead time before coming to market. The obvious players missing from this set are Broadcom, Qualcomm, and Intel.
The Buffalo LGY-PCIE-MG card is designed to work with operating systems from Windows 7 and up, as well as Windows Server 2012 and up. Power consumption is listed in the specification sheet at 6.1W, and has an operating temperature window of 0-55C (which seems low?). The RRP of the card is £155 (UK), which is substantially higher than current Aquantia solutions on the market, which are around £100.
Related Reading