Intel 915G Express
Intel also provided a D915GUX motherboard for evaluation.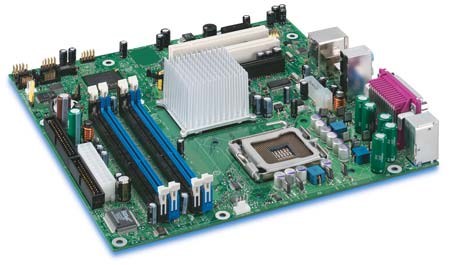 The 915 chipset comes in several flavors, both with and without the new Intel integrated graphics.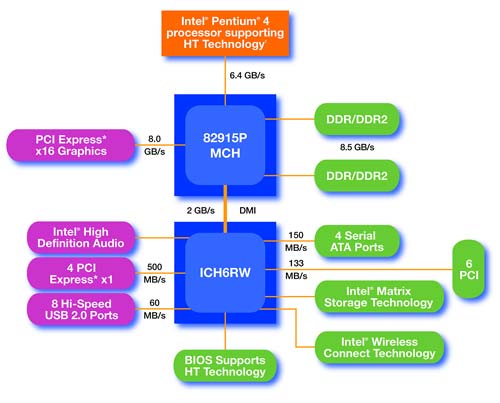 Most mainstream boards geared to AnandTech readers will feature the 915p chipset, without integrated graphics. The chipset is essentially a 925X without the acceleration technology, but with the added option of using either DDR or DDR2 memory, depending on what memory support the manufacturer chooses to provide. Other options are provided by the Southbridge and depend on which ICH6 version is paired with the 915P.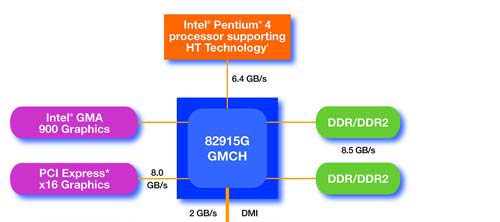 915G offers the same options as 915P, but adds Intel's integrated graphics. Intel has significantly upgraded integrated graphics for the 915 chipset, and now support DirectX 9 and OpenGL 1.4 on their integrated graphics. The new solution is called "Intel Graphics Media Accelerator 900". Intel claims that performance is doubled over Intel Intense Graphics 2. AnandTech takes a closer look at the performance of the new Intel integrated Graphics in the review of the Socket 775 CPU launch and PCIe Graphics that is the companion to this article. There is also an economy version of the 915 called 915GV, with integrated Media Accelerator 900 graphics, but without a PCIe 16X graphics card slot. We suspect that the 915GV will become a favorite of the Corporate desktop.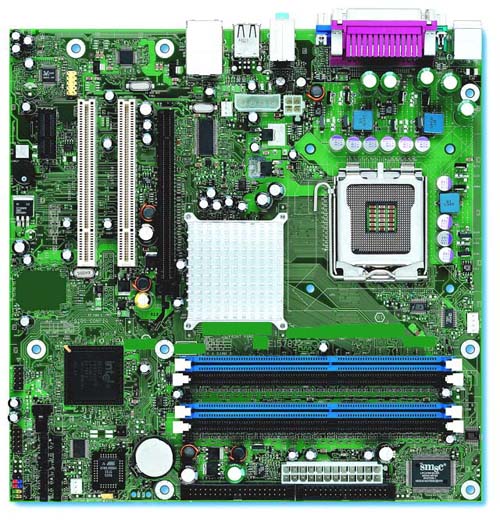 The D915GUX that we evaluated had all of the 915 features in a micro ATX form factor. Despite the smaller size, the D915GUX still provides integrated graphics, plus a PCIe 16X graphics slot, a PCIe 1X slot, and 2 PCI slots. All of the Intel boards, even the 915gux, provide 4 DIMM slots and support up to 4GB of memory. Please also notice that a 24-pin power connector, and not a 20-pin, is also a feature of 915 boards. 20-pin is backwards compatible, however, and the 24-pin is keyed to accept a standard 20-pin connector on one side of the new 24-pin.