Far Cry 5 (DX11)
The latest title in Ubisoft's Far Cry series lands us right into the unwelcoming arms of an armed militant cult in Montana, one of the many middles-of-nowhere in the United States. With a charismatic and enigmatic adversary, gorgeous landscapes of the northwestern American flavor, and lots of violence, it is classic Far Cry fare. Graphically intensive in an open-world environment, the game mixes in action and exploration.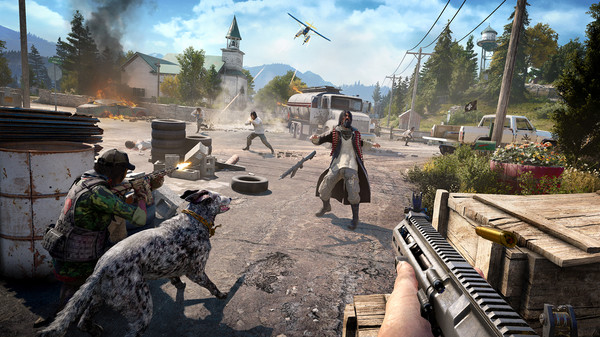 Far Cry 5 does support Vega-centric features with Rapid Packed Math and Shader Intrinsics. Far Cry 5 also supports HDR (HDR10, scRGB, and FreeSync 2). This testing was done without HD Textures enabled, a new option that was recently patched in.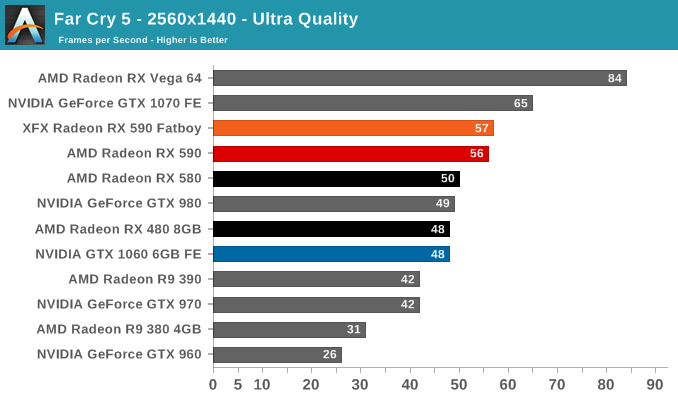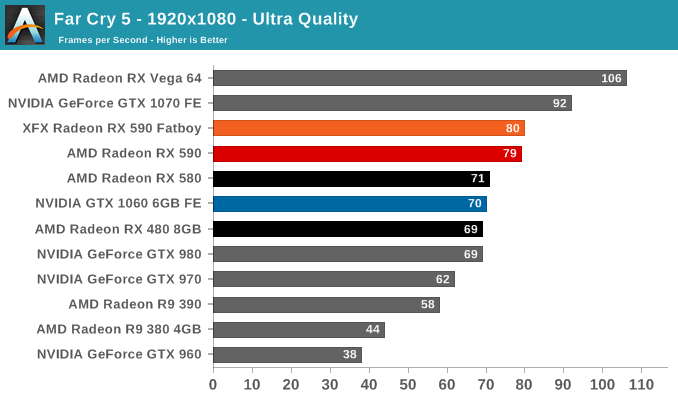 Far Cry 5 shows the same trends as Battlefield 1, with the RX 590 splitting the difference between the GTX 1070 FE and GTX 1060 6GB FE. At 1440p, that level of performance brushes close to the 60fps milestone, not a surprising feat as the original RX 480 8GB proves itself on par with the GTX 1060 6GB FE. Like Battlefield 1, this is the general space that the RX 580 wants to be in, where its performance can act as a spoiler for the GTX 1070 FE and mitigate increased prices and power draw.
As we'll see later, the lower VRAM options in this upper mainstream segment make it clear that 8GB is really the new level of broadly sufficient video memory, especially for cards expected to be in service for a few years. As it so happens, Far Cry 5 released a free 29GB patch adding toggleable HD Textures, which we will look into benchmarking. Generally, high-resolution texture packs are a simple way of increasing visual fidelity without significantly hurting framerates, provided the card has enough framebuffer. This can especially benefit those mainstream cards, particularly those on 1080p rendered on larger displays, as every passing year is often another exercise in figuring out what quality settings to dial down.