Middle-earth: Shadow of War (DX11)
Next up is Middle-earth: Shadow of War, the sequel to Shadow of Mordor. Developed by Monolith, whose last hit was arguably F.E.A.R., Shadow of Mordor returned them to the spotlight with an innovative NPC rival generation and interaction system called the Nemesis System, along with a storyline based on J.R.R. Tolkien's legendarium, and making it work on a highly modified engine that originally powered F.E.A.R. in 2005.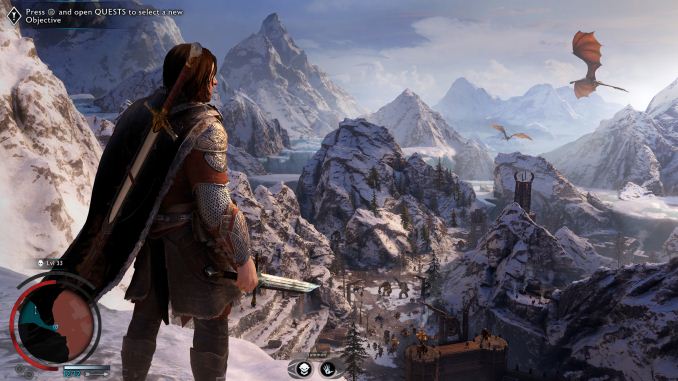 Using the new LithTech Firebird engine, Shadow of War improves on the detail and complexity, and with free add-on high resolution texture packs, offers itself as a good example of getting the most graphics out of an engine that may not be bleeding edge. Shadow of War also supports HDR (HDR10).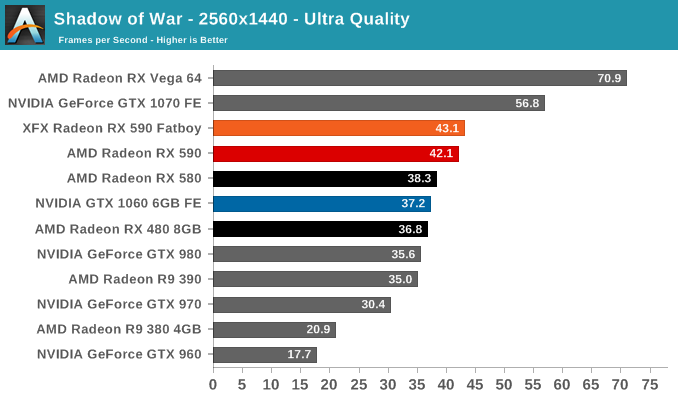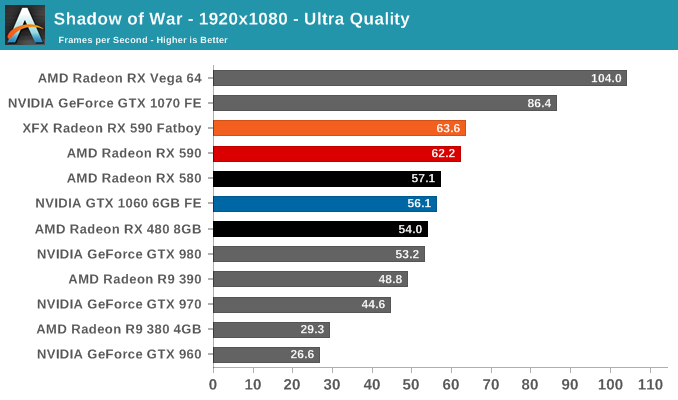 Middle-earth: Shadow of Mordor, to which Shadow of War is the sequel, was notorious for its VRAM-hungry nature. For Shadow of War, we have Ultra textures enabled, which balloons the in-game required VRAM meter to more than 8GB even at 1080p. But as it is largely for texture caching, only a fraction of that 8GB is necessary to keep things going smoothly, so here, the raw GPU performance remains most important. The solidly mainstream GTX 960 and R9 380 are not fast enough in the first place.
In any case, the RX 580 already edges out the GTX 1060 6GB Founders Edition so the RX 590 only adds to that advantage. But the GTX 1070 being so far ahead, the RX 590 is not even close to approaching those framerates.