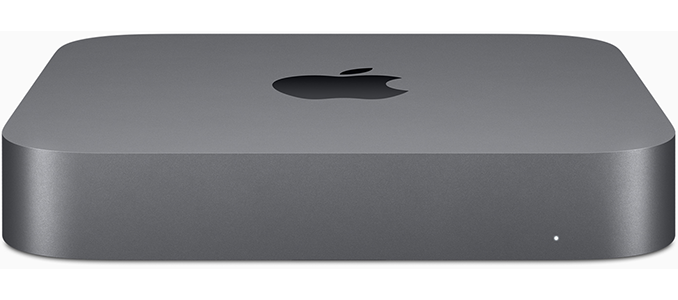 Apple on Tuesday introduced its first new small form-factor PC in four years. The new Mac mini is based on Intel's latest Coffee Lake processors with up to six cores and improves the SFF system in almost all ways possible, making the miniature PC almost as capable as regular desktops. With that said, the considerably higher performance enabled by the new Mac mini also comes at higher price points when compared to the predecessors.
Apple's Mac mini desktops are designed for SOHO market segment as well as everyday workloads that normally do not require very capable hardware. Meanwhile, historically Apple used mobile processors for its Mac mini, which the company found good enough for the market segment. With its 2018 SFF desktops Apple is changing the game here: the company now calls its Mac mini a "workhorse" and therefore uses Intel's custom 8th Gen Core CPUs with four or six cores operating at 4.6 GHz Turbo Boost frequency. In a bid to cool the processor down, Apple uses a brand-new cooling system featuring a blower.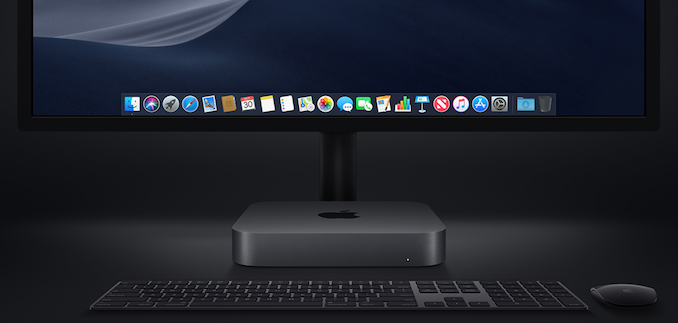 To bring the Mac mini even closer to fully-fledged desktop workstations, the new PCs are outfitted with up to 64 GB of DDR4-2666 memory, up to 2 TB SSD, four Thunderbolt 3 ports to connect an external graphics adapter, a storage system, or an Ultra-HD display, as well as an optional 10 GbE NIC that we expect is based on Aquantia AQtion AQC107 silicon (since there are no other suitable controllers on the market). In addition, the new Apple Mac mini has the company's T2 security chip for encrypted storage and secure boot. Meanwhile the system also has regular USB 3.0 Type-A ports, an HDMI 2.0 header, and a 3.5-mm audio connector for headphones.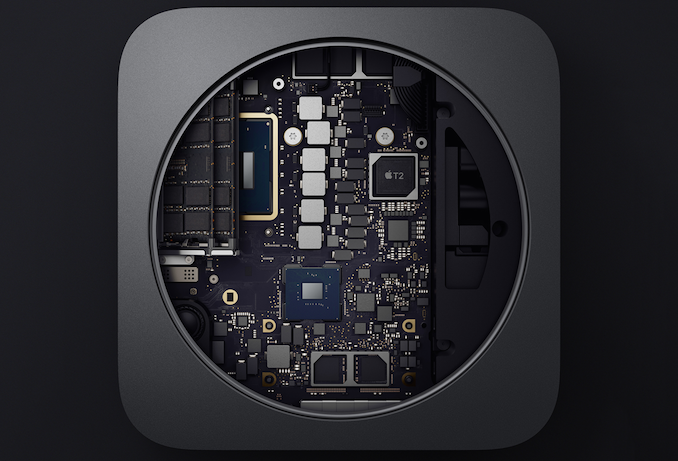 Apple's new Mac mini systems start at $799 for a quad-core Core i3-based model outfitted with 8 GB of DRAM, and 128 GB of storage. Previously Apple's entry-level Mac mini used to cost $499 - $599, enabling people in budget to tap into Apple's Mac ecosystem. Meanwhile, once configuration of the new Mac mini is maxed out with 64 GB of DRAM, 2TB of storage, and a hex-core processor, its price skyrockets to $4,199.
Apple Mac mini Brief Specifications
Mac mini 2018
CPU
Intel Core i3
4C
3.6 GHz
6 MB L3
Intel Core i5
6C
3.0/4.1 GHz
9 MB L3
Intel Core i7
6C
3.2/4.6 GHz
12 MB L3
PCH
?
Graphics
Intel UHD Graphics 630
Memory
8 GB DDR4-2666
Configurable to 16 GB, 32 GB or 64 GB DDR4-2666
Storage
128 GB PCIe SSD
Configuratble to 256 GB, 512 GB, 1 TB, or 2 TB SSD
Wi-Fi
IEEE 802.11ac Wi-Fi + BT 5
Ethernet
1 GbE or 10 GbE
Display Outputs
4 × Thunderbolt 3
Audio
1 × 3.5mm audio out
USB
2 × USB 3.0 Type-A (5 Gbps)
4 × USB 3.1 Gen 2 Type-C (via TB3)
Other I/O
HDMI 2.0
Dimensions
Width
19.7 cm | 7.7"
Height
3.6 cm | 1.4"
Depth
19.7 cm | 7.7"
PSU
~ 150 W (internal)
OS
Apple MacOS Mojave