Samsung PC4000
Samsung is one of the world's largest memory manufacturers, and a new product introduction is usually accompanied by white papers and extensive specifications for the new memory. This introduction of DDR500 memory appears a quieter affair as all we have received was a pair of 256MB DIMMs for testing.
Test DIMMs were a matched pair of PC4000 256MB single-sided DIMMs.
The memory chips used by Samsung in their new DDR500 memory have no identification on the chip itself that would alert us to the their DDR500 rating.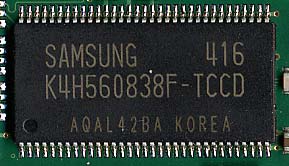 In fact, the chips are stamped with the same ID that we have seen on other Samsung DDR400 parts.
We wish Samsung had provided double-sided DIMMs or 4 SS DIMMs as they did for our
launch review of Samsung DDR466
. Two single-sided DIMMs are a bit slower than 2 double-sided DIMMs or 4 SS DIMMs on the Intel 865/875 platform. That makes the pair of single-sided Samsung DIMMs at a performance disadvantage before we even run any performance tests. We explored this fact in our
Searching for the Memory Holy Grail - Part 2
, and it is also detailed in Intel white papers as shown in the table below from Intel.
 DDR400 (1:1) Performance
 DIMM Configuration
 Single-Channel or Dual-Channel
1
4 DS
Dual Channel
2
2 DS or 4 SS
Dual Channel
3
2 SS
Dual Channel
4
4 SS/DS
Mixed Matched Pairs
Dual Channel
5
Any DS
Single Channel
6
Any SS
Single Channel
It is also normally the case that in the exact same configuration of 2 DIMMs in a dual-channel 512MB total memory will often perform a bit poorer in some benchmarks than 1GB total memory.
Samsung PC4000 Specifications
 Samsung PC4000 Memory Specifications
Number of DIMMs & Banks
2 DS
DIMM Size
Total Memory
256 MB
512MB
Rated Timings
3-3-3
3-4-4-8 SPD at DDR500
Rated Voltage
Unspecified
As one of the world's largest suppliers of memory, Samsung has extensive specifications for their memory chips and DIMMs on their semiconductor website. We were more than a little surprised that a search for the memory chip part number and the DIMM part number indicated the memory to be a 400/333/266 part. It appears that Samsung is either binning standard production chips for DDR500 performance or they are doing modified production runs that will eventually result in a new part number and timings.