AMD's Dual Core Roadmap
AMD also provided us with an updated roadmap, now including the new Dual Core parts: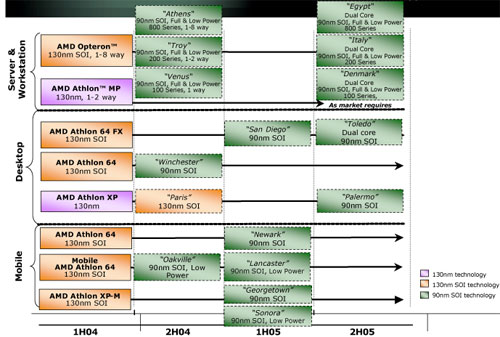 Click to Enlarge
You can see that Egypt, Italy and Denmark are all dual core versions of the 90nm Opteron 800, 200 and 100 series of processors. We'd assume that they will be just dual core versions of their single core 90nm counterparts, Athens, Troy and Venus (which if you will remember from our previous roadmaps are basically smaller 90nm versions of the current Opterons, with no major architectural changes). AMD will offer both full and low power versions of their Opterons in dual core configurations, just like they do today.
The dual core Opterons are expected to hit in the middle of 2005, then later in the 2nd half of 2005 we'll see the first dual core Athlon 64 FX. In 2006 we're expecting AMD to offer dual core versions of other CPUs in their AMD64 lineup as well
We'll update you with more information about AMD's dual core strategy as we receive it.