Introduction
Last year, we took the opportunity to travel with EliteGroup (ECS) and
take an in-depth tour of their production facilities
. On that tour, we had the chance to see PCB and motherboard assembly, as well as system building and testing. After receiving such warm response from that article, we jumped all over the opportunity to visit Abit's Chinese production facilities.
Although motherboards in and of themselves are quite fascinating, the underlying political struggle between China and Taiwan lays the framework for a more interesting modern issue. As we mentioned in last year's ECS factory tour, political indifference between Taiwanese and Chinese governments prohibit Taiwanese companies from investing large amounts of money into Chinese assests; this includes factories, warehouses, etc. Traditionally, companies like Abit simply incorporate the factory as a completely autonomous corporation. Abit uses the corporation, ANCO (now ANCO-Rolly), to outsource production of their motherboards. Even though ANCO-Rolly is a separate corporate entity, they can best be described as Abit's near exclusive business partner for production. Corporations like Rolly operate constantly in sync with Abit, selling assembled boards back to the Taiwanese company at cost. On paper, these companies are technically and completely unaffiliated with each other, but off the record, they behave together like a single conglomerate.
More recently, companies like TSMC have contested Taiwan's limitations on factories in China, but it will be some time before we see smaller companies like Abit make such leaps.
Rolly (pronounced like "Raleigh") sits across the street from ASUS' Chinese production facilities, and down the street from Canon's assembly plant in the Jiansung providence. Even though people commonly claim that these factories are located in Shanghai, they are actually about an hour west of the city in the industrial work district, called Suzhou. Like Shen Zhen, Suzhou is a special city inside China where companies like Abit and Canon are allowed to practice more capitalistic business practices not typically sanctioned in communist China.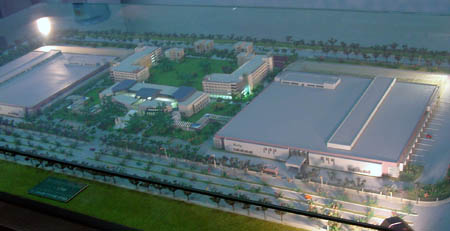 A model of the factory
Click to enlarge.
The plant was built in 1999 with Compaq when Abit received a contract to produce components for Compaq in Southeast Asia. Rolly has 12 SMT lines, about average for a production facility of this size. Most of the practices adopted by the factory in 1999 were revolutionary at the time. Compaq, one of the most conservative and diligent OEMs at the time, worked with Abit to set up one of the most stringent QA programs in the motherboard industry. For those who follow Abit's track record closely, around late 1999/early 2000, Abit's quality in motherboards increased tremendously.