In our
recent Optical Storage coverage from Computex Taipei
, we were very excited to hear about BluRay set top devices sampling in late 2005. BluRay and HD-DVD have some time before they start battling it out as the next accepted DVD Video (DVD-V) successor, but in the meantime, high fidelity audio format wars already began several years ago. As of now, the two strongest formats are DVD Audio (DVD-A) and Super Audio CD (SACD).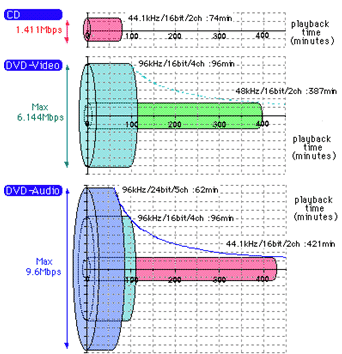 Above, you can see how various existing audio formats compare in terms of bandwidth.
While little known outside enthusiast high fidelity circles, SACD and DVD-A media are already shipping. As you may have guessed, DVD-A is simply higher fidelity audio written to DVD media instead of CD. However, DVD-A has a data rate of almost seven times that of an audio CD. This allows us to encode/playback more channels at higher frequencies and bitrates. DVD-A supports five-channel audio while CD uses only two.
CD
AC97
DVD-V
DVD-A
SACD
Azalia
Sampling Frequency
Stereo
44.1kHz
96kHz
96kHz
192kHz
2822.4K
192kHz
Multi Channels
-
-
48kHz
96kHz
2822.4K
192kHz
Quantization Bits
16 bits
20 bits
16/20/24 bits
16/20/24 bits
1 bit
32 bits
Still Picture Recording
No
-
Yes
Yes
No
-
Media Player
CD
Yes
-
-
-
Yes
-
DVD-V
Yes
-
Yes
-
-
-
DVD-A
Yes
-
Yes
Yes
-
-
SACD (Hybrid)
Yes
-
-
-
Yes
-
Encoding Methods
PCM
-
PCM, DD
PPCM/LPCM
DSD
-
Max. Data Rate
1.41Mbps
12Mbps
6.144Mbps
9.6Mbps
16.8Mbps
48Mbps
DSD - Direct Stream Digital
PCM - Pulse Code Modulation
PPCM - Packed PCM (Lossless)
LPCM - Liner PCM (Scalable)
Azalia, Intel's 8-channel digital audio codec, raises the bar significantly over the aging AC'97 codec. Although Azalia (and other derivative codecs) apply more channels and higher stereo frequency, the most conspicuous feature is a data rate four times that of AC'97. Similar 8-channel audio solutions from VIA will also utilize similar bandwidth and bitrate specifications.
With the newer 8-channel audio codecs, we will be able to listen to multiple DVDs with 5.1 channel audio while operating VOIP/telephony/modem devices on the same digital signal processor (DSP), completely unhindered. Using AC'97 based solutions (including the nForce2 Soundstorm MCP), playing two DVD's with stereo audio is not possible.
Although the newest Intel Alderwood and Grantsdale chipsets have multiple downfalls, audio processing is not one of them. On paper, Azalia audio puts AC'97 to shame and gives VIA's Envy processor a good run for the money. Although many of us will defend our M-Audio cards to the death, perhaps new, integrated hi-fi codecs will raise the bar of the enthusiast market even closer to professional grade audio.