ATI RS480 for AMD Socket 939 Athlon 64
There have been rumors for months that AMD would have a chipset for Athlon 64, and we even saw an ATI chipset for Athlon 64 in a recent roadmap posted at AnandTech. However, we were more than a little surprised to see ULI (formerly ALi and a producer of core logic chipsets) displaying a Socket 939 board for Athlon 64 based on an ATI RS480 Northbridge combined with an ALi Southbridge providing PCI Express.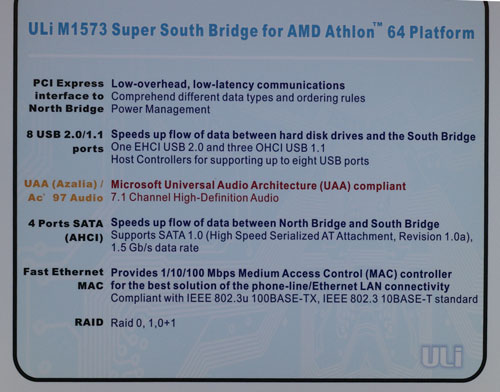 ULI was also showing an RS480/ALi motherboard for the upcoming Intel Socket 775 and live demonstrations of their on-chip Azalia audio.
While the ULI/Ali solutions were really interesting, ULI is one of the smaller players in the core logic market. This, unfortunately, means that no matter how great the product, ULI/Ali will have a hard time getting their solutions to market with the larger board makers.