Overclocking
Last, but not least, we'll take a look at overclocking. While NVIDIA does support overclocking, they have limited actual overvolting, and instead providing the ability to unlock 1-2 more boost bins and associated voltages. Either way, Maxwell 2 and Pascal certainly have much to thank for high clockspeeds; for Maxwell 2, it was a combination of high efficiency and ample overclocking headroom, while Pascal took advantage of the FinFET process to ramp up the clocks to new heights.
Built on the 12nm "FFN" process, Turing doesn't appear to push the envelope spec-wise, although it does introduce GPU Boost 4 and NVIDIA Scanner, both of which are naturally featured in EVGA's Precision tool. Re-designed into the RTX-oriented Precision X1, the utility succeeds Precision XOC, and we've opted to use that tool for our overclocking today. We adjusted the core and memory clocks, as well as the power/temperature limit and percent 'overvoltage.' For the 185W RTX 2070 Founders Edition, this is a 116% TDP limit (215W). We were unable to fully test the new Scanner functionality as it would not save to a profile and crashed on certain button presses, which is somewhat unsurprising given that Precision X1 is still in beta. But as far as NVIDIA's GPU Boost 4 is concerned, it exposes certain boost algorithms to users so that you can manually modify the voltage-frequency curve.
A total of four different overclocks were tested. First was a baseline, consisting of 100% overvoltage and max power/temperature limits. The second was overclocking the GDDR6 memory by 1Gbps. The third was overclocking the GPU by +100MHz; in practice this resulted in observed clocks between 1900 and 1990 MHz. Lastly, all previous adjustments were combined for an overall overclock.
RTX 2070 Founders Edition Overclocking
Stock (FE)
Baseline
Memory OC
GPU OC
All OC
Core Clock
1410MHz
1410MHz
1410MHz
1510MHz
1510MHz
Boost Clock
1710MHz
1710MHz
1710MHz
1810MHz
1810MHz
Max Boost Clock
2160MHz
2160MHz
2160MHz
2160MHz
2160MHz
Memory Clock
14Gbps
14Gbps
15Gbps
14Gbps
15Gbps
Max Voltage
1.050v
1.087v
1.087v
1.087v
1.087v
Power Limit
185W (100%)
215W (116%)
215W (116%)
215W (116%)
215W (116%)
Naturally, these results cannot be taken as representative of all RTX 2070 Founders Edition cards, but results here can offer some insight.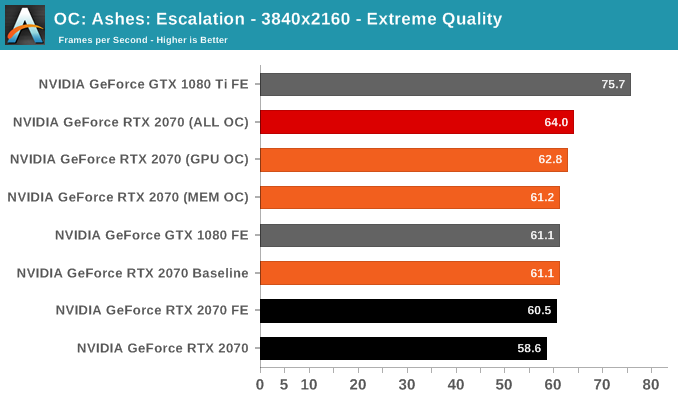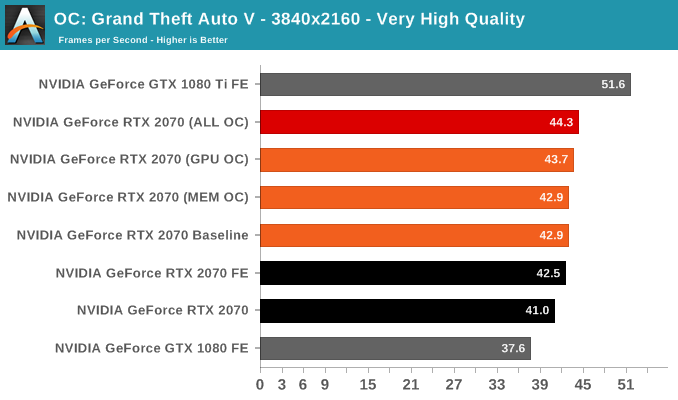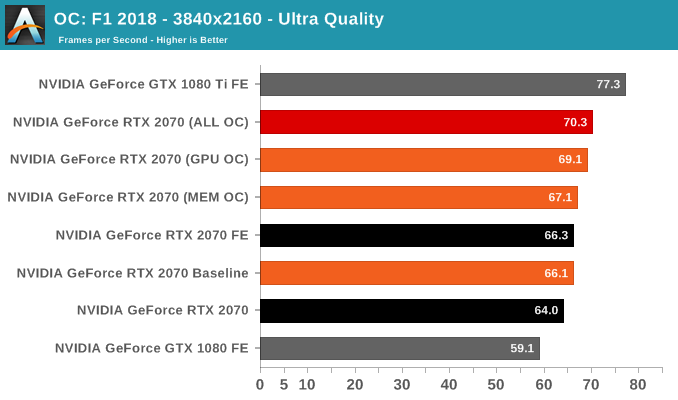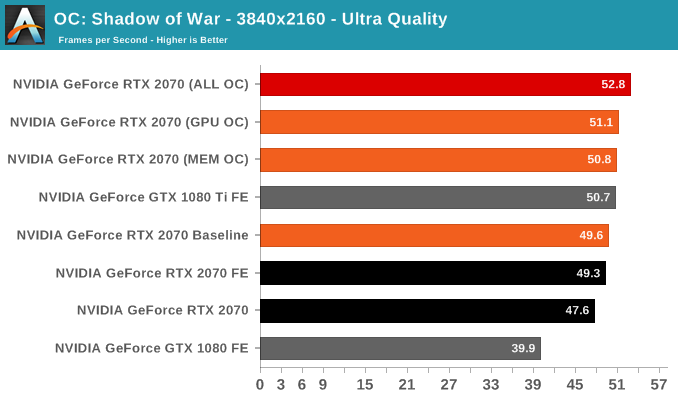 Although this is more of a cursory look than anything else, the combined overclock provides the best performance, just like it was for the Pascal based cards like the GTX 1080 and 1070. Given the GDDR6-equipped 2070, we would expect memory overclocking to be less effective, though it appears it's necessary for the best overclock here. Ultimately, the combined overclock can make up some ground, but the extent of its benefits are largely comparable to Pascal cards.
OC Power, Temperature, and Noise
There isn't much to add on the power, temperature, and noise front. The card will heats up a few more degrees, but kept relatively quiet thanks to its open air cooler. The full OC costs about ~30W at the wall in games, bringing it up to 1080 Ti FE levels, though only select games will see an overclocked RTX 2070 surpass the 1080 Ti.