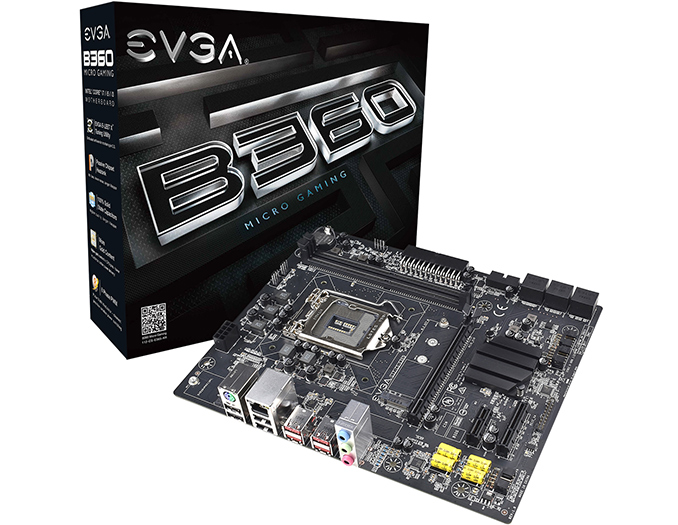 EVGA on Tuesday officially introduced its first budget-oriented motherboards. The EVGA B360 Micro Gaming is based on Intel's moderately priced B360 chipset, yet the mainboard supports most of the key features one comes to expect from an EVGA board, with the exception of course of overclocking.
The EVGA B360 Micro Gaming supports Intel's Coffee Lake processors and is outfitted with an 8-phase PWM that promises a clean and stable power supply to a CPU. Since Intel's B360 PCH does not support overclocking, the VRM is not covered with a heatsink and was not designed for this in general (though, expect it to handle processors with a default TDP without any problems). One particularly notable thing about the EVGA B360 Micro Gaming is that it does have any display ports, and as a result it cannot use Intel's iGPUs. Keeping in mind that EVGA is a leading supplier of graphics cards and positions its products for gamers who rarely use Intel's graphics, such peculiarity looks relatively logical for the company.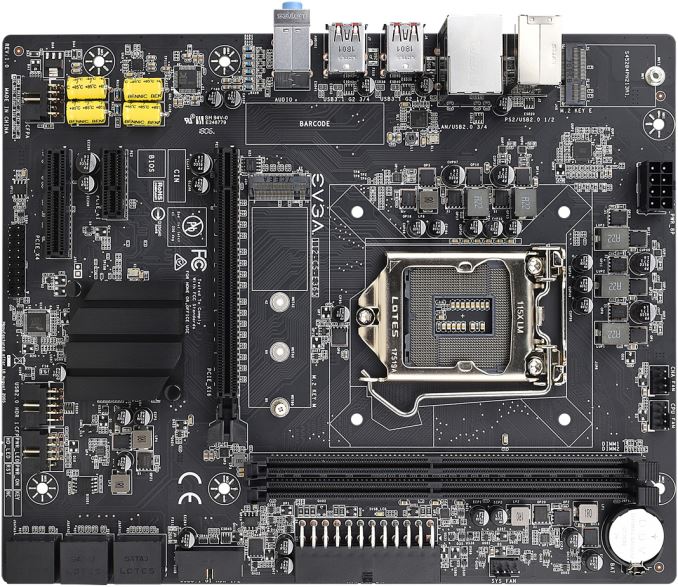 The motherboard has two slots for DDR4 DIMMs and can support up to 32 GB of memory, which is a reasonable limitation for an entry-level Micro-ATX gaming system. When it comes to expansion capabilities, the mainboard has a PCIe 3.0 x16 slot for graphics cards, a PCIe 3.0 x4 slot for high-end SSDs, a PCIe 3.0 x1 slot for other types of add-on-cards, one M.2-2280 slot for SSDs, six SATA hot-plug-capable connectors for storage devices, and an M.2-2230 slot for CNVi 802.11ac Wi-Fi solutions.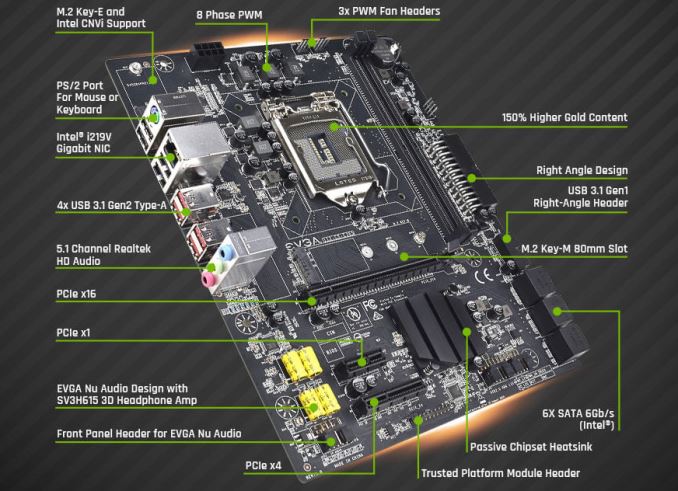 Moving on to connectivity. The EVGA B360 Micro Gaming is equipped with Intel's i219V GbE silicon, four USB 3.1 Gen 2 connectors, four USB 2.0 headers, two USB 3.1 Gen 1 ports available through internal headers, a PS/2 connector, and a 5.1-channel audio subsystem featuring an SV3H615 headphone amplifier, as well as audio-oriented capacitors to enable EVGA Nu Audio through front panel headphone jack.
EVGA B360 Micro Gaming
112-CS-E365-KR
Supported CPUs
LGA1151 v2 CPUs
Coffee Lake
PCH
Intel B360
Graphics
PCIe 3.0 x16 slot
Display Outputs
None
Memory
2 × DDR4 DIMM
Up to 32 GB of DDR4-2667
Slots for Add-In-Cards
1 × PCIe 3.0 x16
1 × PCIe 3.0 x4
1 × PCIe 3.0 x1
Ethernet
Intel I219V GbE PHY
Storage
6 × SATA 6 Gbps
1 × M.2 PCIe 3.0 x4
Audio
5.1-channel audio with 3.5-mm outputs, SV3H615 headphone amplifier, EVGA Nu Audio enhancements
USB
4 × USB 3.1 Gen 2 Type-A
4 × USB 2.0 Gen 2 Type-A
Internal headers for USB ports
Serial Ports
-
Wi-Fi
M.2-2230 slot for CNVi Wi-Fi solutions
Form-Factor
Micro ATX (244 mm × 244 mm | 9.6" × 9.6")
EVGA's B360 Micro Gaming is of course a far cry when compared to the company's enthusiast-class motherboards based on Intel's Z370 or X299 chipsets. Nonetheless, the release of such a platform by EVGA indicates that the company is now looking at entry-level gaming machines as a way to expand its business.
The EGA B360 Micro Gaming is available right now directly from the company for $119.99.
Related Reading:
Source: EVGA