NZXT N7 Z390
Right at the start of this year, NZXT launched their first 'component' onto the market and while NZXT themselves don't manufacturer computer hardware per say, the N7 Z370 which we reviewed at its launch. The N7 Z370 was manufactured by ECS o NZXT themselves created the majority its feature set with very unique aesthetics. The main selling point for NZXT on the N7 was through this unique design which included a full PCB cover with users having a choice between two primary color schemes; black cover and black PCB, or white cover and black PCB. NZXT essentially took the style from some of their renowned PC cases and integrated to the motherboard market giving users the ability to create something unique This full cover feature was enhanced with the inclusion of removable plates on the full cover which could be modified with spray paint, or with the option to purchase additional plates in different colors for an additional cost. Even the full cover could be removed, spray painted and re-designed to give the ultimate look, which is a rather refreshing idea given the number of users voiding their warranties with minor modifications to create their own style inside their systems.
The new NZXT N7 Z390 keeps much of the same specifications as the previous NZXT N7 Z370 board with a cover which stretches from top to bottom across the majority of the PCB with the only bare elements being located around the CPU socket and along the very top and bottom of the board. As with the N7 Z370, the N7 Z390 will be available with white or black full-PCB covers. The N7 Z390 also keeps the same PCIe layout with a full-length PCIe 3.0 x16 slot, a full-length PCIe 3.0 x8 slot, two PCIe 3.0 x4 slots and a single PCIe 3.0 x1 slot.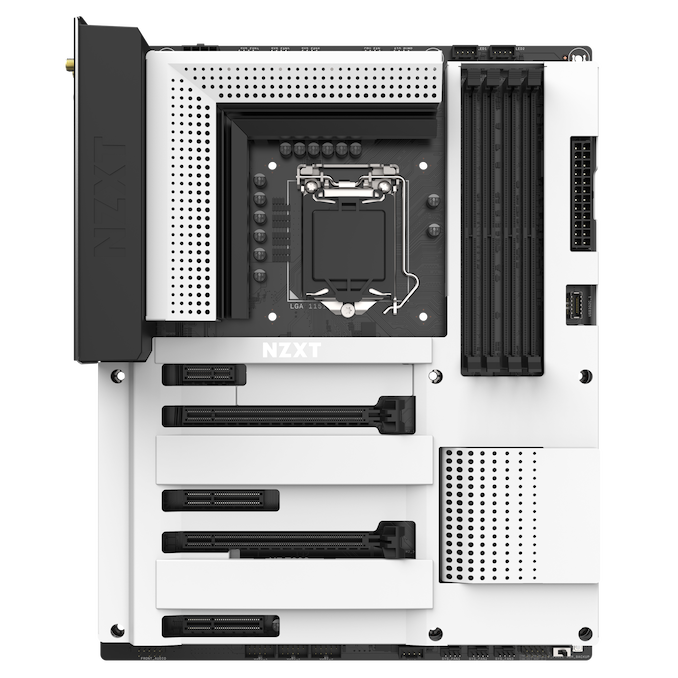 A total of two PCIe 3.0 x4 and SATA compatible M.2 slots are located under the cover with a supplement of just four SATA ports; an ATX sized board on a chipset offering six ports should really have six ports. The included SATA ports feature support for RAID 0, 1, 5 and 10 arrays. In regards to the cooling, the NZXT N7 Z390 is one of the more comprehensive offerings with a total of eight 4-pin fan headers with two designated as for a CPU fan and AIO pump, and the other six featuring support for 0 db mode with support for up to 6 W of power per channel.
On the rear IO is a good variation of connections including four USB 3.1 Gen2 Type-A ports, two USB 3.0 Type-A ports, a single LAN port controlled by an Intel I219V Gigabit NIC, with a total of five 3.5 mm audio jacks and S/PDIF optical output powered by a Realtek ALC1220 HD audio codec. A single HDMI 1.4b video output is present with a set of very handily placed buttons which consist of a clear CMOS, reset and power switch. The rear IO now includes an LED debug which is handy, but the location might not be when troubleshooting in a cramped location. Lastly there's two antenna connectors for the integrated 2T2R Wave 2 802.11ac capable Intel 9560 Wi-Fi adapter which offers users with compatible wireless networking capabilities to utilize up to 1.73 Gbps speeds.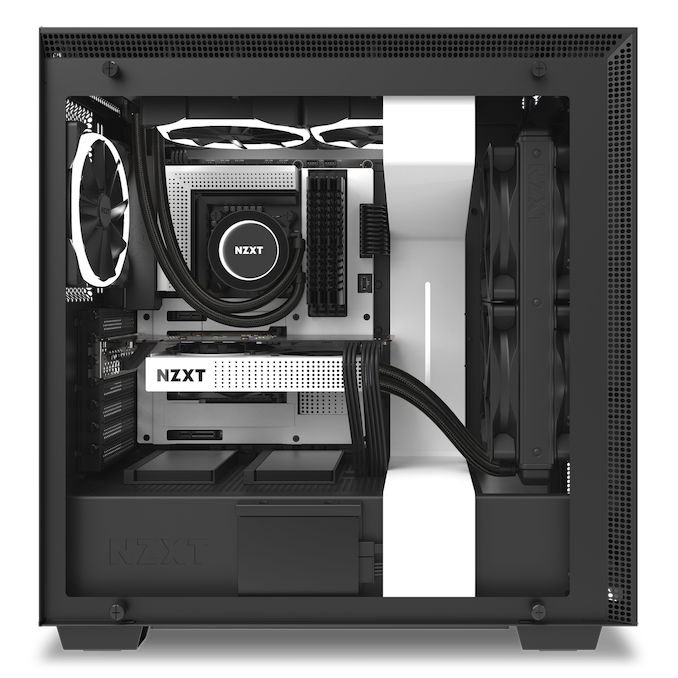 The NZXT N7 Z390 has an MSRP of $280 which like it's predesessor (the N7 Z370) is directly placed into the higher end of Z390 offerings, with NZXT looking to compete with other premium offerings available on the chipset. The NZXT N7 Z390 is compatible with a wide variety of NZXT's other products with capability expanded on by the CAM software with HUE 2 and GRID+ support which offers control over RGB lighting and onboard fans respectively. Availability of the N7 Z390 is expected from the middle of November in the US market and in the EU towards the end of November.