ASUS ROG Maximus XI Hero
Out of all the manufacturers releasing Z390 motherboards to the market, ASUS has the most with a total of nineteen different models across multiple of their core motherboard ranges. These include the performance inspired and enthusiast-focused ROG Maximus XI series, the gaming and mid-range gaming-inspired Strix range, the more rugged and more recently gaming-centric TUF boards. ASUS has also released a trio of professional-fixated PRIME motherboards.
The gaming range of boards which stretches from the top (ROG Maximus XI Extreme) down through to entirety of the Strix range and down to the bottom (TUF Z390-Plus Gaming) seems pretty comprehensive, with the Maximus XI boards offering comprehensive power deliveries designed to push the new Intel 9th generation (8th generation too) processors up to and beyond their limitations. A lot of the ASUS Z390 boards aimed at gamers include Intel Gigabit LAN with Realtek based ROG Supreme-FX S1220 HD audio codecs on the mid-range and higher-end offerings scattered across the different price points.
One of the major points to note on the Maximus XI Hero, Code and Formula boards is they share a very similar PCB which leads us to think the main differences separating them comes through the aesthetic and the inclusion of better quality controllers as the range goes up in price. Also similar is that each of the ROG Maximus XI Hero, Code and Formula all have an 8-pin + 4-pin ATX 12 V CPU power inputs with a similar looking power delivery on the surface; we did reach out to ASUS for more information and if we receive it, we will provide an update.
ASUS ROG Maximus XI Hero, WIFI & Black Ops 4 Edition
The ASUS ROG Maximus XI Hero (Z390) represents the lowest of the higher tier Maximus range of motherboards and since their introduction to ASUS's motherboard arsenal back on the Z87 chipset, the ROG Maximus VI Hero. Five iterations of the Hero later and we're at the XI which includes a Supreme-FX S1220 8-channel HD audio codec and includes a single Intel I219V Gigabit LAN.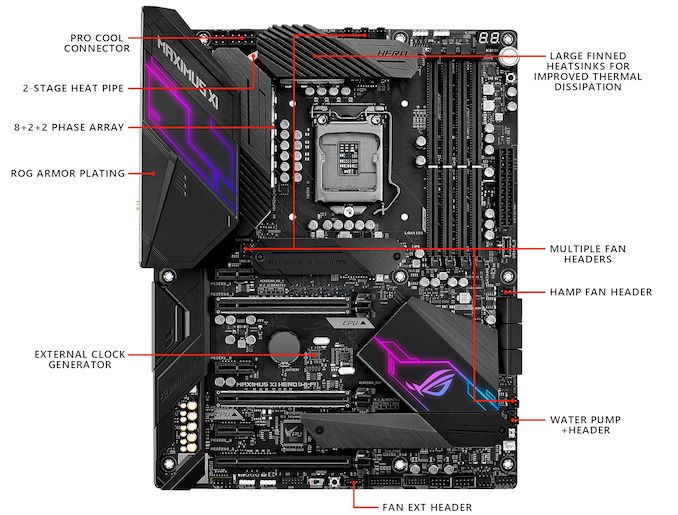 One thing the ASUS Z390 gaming boards has plenty of is RGB and the Maximus XI Hero does have it with two key areas featuring integrated LEDs; the rear panel cover and the chipset heatsink. The Maximus XI Hero also features two addressable RGB headers along with two regular RGB headers. The power delivery from the surface looks like it may be a 10-phase setup operating at 8+2 or 6+4, with a nice sized black colored finned heatsink. The front of the PCB has two PCIe 3.0 x4 M.2 slots with only one of these supporting SATA too. Both M.2 slots have heatsinks and in addition, the board has a total of six SATA ports with support for RAID 0, 1, 5 and 10 arrays also present.
The PCIe on the ROG Maximus XI Hero consists of three full-length PCIe 3.0 slots which operate at x16, x8 and x4 (x8/x8 or x8/x4/x4) with the top two slots having ASUS Safe Slot protection to strength them up; also included are three PCIe 3.0 x1 slots. There's a total of four RAM slots with support for DDR4-4400 with a total capacity of up to 64 GB.


ASUS ROG Maximus XI Hero WiFI Rear Panel IO
On the rear panel is a combined total of eight USB ports which are comprised of three USB 3.1 Gen2 Type-A, one USB 3.1 Gen2 Type-C and four USB 3.0 Type-A ports. The Wi-Fi enabled model has an Intel 9560 2T2R Wave 2 802.11 Wi-Fi adapter with Bluetooth 5 support and both models make use of a single Intel I219V Gigabit powered LAN port, with five 3.5 mm audio jacks and S/PDIF optical output powered by the SupremeFX S1220 HD audio codec. Also included is a pair of video connectors for the integrated graphics which consists of an HDMI 1.4b and DisplayPort 1.2 output.
The ASUS ROG Maximus XI Hero's MRSP is currently unknown and is the base model for the higher end Maximus models. The board is targeted at gamers with features such as an S1220 HD audio codec. ASUS also offers a ROG Maximus XI Hero (Wi-Fi) which is likely to cost between $10 and $20 more, with the only difference being the inclusion of an 802.11ac Wi-Fi adapter.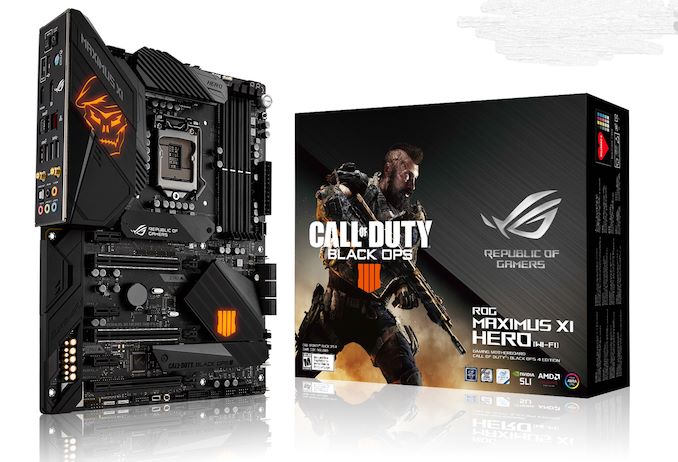 ASUS has also released a Call of Duty: Black Ops 4 themed model called the ROG Maximus XI Hero Black Ops 4 edition which has the exact same feature set as the above Hero (Wi-Fi) model, but with military COD BO4 inspired RGB logos on the rear panel and chipset heatsink. The special edition ROG Maximus XI Hero Black Ops 4 motherboard availability and pricing is currently unknown.