ASRock Z390 Taichi
The ASRock Z390 Taichi is one of two Z390 models received prior to the launch and will be reviewed in the upcoming weeks. The Z390 Taichi is an ATX sized offering targetted at enthusiasts looking to push the limits of their Intel 8th and 9th generation processors. The Z390 Taichi features dual Intel LAN, built-in 802.11ac Wi-Fi and offers a Realtek ALC1220 HD audio codec with an assisting Texas Instruments front panel NE5532 headset amplifier. As expected, the Z390 Taichi board follows a similar design to other Taichi branded models on the market and takes visual elements from both the Z370 Taichi and the X470 Taichi; coincidentally we review both models earlier this year. On the memory front, the Z390 Taichi supports up to DDR4-4200 and has a capacity of up to 64 GB across the four available RAM slots.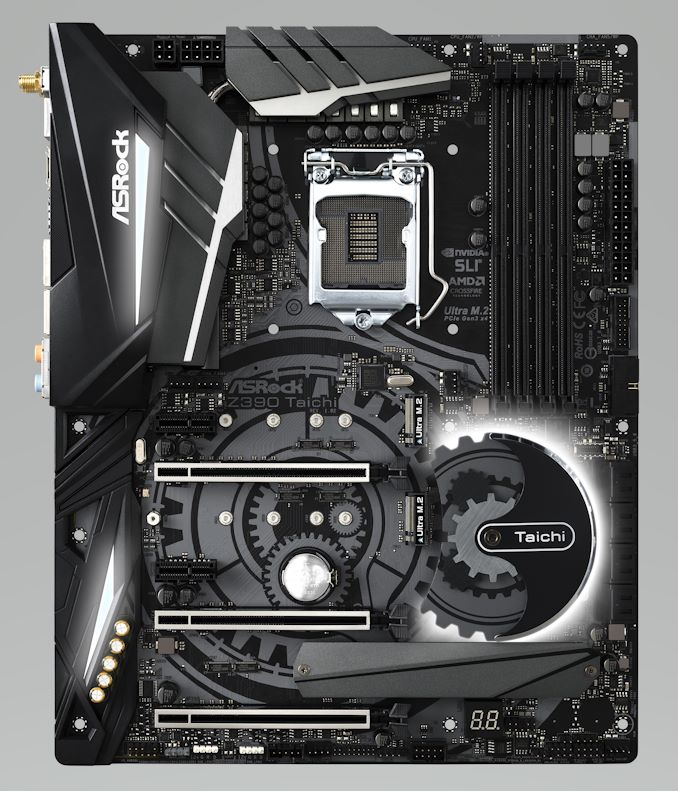 On the bottom half of the board, there are three full-length PCIe 3.0 x16 slots which run at x16, x8 and x8 respectively. All three full-length PCIe 3.0 slots have a coating of ASRock's Steel Slot armor and the board also has a pair of PCIe 3.0 x1 slots. The Taichi has a wave of storage options which includes three M.2 slots which have support for both PCIe 3.0 x4 and SATA drives and a total of eight SATA ports; six are provided from the chipset and the other two from an ASMedia 1061 controller. It's worth noting that we can confirm that the slot M2_1 shares bandwidth with two SATA ports, M_2 shares bandwidth with SATA ports if a SATA M.2 drive is used and the M2_3 shares bandwidth with another two ports and either/or is disabled depending on which slots are populated.

The rear panel has a host of connections available including three USB 3.1 Gen2 Type-A, a single USB 3.1 Gen2 Type-C and four USB 3.0 Type-A ports, as well as a DisplayPort 1.2 and HDMI video output. Also featured on the rear panel are a handy clear CMOS button, a PS/2 combo keyboard and mouse port. The onboard audio of the Z390 Taichi is handled by a Realtek ALC1220 audio codec and consists of five 3.5mm audio jacks and a S/PDIF optical output; a Texas Instruments NE5532 headset amplifier is located on the audio PCB too to enhance the quality and capability of the front panel audio. In terms of networking, the Z390 Taichi has two available Gigabit LAN ports with one being directed by an Intel I219V and the other by an Intel I211AT networking controller. Also included on the rear panel is a set of antenna connectors for the integrated 802.11ac Wi-Fi adapter.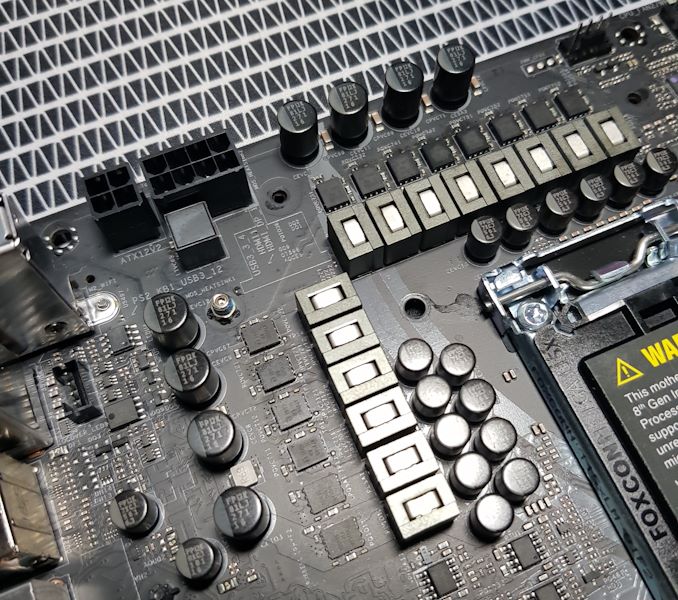 From ASRock's marketing, the board is advertised as having a 12-phase power delivery and on the surface, it would appear so. The power delivery is made up of an Infineon IR35201 8-channel PWM controller with twelve Texas Instruments TI 87350D NexFET power blocks. On the rear of the PCB is six Infineon IR3598 doublers which make up 5+1 of the channels on the PWM controller; an additional two ON Semiconductor FDPC5030SG Dual-N channel MOSFETs make up the rest of the power delivery meaning the IR35201 is operating in a 5+2 configuration. In effect, ASRock is kind of underplaying their hand on this power delivery and it's more than capable in theory of overclocking one of the new 9th Generation Intel Core i7-9900K eight-core processors.
The general look and feel overall is that the ASRock Z390 Taichi is aimed at enthusiasts looking for a solid foundation for not just a very powerful gaming system with multiple graphics cards, but it also combines a Realtek ALC1220 HD codec, two Intel Gigabit powered LAN ports and a good quality power delivery into one solid and uniquely styled package. The ASRock Z390 Taichi has a suggested retail price of $240 which is more than reasonable as all the major key areas are covered.