Gaming: Far Cry 5
The latest title in Ubisoft's Far Cry series lands us right into the unwelcoming arms of an armed militant cult in Montana, one of the many middles-of-nowhere in the United States. With a charismatic and enigmatic adversary, gorgeous landscapes of the northwestern American flavor, and lots of violence, it is classic Far Cry fare. Graphically intensive in an open-world environment, the game mixes in action and exploration.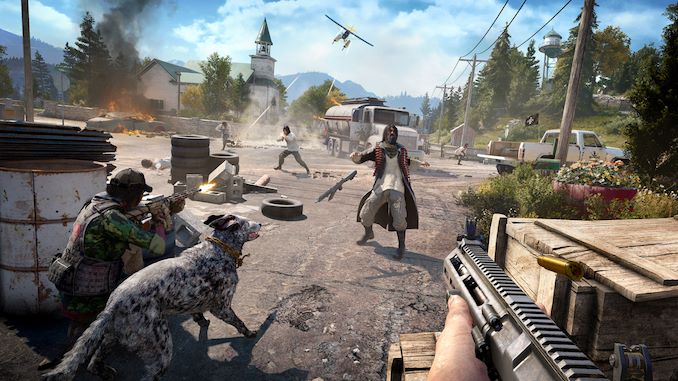 Far Cry 5 does support Vega-centric features with Rapid Packed Math and Shader Intrinsics. Far Cry 5 also supports HDR (HDR10, scRGB, and FreeSync 2). We use the in-game benchmark for our data, and report the average/minimum frame rates.
AnandTech CPU Gaming 2019 Game List
Game
Genre
Release Date
API
IGP
Low
Med
High
Far Cry 5
FPS
Mar
2018
DX11
720p
Low
1080p
Normal
1440p
High
4K
Ultra
All of our benchmark results can also be found in our benchmark engine, Bench.
| | | | |
| --- | --- | --- | --- |
| Far Cry 5 | IGP | Low | High |
| Average FPS | | | |
| Minimum FPS | | | |
Far Cry 5 is another game that at reasonable 1080p settings actually shows some CPU differentiation. To really drive a wedge between the CPUs we do need to drop to 720p Low, but still, in both cases the 9900K comes out on top. And in this case the performance gap between it and the 8700K is actually a bit larger than normal at 12%. Still, this is a game that's if it's not GPU-bound is closer to being bounded by a limited number of threads, so the lack of major clockspeed gains for the 9900K keep it from pulling too far ahead. It also keeps the 9700K from falling too far behind.