BTX Motherboards Galore
You'll remember from our BTX article that there are three flavors of BTX: pico, micro and regular BTX. Most of the motherboards we saw were micro BTX, meaning they had four expansion slots and are about the size of a micro ATX motherboard.
Of course, Intel's micro BTX motherboard was present at the Intel showcase: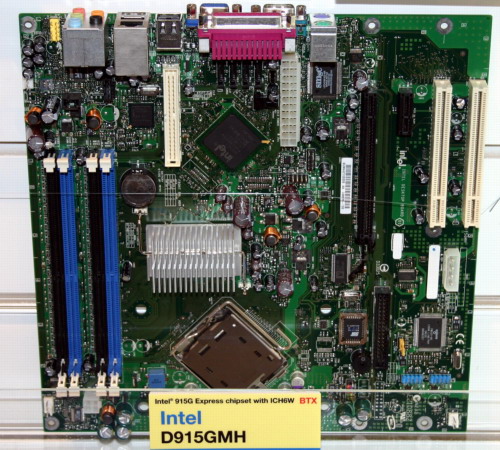 Click to Enlarge
The Intel board features the newly announced 915 chipset, and features two PCI Express slots and two 32-bit PCI slots. One of the more noticeable changes BTX offers is that the graphics card slot (PCI Express x16) is now the last slot (or the first depending on how you look at it) on the board, making cooling much easier and much less restrictive.
It may be difficult to see in this picture, but note that the four SATA ports are located directly behind the parallel port at the top of the picture. It's sort of ironic to put one of the latest interface standards directly behind one of the oldest and most cumbersome.
It was good to see boards from companies like Gigabyte present as well, after all what use is an industry standard if Intel is the only one to demonstrate it?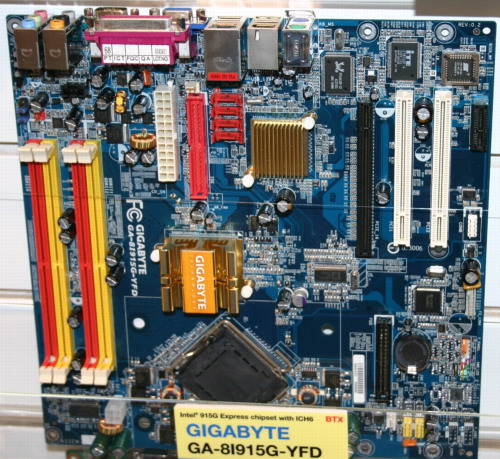 Click to Enlarge
Gigabyte's board is also a micro BTX, indicated by its four expansion slots. Gigabyte's slot layout is a bit different from Intel's, as are their SATA and BTX power connectors. Considering where the SATA cables will end up, Intel's orientation of the connectors may make more sense and require less twisting of the already fragile SATA connectors to install properly.
MSI's board was also a departure from Intel's design, and we believe it also violates the BTX spec (or at least one of its goals). Can you see the problem?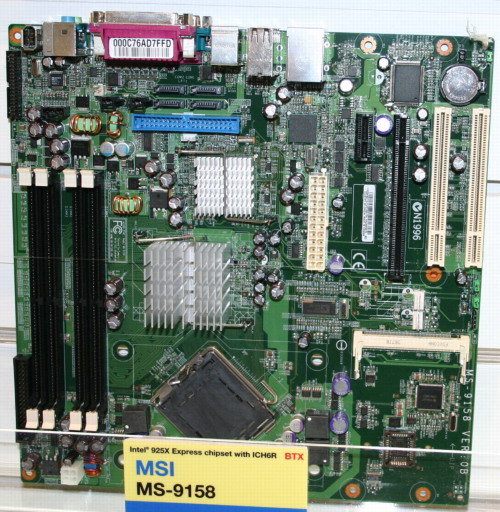 Look carefully at the expansion slots, the PCI Express x16 slot isn't the first slot on the board, there's an x1 slot that comes before it - defeating one of the cooling purposes of BTX. To MSI's credit, this is most likely a very early motherboard sample without much care or attention paid to such details, but this could also be one reason why more BTX motherboards haven't been shown off - a lack of spec compliance.
MSI's solution was 925X based, which is the first 925X based BTX motherboard that we've seen thus far.