Battery Life
The iPhone XS comes with a 2658mAh/10.13Wh battery, while the XS Max has a capacity of 3174mAh/12.08Wh. Again, it's to be noted that although both phones are quite large form-factor devices by now, Apple's battery density still largely lags behind the competition. While yes, it's true that the XS Max' battery is the biggest that Apple has ever used, it still pales in comparison to the 3500 to 4000mAh that other vendors now employ in the same form-factor.
As we saw in the SPEC analysis, the one advantage that Apple has is an enormous lead in terms of power efficiency of its SoC, which largely makes up for any gap in the battery capacity deficit.
Our web browsing test is a mixed-to-heavy workload that iterates through a set of popular webpages that are hosted on our server. The test loads a web page, pauses, scrolls through it, pauses, and then continues to the next in the set, repeating all over when done. Brightness is fixed at 200cd/m².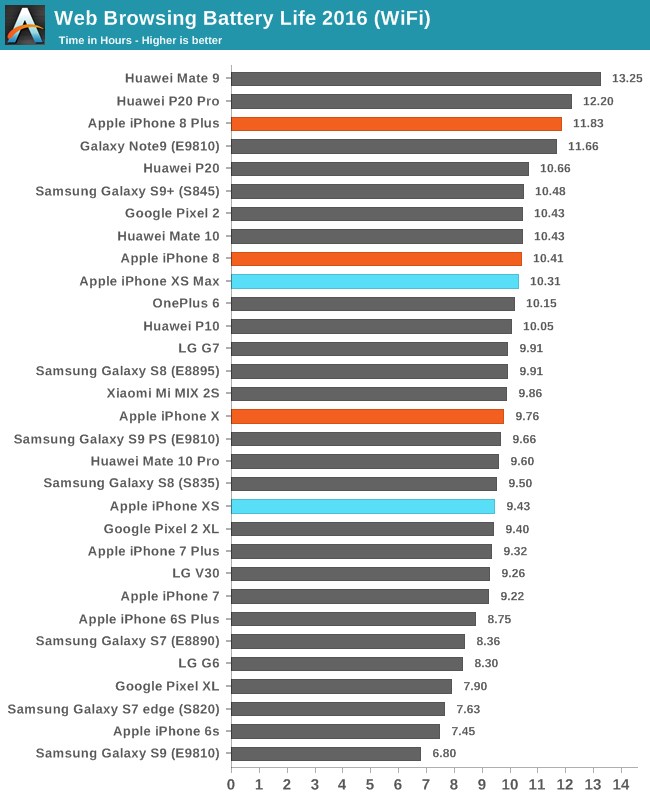 The iPhone XS saw a very slight degradation compared to the iPhone X in our test. The 19 minute deficit isn't terrible, but it does come at a surprise given that Apple had promised improved battery life for the new model. What's happening is that likely our test is a tad heavier in its workload than what Apple and many other vendors internally test to advertise as the daily battery life of their devices.
The iPhone XS Max came in at 10.3h. Again while this is still good, it's a degradation over the 11.83h of the iPhone 8 Plus. Here it's easier to rationalise the difference; the OLED screen of the XS Max is just more power hungry and also has a larger area than the iPhone 8 Plus. Here the increased battery capacity isn't enough to counteract the panel's increased needs.
As to why the iPhone XS saw a degradation over the X, I'm not too sure. I did rerun the test on the iPhone X to make sure iOS12 hadn't impacted the devices – and I got a runtime just 10 minutes lower than what I had tested on the iPhone X back around in January, so the iOS upgrade certainly doesn't seem to have affected the battery life.
It should be relatively safe to assume that the new A12 should be more efficient in its workloads, even with the increased performance that it brings. One thing that we can't really verify is the power efficiency at intermediate performance states, as that's also where CPUs perform a lot of their work at.
We also have to keep in mind the connectivity factor: the new iPhone's seems to sport a new Broadcom BCM4377 WiFi combo chip which we don't know much about. Most importantly the new XS have also switched over from a Qualcomm baseband (in our test unit of the iPhone X) to a new Intel XMM7560 baseband.
I've generally given up on LTE testing after a few years ago I had run into some serious issues regarding a misconfiguration of my mobile carriers' baseband stations as they did not have CDRX enabled. This caused an almost 20-30% battery life degradation on Huawei's devices – and if I hadn't debugged the issue with HiSilicon I'd probably be none the wiser. Fact is, cellular battery life testing is a lot harder than one would think, and without having a controlled environment, I'm very hesitant to resume cellular battery life testing.
That being said, I will revisit the iPhone X vs iPhone XS battery life topic while on LTE over the weekend and post an update to the review.
Overall, the battery life of the iPhone XS and XS Max are good – they don't quite reach Apple's claimed improvements, but that also just might be something that will vary from use-case to use-case.