OCZ 3700EB
Test samples of OCZ EB memory were a matched pair of 512MB 3700EB or DDR466 modules. The DDR466 is the new top-speed in the EB line, since EB is offered in both DDR400 (PC3200) and DDR433 (PC3500) speeds. EB is also available in a wide range of capacities as Dual-Channel kits of 512MB (256MBx2), 1GB (512MBx2) and 2GB (1024MBx2).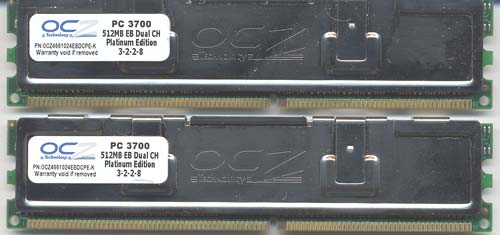 The OCZ 3700EB DIMMs have the Platinum heatspreader that OCZ uses to identify their top-performing Platinum series memory.

As is often the case with memory manufacturers, OCZ buys the blanks from a memory chip maker, then sorts according to their internal specs, and marks them with their own logo. OCZ tells us the EB chips are made for them by several chip makers, but the 3700EB chips are from Micron.
This is certainly a break from the Hynix chips that we are accustomed to seeing in recent high-end memory designs. Micron is also the manufacturer of the tiny BGA chips that impressed us in the
Kingmax DDR500 review
. It is clear, with EB and tiny BGA, that Micron is back as a player in the high-speed memory market.
OCZ 3700EB Specifications
OCZ 3700EB Memory Specifications
Number of DIMMs & Banks
2 DS
DIMM Size
Total Memory
512 MB
1 GB
Rated Timings
3-2-3 at DDR466
Rated Voltage
2.8V
We confirmed the SPD timings to be set at 3-2-3-8. This is to provide the best compatibility with the widest range of motherboards. We found the best performance at DDR466 on Intel 865/875 chipsets to be at 3-2-3-5, and on AMD nForce3 boards to be 3-2-3-10. At speeds less than about DDR460, a CAS setting of 2.5 works well on both Intel and AMD motherboards.
The 3700EB modules are rated at 2.8V, and are said to handle higher voltages without a problem. Most boards can supply 2.8V vDIMM, but some boards top out at 2.7V or lower, so please check your motherboard specs before purchasing. We found that the OCZ 3700EB performed fine at 2.5V at DDR400, DDR433 and DDR466. However, EB modules handle voltage fine and respond to higher voltages with lower memory timings. Also, the higher overclocks did require voltages of 2.8V or higher.