Introduction and Construction
Last week, we had another DVD recordable exclusive: the Sony DRU-700A. This week, we have another exclusive review, the Plextor 712A. Plextor already impressed us once
six months ago
with the first 8X DVD+R dual format burner. Right on schedule, the next generation burner has high expectations, if it is to rival its already tried and true predecessor.
Without question, Plextor has continually raised the bar regarding bundled documentation and software. The documentation alone is superb; we received a 125-page manual that contains more data about our drive and drive technology in general than all of our other OSD manuals combined. The documentation does not just tell you how to configure your drive, but also why and to what benefit. The drive also comes with a decent software package, which includes Roxio Easy CD and DVD Creator, Roxio DVD Max, PhotoSuite 5 SE and PlexTools Pro. Ahead Nero is missing from this bundle.
Below is a quick overview of specifications on the drive:
 Plextor 712A DVD-/+R Drive
Interface
IDE
CD Write Speed
48X, 40X, 32X, 24X (P-CAV)
16X, 12X, 8X, 4X (CLV)
CD Rewrite Speed
24X (Z-CLV)
16X, 12X, 8X, 4X (CLV)
CD Read Speed
40X Max (CAV)
DVD-R Write Speed
8X (Z-CLV)
4X, 2X (CLV)
DVD-RW Rewrite Speed
4X, 2X, 1X (CLV)
DVD+R Write Speed
12X, 8X (Z-CLV)
4X, 2X (CLV)
DVD+RW Rewrite Speed
4X, 2.4X (CLV)
DVD Read Speed
16X Max (CAV)
Supported Modes
DAO / DAO-RAW 16 & 96
TAO
SAO / SAO 16 & 96
Packet Write
MultiSession
Supported Formats
DVD+R (DAO, incremental, seq)
DVD+RW (random)
DVD-R (DAO, incremental, seq)
DVD-RW (restricted overwrite)

CD-R, CD-RW, CD-ROM, CD-DA,
Mixed Mode, CD Extra
Photo CD, CD Text, Bootable CD, UDF, Mount Rainier
Access Time
CD: 100ms
DVD: 150ms
Buffer
8MB
It is fair to say that the 712A is essentially a 708A on steroids. Plextor has increased the buffer size over the 708A back to 8MB. Our drive came with a Parallel ATA (PATA) interface, but other revisions of this drive will ship with SATA connectors. The SATA revision is labeled as PX-712SA. Our drive can also read DVD-RAM at 2x, and normal DVDs at 16X. Unfortunately, the drive only supports 4X DVD+/-RW media.
Also notice the 48X CD write speeds. The 708A was only capable of 40X CDR. The drive sports fairly low access times, but we will see if they actually live up to that claim later in the review.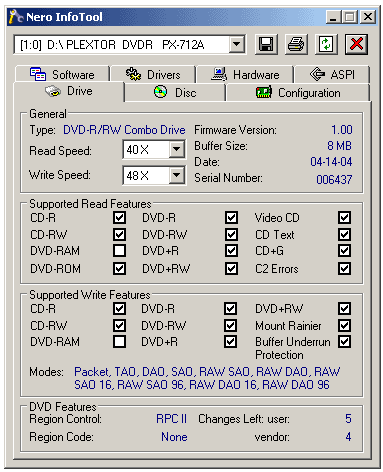 Interestingly enough, DVD+R9 does not show up for read capabilities. When we put some of our burned DVD+R9 media inside the drive, the drive would not recognize our disc.
Below, you can see what many already suspected; the LQFP chipset and design are similar to the Plextor 708A. The
Sanyo LC897491
is an upgrade on the LC897490 used in the 708A. Interestingly enough, the chipset includes 8MB of flash memory, which explains the increase from 2MB to 8MB on the buffer size. Even though the drive supports HD-BURN, this is relabeled as GigaRec for Plextor.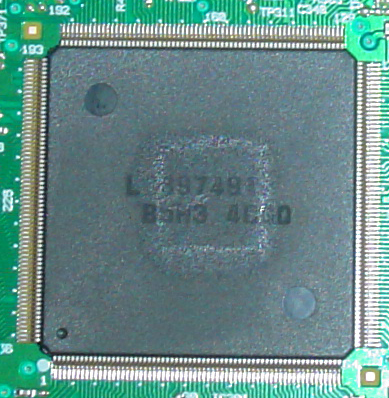 The drive also uses the
AK8584 analog signal processor
, which is more than capable of keeping up with the Sanyo LSI.
There are no official
booktype
setting capabilities for this drive.