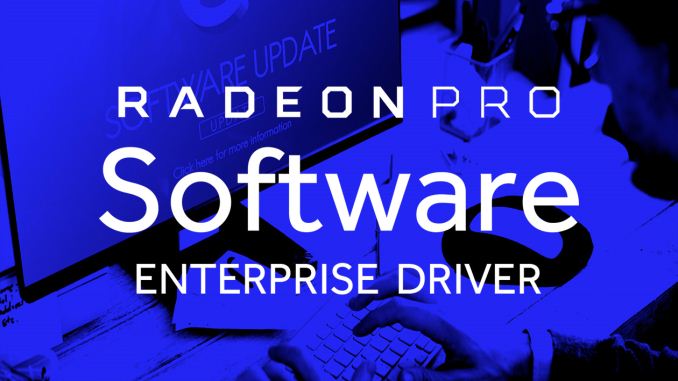 Today, AMD released Radeon Pro Software Enterprise Edition 18.Q3 WHQL, on their usual quarterly pace. Given that the last release brought in Windows 10 April 2018 Update support, and the one before that introduced Adrenalin Edition to enterprise, 18.Q3 is much more low-key, focusing on the usual bug fixes, performance optimizations, and virtualization updates.
18.Q3 does bring a manual fan control setting, which is claimed to provided up to twice the performance over default settings on certain workloads without affecting warranty. Being pro video cards, Found under the Global Tuning tab, 'Fan Control' will adjust fan speeds of different GPUs. AMD also notes general year-on-year performance improvements in professional applications, citing a 53% speedup in Audodesk 3ds Max and 33% speedup in Siemens NX. And as far as stability goes, AMD is sure to cite their commissioned driver stability report by QA Consultants from last month, based on CRASH testing. In that instance, for AMD Pro cards 18.Q2 was used, and more details can be found in the report.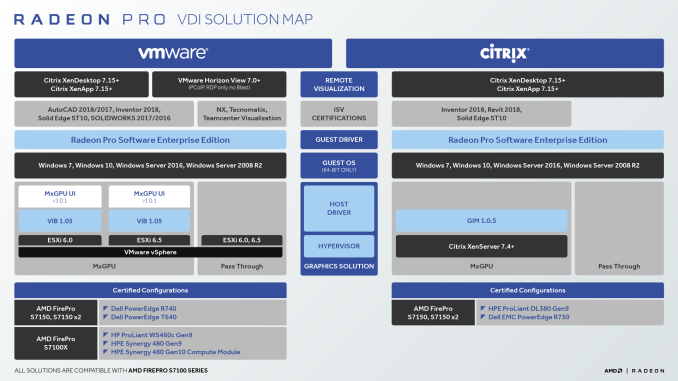 As for AMD's MxGPU, their hardware-based SR-IOV virtualized graphics solution, 18.Q3 is coupled with an updated March production-level host driver for Citrix XenServer MxGPU, while XenDesktop and XenApp guest drivers have been updated with 18.Q3 binaries for cloud-deployed 64-bit Windows 10 and 7 platforms. The packages and compatibility notes can be found on AMD's Citrix Pro Driver page.
Similarly, VMware vSphere ESXi 6.5 guest drivers for MxGPU and passthrough have been updated with 18.Q3 binaries for cloud-deployed 64-bit Windows 10 and 7 platforms. Meanwhile, their Guest Interface Manager (GIM) open source KVM host OS driver remains available on GitHub as a technical preview and the guest drivers have not been updated since Adrenalin Pro 17.12.2.
Bugfixes and Resolved Issues
Wrapping things up, 18.Q3 comes with a multitude of fixes:
Corruption may be seen on model with change in Anti-aliasing modes with Dassault ICEM Surf.
Display issues may be observed while running Nuke benchmark on AMD FirePro W8100 and AMD FirePro W9100.
Intermittent display difficulties with certain models in Siemens Femap with Radeon Pro WX 9100 may be observed.
Rhino 6 may hang when doing rendered mode on a specific dataset.
Possible hangs with Rhino 6.5 when doing rendered mode on specific dataset.
Screen corruption may be observed with Smode Studio.
System may hang when displaying large models in shaded mode with Rhino.
CorelDRAW may show slow performance when opening large files.
Memory leak may be observed with "Vega"-based hardware on Windows 7.
May experience lagging in Future Viewport with Cinema 4D.
Some display issues may be seen with Sparse Texture High Level Mipmap in Dassault Systèmes CATIA.
Unexpected behaviour may be observed when running Intergraph SmartPlant FreeView on AMD FirePro 7150 with Citrix XenDesktop.
Known Issues
AMD notes that Multi-GPU Eyefinity Pro on Windows 10 is not currently supported on any hardware for 18.Q3.
Faded circle may be seen along the detailed view of an assembly while using Dassault Systèmes Solidworks.
Some Viewport corruption may be observed while using Blender.
Application crashes may be observed when using 'sliced geometry' feature in Notch.
User may experience crashes may be observed with "Vega"-based hardware while using Siemens FEMAP.
Some application crashes may be observed with Solidworks 2017/2018 on Windows 7.
Application crashes may be observed with Solidworks 2015 APC.
[VDI-specific] VM may disconnect when upgrading the driver and unable to connect until reboot.
[VDI-specific] The energy subtest of SPECviewperf 12.1.1 may not complete in an MxGPU environment.
[VDI-specific] Toggling between full screen and windowed mode on Citrix XenDesktop may lead to temporary viewport corruption.
[VDI-specific] On Windows 7, a Catalyst Control Center error may be observed when resizing Citrix XenDesktop window.
Driver Options is not available with multi-GPU configurations, with the Radeon Pro Duo Polaris, and for mobile platforms.
The updated drivers for AMD's professional workstation GPUs are available online at the AMD's professional graphics driver download page. Details on AMD's Radeon Pro desktop workstation graphics cards can be found here. More information on this update and further issues can be found in the Radeon Pro Software for Enterprise 18.Q3 release notes.
New Radeon Pro Software Enterprise Editions are released on the 2nd Wednesday of the 2nd month of the quarter. The next release will follow on 11/14/18 (18.Q4).