Overclocking and Stress Testing: VIA K8T800 PRO Reference Board
FSB Overclocking Results
Since the PRO chipset claims the first working AGP lock for a VIA chipset on an Athlon 64 board, we were anxious to see if it indeed worked. At first, we thought that this was all smoke and mirrors, since we could not achieve any decent overclocks on the VIA board. Finally, after lowering the multiplier to 8, we were able to hit the 255 limit of the board.
Front Side Bus Overclocking Testbed
Default Voltage
Processor:
FX51 (2.2GHz)
CPU Voltage:
1.525V (default)
Cooling:
OCZ Eliminator 2
Power Supply:
Antec TruePower 430W
Maximum OC:
2310
231x10
Maximum FSB:
255 x 8
With no voltage adjustments at all for the processor or memory, overclocking was a challenge. We were also hampered by the fact that this early FX51 is not a particularly good overclocker. Our goal with the AGP lock was to find an overclock above the 216 to 220, which seems to be the working limit of our ATI 9800 PRO.
We reached 231x10, and then tried to lower the multiplier and max out the board.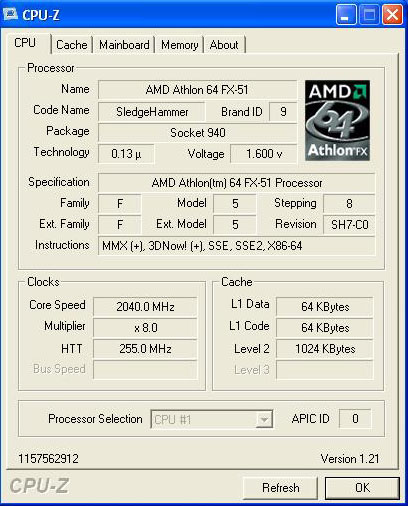 We were able to reach the highest FSB available on the K8T800 PRO at a multiplier of 8. Both these overclocks certainly demonstrate that the AGP lock is working. Above about 222, we needed to lower the HT frequency to 800. Above 250, we had to drop further to 600 HT. The fact that we had to lower multipliers and HyperTransport speed at such relatively low levels suggests that VIA needs to get more voltage to the chipset. Board manufacturers that address the chipset voltage issue will likely do much better in overclocking the K8T800 PRO.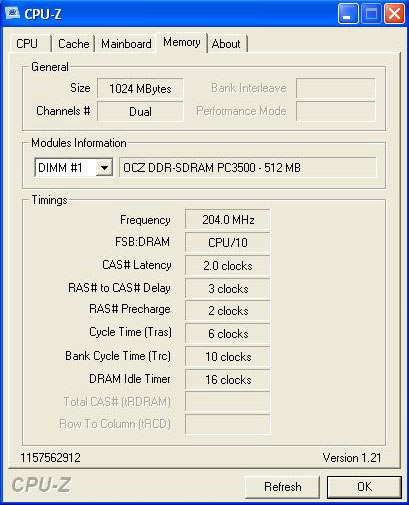 The OCZ PC3500 Registered ECC memory handled frequencies to 250 just fine, but asynchronous timings were required at 255 FSB. Timings could still be set at the excellent 2-2-3-6 that also worked well at DDR400.
The good news is that from the tests we ran, VIA finally has a working AGP/PCI lock on their Athlon 64 boards. With both VIA and nVidia offering AGP locks and 1000 HyperTransport, we will now have a lot more options for overclocking Athlon 64 chips.
Memory Stress Test Results:
The memory stress test is very basic, as it simply tests the ability of the K8T800 PRO Reference Board to operate at its officially supported memory frequency (400MHz DDR) at the lowest supported memory timings that our OCZ PC3500 Registered ECC will support. Memory stress testing was first conducted by running RAM at 400MHz with 2 DIMM slots filled, which is one Dual-Channel bank.
Stable DDR400 Timings - 2 DIMMs
(2/4 DIMMs populated - DC mode)
Clock Speed:
200MHz
Timing Mode:
N/A
CAS Latency:
2.0
Bank Interleave:
4-bank
RAS to CAS Delay:
3T
RAS Precharge:
6T
Precharge Delay:
2T
Command Rate:
Auto
The K8T800 PRO was completely stable with the most aggressive 2-2-3-6 timings that our Registered ECC memory could support. This performance was achieved without any voltage options at all on the board.
Filling all four available memory slots in a 2-bank dual-channel configuration is more strenuous on the memory subsystem than testing 2 DIMMs as a single DC bank. We were very pleased to find 4 DS DIMMs (2GB) of memory worked fine at the same timings we used for 2 DIMMs . Performance with all 4 DIMMs installed was very stable.
Stable DDR400 Timings - 4 DIMMs
(4/4 DIMMs populated - 2 DC mode)
Clock Speed:
200MHz
Timing Mode:
N/A
CAS Latency:
2.0
Bank Interleave:
4-bank
RAS to CAS Delay:
3T
RAS Precharge:
6T
Precharge Delay:
2T
Command Rate:
Auto
Since we had the board for only a limited time, we were not able to run the complete stress testing that is normal for AnandTech memory testing. However, there were no indications of memory stability issues in any of our benchmarking.
Socket 939 will bring unbuffered Dual-Channel memory to Athlon 64 processors. With that, there will be many more options for high-speed memory on the A64. The OCZ 3500 Registered memory that we used for testing performed with great stability on the K8T800 PRO - even at the most aggressive timings that we could set.