Looking Forward
It's great to see that Silicon Motion is continuing to improve on the greatest performance weakness of flash-based SSDs: random read latency. The SM2262 provided a surprising jump in random read performance, surpassing even MLC SSDs. The SM2262EN takes things a bit further, and Intel's Optane SSDs now lead by only a factor of 6 or so. This kind of improvement has the greatest potential to improve real-world performance as perceived by end users, and random reads are the workload where flash-based SSDs are furthest from saturating the SATA or PCIe host interfaces. (The Intel/Micron 64L 3D TLC NAND probably deserves some credit for enabling these improvements, too.)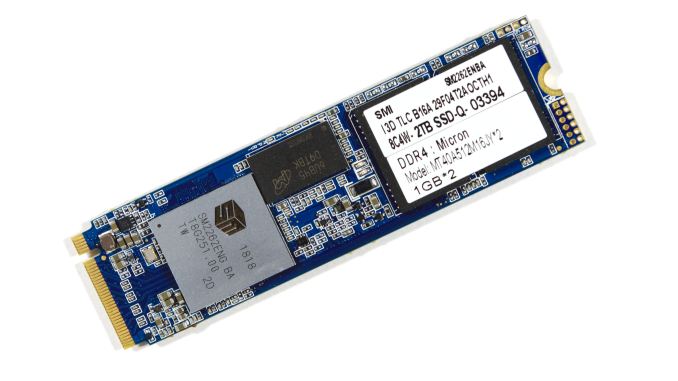 The SM2262EN is well-tuned to turn in stellar scores on many other benchmarks, and it is near the top of the charts for almost all of our synthetic benchmarks. However, it is clear that Silicon Motion is making some serious tradeoffs to attain these scores. The SM2262EN's performance degrades severely when the drive is full, and this effect seems to be even stronger than for the SM2262 drives we've tested. Silicon Motion has developed the fastest SLC write cache currently available, but once it's full, the situation isn't pretty.
For a 2TB drive like our review sample, I'm not too worried about these performance hits: it's pretty hard in practice to fill a really large SLC cache, and this isn't the easiest drive to fill up to 100% with real data. Our toughest benchmarks are well beyond the range of normal usage patterns, so abysmal scores there don't necessarily mean the drive is bad or unsuitable for power users. What it means is that Silicon Motion needs to be careful not to go too far with their optimization efforts. With the lower capacity drives that will account for the bulk of SM2262EN sales, it will be much easier to bump against the limits of which scenarios the controller can handle well. It may be necessary to use a much higher overprovisioning ratio on the lower capacity models, in order to ensure that they can maintain high performance even under heavy workloads. Products using the SM2262EN will live or die based on how well it can avoid falling into low-performing pits when presented with real-world workloads.
Idle power management seems to be broken on our SM2262EN sample, which is a disappointment because the SM2262 drives currently on the market offer the best trouble-free power management situation out of all the NVMe drives we've tested. Silicon Motion needs to ensure that this bug doesn't make it into retail products.
Consumer SSD prices have been declining for most of the year, in large part spurred by the adoption of 64L 3D TLC by the many brands that do not manufacture their own flash. Last year saw 64L 3D NAND hit the market in a limited number of products from the biggest players in the market, but now that NAND is in use everywhere and in plentiful supply. The downward trend is likely to continue in the near future, so even though the SM2262EN may command some premium over the base SM2262, the product lines that adopt the updated controller will probably do so at or below the current prices.
Looking further forward, we don't have much information about the rest of Silicon Motion's roadmap. We know they're working on PCIe 4.0 support, but this won't be needed in the consumer market anytime soon. They have also developed a new generation of more robust LDPC error correction intended to better support QLC NAND, and this will likely show up in the next generation of controllers from Silicon Motion. A full refresh of Silicon Motion's NVMe controller lineup is probably still at least a year away, so the SM2262EN may need to stay competitive for quite a while. It will probably be paired with 96L 3D NAND as soon as it is available, which may provide further incremental increases to performance and power efficiency.
The SM2262EN may also end up paired with QLC NAND for a very fast and cheap bulk storage drive. Such a drive would definitely benefit from the fast and aggressive SLC caching strategy used by the SM2262EN.