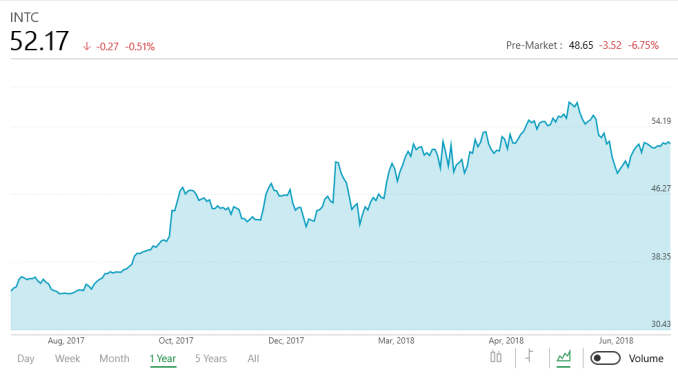 All across the hardware industry 2018 is shaping up to be a banner year for earnings, and the 800lb gorilla that is Intel is no exception. Reporting their Q2'2018 earnings yesterday afternoon, Intel booked $17.0B in revenue for the quarter, setting another new Q2 revenue record for the company. Meanwhile net income, while not being noted as a record for the company, was still very high at $5.0B. This puts Intel well ahead of itself both on a year-over-year and sequential basis, topping Q1'2018 and Q2'2017, both of which were also record quarters. All told, Intel's both Intel's revenue and net income for the quarter increased by $2.2B year-over-year, while against Q1 they're up $0.9B and $0.5 respectively.
Meanwhile Intel's all-important gross margin has held relatively steady at 61.4%, which is down two-tenths from Q2'2017, but up from the previous quarter.
Intel Q2 2018 Financial Results (GAAP)
Q2'2018
Q1'2018
Q1'2017
Revenue
$17.0B
$16.1B
$14.8B
Operating Income
$5.3B
$4.5B
$3.8B
Net Income
$5.0B
$4.5B
$2.8B
Gross Margin
61.4%
60.6%
61.6%
Client Computing Group Revenue
$8.7B
-3%
+6%
Data Center Group Revenue
$5.5B
+6%
+27%
Internet of Things Revenue
$880M
+5%
+22%
Non-Volatile Memory Solutions Group
$1.1B
+10%
+23%
Programmable Solutions Group
$517M
+4%
+18%
Breaking down the numbers by Intel's various business groups, all of Intel's groups saw revenue growth for the year. This ranges from 6% for the client computing group, up to 27% for the data center group. And even on a less-comparable quarterly basis, every group except CCG has seen some growth.
Overall Intel has been making a concentrated effort to pivot towards (or at least play up) what the company sees as the segments primed for growth – which Intel is calling its "data-centric" business – and isolate it from the "PC-centric" client computing group. Looking at revenue growth it's easy to understand why; client computing revenue has been slow to move for years now, while Intel's other businesses have grown much faster, and as an added kicker are generally more profitable too. None the less, Intel can't ignore the fact that the client computing group alone makes up more than half of the company's revenue. However at the rate things are going, this might be one of the last quarters where that is true.
On the client computing front, Intel is citing the commercial and enthusiast segments as being the driving factors for the growth, which is unsurprising as the two have been consistent performers with higher-than-average spending. Beyond that, Intel hasn't broken down client computing revenue by form factor or such this quarter, so unfortunately we don't get any insight into how the recently launched Coffee Lake mobile parts have done.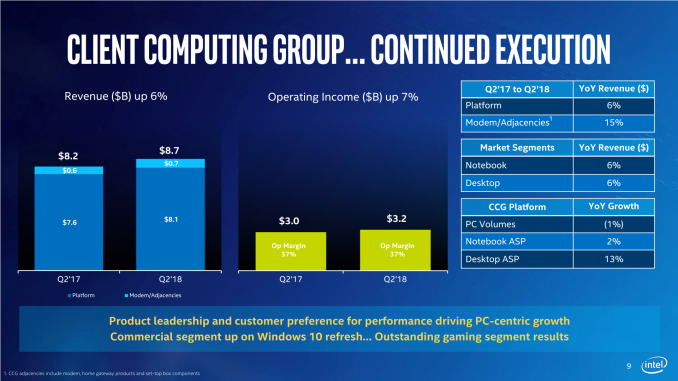 Besides being a more stagnant space, the biggest challenge Intel faces with the client computing group right now is in fact the company's biggest challenge, which is the stalled development of their 10nm process. As part of today's earnings call the company has announced that they are still on-track for 10nm mass production in 2019, however they aren't expecting complete systems to reach store shelves until the holiday shopping season. Which means Intel will be relying on their 14nm technology and resulting products for the next 12 to 15 months, which is going to make it harder to entice already fickle consumers into upgrading.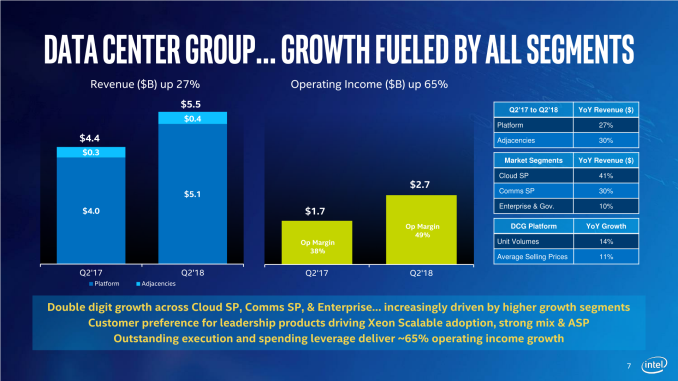 The news is of course happier with Intel's other business, all of which have grown at a much greater rate. Intel continues to sell Xeon processors to server vendors and cloud server providers at a good clip, with revenues there improving by 27% year-over-year. And yet even with that growth, Intel actually missed analyst expectations by 2%, indicating just how hot this business segment really is: there's clearly still very high demand for server processors. Going forward however, Intel is going to be facing off with AMD and EPYC, which is finally finding its footing. So it will take a lot of work to sustain this growth, especially as according to Intel's own accidentally published roadmaps, the company won't have 10nm-class Xeons read until 2020, which means Intel will likely be playing defense against AMD starting in 2019.
The rest of the "data-centric" business is a similar upbeat story. FPGA sales are up, non-volatile memory sales are up, and even IoT sales are up. The reasons are varied, but overall NAND prices have been good and the drive for neural networking hardware is helping sales on both the FPGA (cloud) and IoT (edge) sides.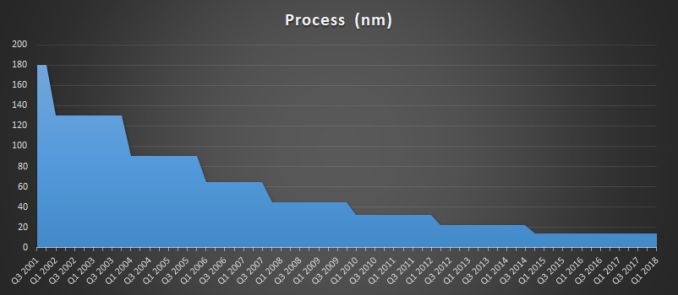 Overall then, based what has now been two strong quarters of growth for Intel, the company is expecting the rest of the year to go similarly. And indeed at this point they're expecting 2018 as a whole to be their third consecutive record year. Which is especially impressive at a time where Intel's core manufacturing advantage has increasingly slipped away. Conversely however, there remains the lingering question of whether Intel can sustain this kind of growth for the next year without their next-generation fabrication technology.
Source: Intel Investor Relations