GIGABYTE: Changing The Branding with B450
GIGABYTE has gone through a massive transformation over the last couple of years in their motherboard division with the introduction of their Aorus gaming brand, and merging the graphics and mainboard elements in the company under one umbrella. With the arrival of the new B450 chipset, GIGABYTE has revealed a number of new boards to supplement this launch. Instead of following the numbered naming structures previously adopted on the Aorus range, such as gaming 3, the new range will be separated into new names which will not identically replace each previous models, but will help to refine each of the new models such as the Xtreme, Master, Ultra, Pro, Elite etc which will hopefully develop each range to feature their own lineage.
This essentially means with the new naming structure, the AB350 Gaming 3's nearest B450 model and replacement being the B450 Aorus Elite, the AB350M Gaming 3 becoming the B450 Aorus M, the AB350N Gaming WIFI's nearest B450 board being the B450I Aorus Pro WIFI. The AB350M DS3H is being directly replaced by the B450M DS3H. The hope with the change of branding is to coordinate their graphics cards and motherboards naming schemes to tie more into each other from a marketing perspective; simpler naming schemes and branding options mean less confusing when selecting suitable and compatible components.
GIGABYTE B450 Aorus M
Starting with the GIGABYTE B450 Aorus M motherboard, this particular model is an entry level microATX form factor board and is primarily targeted towards gamers looking for a smaller form factor, but with the added benefits of supporting 2-way AMD CrossFire multi-graphics card configurations. The B450 Aorus M could easily be considered a budget focused board considering GIGABYTE's choice of controllers which includes the Realtek ALC892 audio codec which supports 7.1 channel audio and networking which on this board is controlled by a Realtek GbE LAN chip.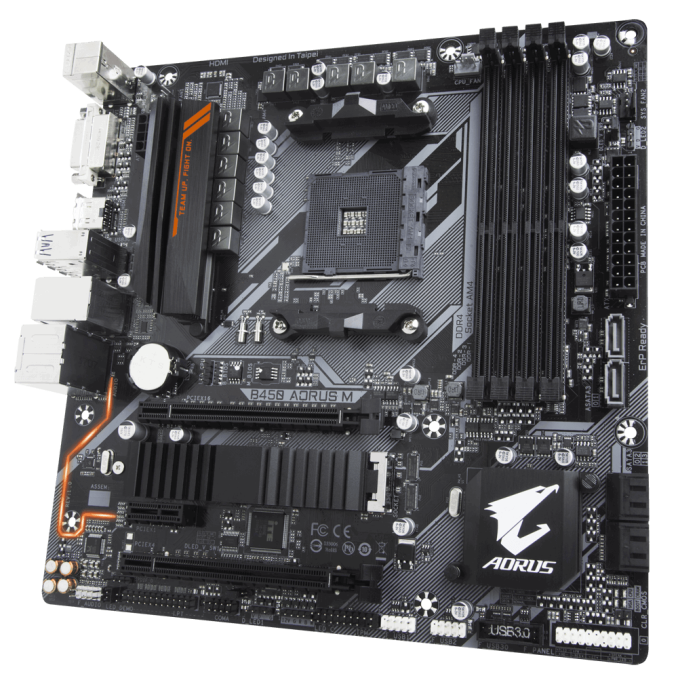 Looking at the B450 Aorus M closely, the board aesthetics follow consistently throughout the rest of GIGABYTE's B450 Aorus range with the biggest differences being form factor and controller selection. The B450 Aorus M features a single PCIe 3.0 x16 full-length slot with a secondary PCIe 2.0 x4 full-length slot giving users the option to run two AMD cards in CrossFire; due to the lack of a PLX chip and with bifuration constraints on the B450 chipset (SLI requires x8 to operate effectively), NVIDIA SLI isn't supported.
Storage wise, the B450 Aorus M features six SATA 6Gb/s ports with support for RAID 0, 1 and 10 arrays. Sandwiched in between the two full-length PCIe 3.0 slots, is a single PCIe 3.0 x4 M.2 slot with support for both SATA and PCIe drives up to a size of M key 22110 (22 x 110 mm). The M.2 slot also exhibits a thermal guard designed to dissipate heat from an installed M.2 drive which can get rather hot during large file transfers.
The board has four memory slots with support for DDR4-3200 out of the box, with a maximum supported capacity of 64 GB overall. Support is available for both non-ECC and ECC Un-buffered memory modules and as with every B350, B450, X370 and X470 consumer level motherboard, DDR4 with XMP 2.0 memory profiles are supported.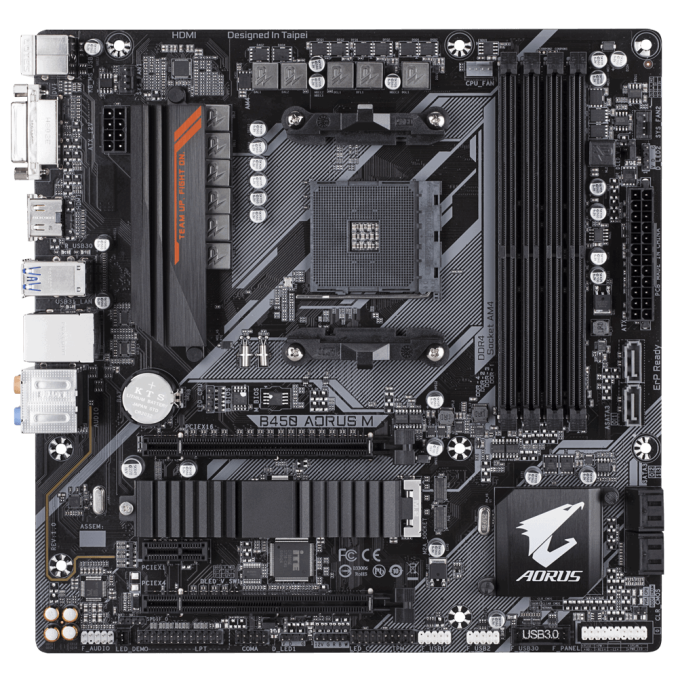 The B450 Aorus M has a single 24-pin ATX power connector to provide power to the motherboard, with an 8-pin ATX 12 V power connector delivering power directly to the CPU. Looking at the power delivery, this model looks to have an multi-phase hybrid digital power delivery which on paper is more than capable of supporting AMD's top Ryzen 2000 series processor, the Ryzen 7 2700X with an overclock. The power delivery features a single heatsink the closest section to the rear panel, but the top section of phases and VRMs are laid bare.
Dotted around the board are multiple connections including three 4-pin fan headers with one being specifically for the CPU fan and the remaining two being designated as system fan headers. RGB backlighting is supported through a single RGBW LED strip header. The B450 Aorus M lacks an internal clear CMOS button, instead, GIGABYTE has opted towards a jumper. This board also makes use of DualBIOS through two 128 Mbit flash chips which are considered a premium feature and one GIGABYTE likes to implement on a lot of their mid-high range boards.

On the rear panel, there is a variety of connections available with APUs getting some love thanks to the pairing of video outputs; a single DVI-D port and a single HDMI port. In addition to the video outputs, the B450 Aorus M has two USB 3.1 10Gbps Type-A ports, four USB 3.1 5Gbps Type-A ports and two USB 2.0 ports. A further two USB 3.1 5Gbps and four USB 2.0 ports can be made available through the use of the included internal headers. A single PS/2 keyboard and mouse combo port is present with a single LAN port controlled by a Realtek GbE networking chip, with six audio jacks being powered by a Realtek ALC892 audio codec; the codec and capacitors feature PCB separation which is illuminated.
The GIGABYTE B450 Aorus M is aimed at entry level gamers with a launch day price of $84.99 looking for an affordable microATX form factor motherboard with plenty of mid-range features but isn't looking to spend extra budget on premium controllers and general marketing fluff. The B450 Aorus M on paper makes a good option for users looking at APUs.
GIGABYTE B450 Aorus Elite
Although we currently haven't received any images and none are currently floating around, little is known about the aesthetics of the B450 Aorus Elite, but we do have a basic list of specifications from GIGABYTE about what can be expected. The B450 Aorus Elite sits as a pure gaming focused offering low specs than the B450 Aorus Pro/Pro WIFI models, but while still conforming to the ATX form factor.
The B450 Aorus Elite is advertised as having the same hybrid digital power delivery as the Aorus M with a single PCIe 3.0 x16 full-length lot, as well as a secondary full-length PCIe 2.0 x4 slot; in addition to these is a pair of PCIe 2.0 x1 slots. GIGABYTE state the board to have two M.2 slots with one featuring an M.2 heatsink, but there's no indication of how many SATA ports are present. The board is touted to have a GIGABYTE Gaming LAN controller, but one would expect a Realtek Gigabit networking chip to be used, or an Intel 211AT Gigabit controller like the B450 Aorus Pro.
The same can be said about the audio as GIGABYTE has advertised the B450 Aorus Elite to have 8-channel HD audio, which is most likely going to come from a Realtek ALC codec of some kind. Everything is currently pure speculation, but hopefully, we will have more on the B450 Aorus Elite when more details are announced.