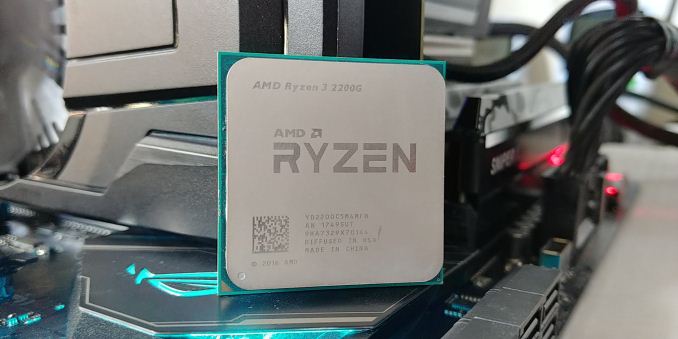 One of the last poignant questions from our previous Ryzen APU coverage is the way that integrated graphics scales with overclocking. As these low-end Ryzen APUs are all about gaming on a budget, our previous looks into core frequency and memory scaling lead naturally into examining how well the graphics overclocks and what extra performance can be had with a light touch of BIOS settings. We pushed both of our APUs to 1600 MHz on the graphics, representing a +45% overclock, which translates into some interesting results.
Recommended Reading on AMD Ryzen APUs
2400G Review
2200G Review
Overclocking
Delidding
Core Scaling
Memory Scaling
Graphics Scaling
Best CPUs
Ryzen 2000 Series APUs: Going For Gaming
The pairing of AMD's high-performance Zen compute cores and Vega graphics into a tidy little package was a resuscitation for integrated graphics, making the low-end desktop market a lot more interesting, as our Ryzen 5 2400G and Ryzen 3 2200G review concluded. In order to increase performance for gaming, there were three potential avenues to look into. The first one led to our analysis into how memory frequency scales with AMD's APUs, based on the relationship between memory performance and gaming, showed that memory can have a positive impact on performance. The second was our Ryzen 5 2400G and Ryzen 3 2200G core frequency scaling article, which showed that increasing the CPU core speed didn't have the effect on gaming performance one would potentially hope to find. The last of the set is overclocking the integrated graphics frequency, which often leads to a direct increase in frame rates.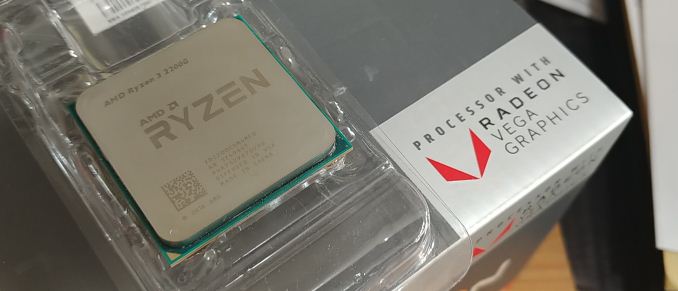 The interesting thing to take from our Ryzen 2000 series APU overclocking guide was that the performance increase was easy to spot when every component on the amalgamated Zen and Vega package plus memory was pushed. The biggest take from our Ryzen APU memory scaling was that the Infinity Fabric interconnect did improve performance from memory in gaming, more so than pure CPU core frequency in certain cases. It was also noted that overclocking everything at once was more difficult than increasing each part independently - what was a good individual overclock, was not always possible when the CPU, memory, and graphics were overclocked together.
Focusing specifically on the intergrated graphics for this article, the primary aim is to ascertain whether or not overclocking the Vega cores on their own yields a big enough benefit in our game testing suite to make it worthwhile. As long as the graphics can continually be fed from the memory and infinity fabric, we should see a good linear increase, especially when the GPU is the bottleneck, however the resolutions aimed at these GPUs might throw interesting features into the mix.
In this review we will recover overclocking the integrated graphics, and take each APU from its stock graphics frequency up to the highest overclock we could achieve, in 50 MHz steps. The results, are interesting.
Test Bed and Hardware
As per our testing policy, we take a premium category motherboard suitable for the socket and equip the system with a suitable amount of memory. With this test setup, we are using the BIOS to set the integrated graphics frequency using the provided straps on the MSI B350I Pro AC motherboard. The memory is set to the maximum supported official speed. The CPU core frequency on both the Ryzen 5 2400G and Ryzen 3 2200G was left at their respective default settings.
We took our previous gaming suite for this comparison. It's a little dated, but it still checks out. We will be using newer games in future analysis pieces.
Titles Tested
Game
Genre
Release Date
API
IGP
Settings
Shadow of Mordor
Action / RPG
Sep
2014
DX11
1080p
Medium
F1 2017
Racing
Aug
2017
DX11
1080p
Medium
Civilization VI
RTS
Oct
2016
DX12
1080p
Low
Total War: WARHAMMER 2
RTS
Sept
2017
DX11
1080p
Medium
Ashes of the Singularity
RTS
Mar
2016
DX12
1080p
Standard
Rise of The Tomb Raider
Action
Nov
2015
DX12
1080p
Medium
AMD's APU Stack
Since our last big coverage of AMD's Ryzen APUs, it was announced that several new parts will be coming to the market under the 'Athlon' brand. These will be much cheaper parts, starting at $55, and offering fewer cores and fewer Vega compute units for that market.
AMD's APU Stack
AnandTech
Zen
Cores
w/HT
Base
Freq
Turbo
Freq
Vega
CUs
TDP
MSRP
Ryzen 5 2400G
Zen
4 / 8
3600
3900
11
65W
$169
Ryzen 3 2200G
Zen
4 / 4
3500
3700
8
65W
$99
Athlon 240GE
Details to be disclosed in Q4
Athlon 220GE
Details to be disclosed in Q4
Athlon 200GE
Zen
2 / 4
3200
-
3
35W
$55
* 2400GE and 2200GE are 'released' but not at retail
We currently have the 200GE in for a future review, but everything in this article should apply to this APU as well.
Pages In This Review
AMD Ryzen 2000 Series: Going For Gaming
Overclocking the Integrated Graphics: How To
AMD Ryzen 5 2400G: Gaming Tests (1)
AMD Ryzen 5 2400G: Gaming Tests (2)
AMD Ryzen 3 2200G: Gaming Tests (1)
AMD Ryzen 3 2200G: Gaming Tests (2)
Overall Analysis