CPU and Motherboard Recommendations
CPU: AMD Athlon XP 2800+ 333MHz FSB (512K L2 cache) Barton
Motherboard: ABIT AN7 (nForce2 Ultra 400)
Price: CPU - $120 shipped (retail heatsink and fan). Motherboard - $104 shipped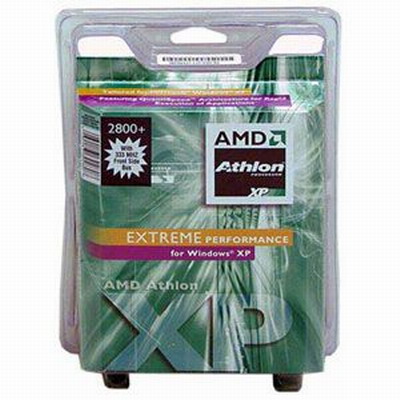 AMD's Athlon XP 2800+ gets the nod this week for its, you guessed it, incredible bang for the buck. An Athlon XP 2800+ Barton running at 333MHz FSB goes for just $120 shipped online, and that includes an AMD approved HSF (heatsink and fan). $120 for the performance that you get with a 2800+ Barton is an extremely attractive deal, no ifs, ands, or buts about it.
Over the last few weeks, Athlon 64 processors have dropped into the mid-range user's price range. The Athlon 64 2800+ running at 1.8GHz is the lowest priced Athlon 64 currently available, at $173 shipped from many popular online vendors. However, the Athlon 64 2800+ comes with only 512K L2 cache instead of the standard 1MB L2 cache with which the vast majority of Athlon 64 processors are shipping, and the $173 price tag is OEM, meaning you have to buy your own cooling (an extra $20-$25). So really, the lowest priced Athlon 64 is still going to cost near $200. While still an attractive buy due to the Athlon 64's excellent gaming performance and 64-bit capability, Athlon XP and Pentium 4 processors still seem to be the best mid-range buy at this point. Though, we may eat our words if 64-bit programs and general 64-bit support come sooner rather than later. That remains to be seen.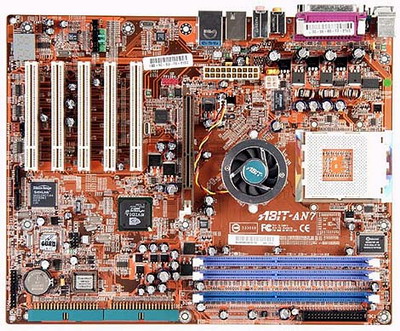 ABIT has done a great job with their nForce2 Ultra 400 series of motherboards, even if their relationship with NVIDIA can be somewhat tenuous at times. The AN7 comes with great features like SATA RAID, rear SPDIF, and room for 3 IEEE1394 FireWire ports. In addition, you get the benefit of the best performance possible from any Athlon XP chipset available in the NVIDIA nForce2 Ultra 400. Overall, there are very few things that this board lacks. However, one thing it does lack is IDE RAID, which the Gigabyte 7N400 Pro2 offers, in addition to everything else offered by the ABIT AN7. However, we should note that the 7N400 Pro2 doesn't come with the MCP-T South Bridge, which offers superior sound quality if you're using speakers with a receiver and optical out. This is why we ended up choosing the AN7, as users get the MCP-T South Bridge, which in all likelihood is going to be much more useful for everyday tasks than the IDE RAID on the 7N400 Pro2. Both these motherboards cost just about the same amount, so the choice is yours if you'd rather have better sound or IDE RAID.
You may also want to take note that the ABIT NF7-S Rev.2 that we've talked about here extensively is virtually the same motherboard as the AN7. The primary difference is the Guru overclocking technology onboard the AN7 and a different BIOS to support that technology. Essentially, the AN7 and NF7-S Rev.2 are one in the same motherboard.
Listed below is part of our RealTime pricing engine, which lists the lowest prices available on the AMD CPUs and motherboards from many different reputable vendors:
If you cannot find the lowest prices on the products that we've recommended on this page, it's because we don't list some of them in our RealTime pricing engine. Until we do, we suggest that you do an independent search online at the various vendors' web sites. Just pick and choose where you want to buy your products by looking for a vendor located under the "Vendor" heading.