Battery Life
The OnePlus 6 contains a 3300mAh / 12.7Wh battery. In general there's nothing pointing out to expect bad battery life out of the OnePlus 6 as both the SoC and screen should be quite efficient. The most comparable phone would the Galaxy S9+ in the results, as both have the same SoC and both employ AMOLED screens of similar sizes, with the OP6 having a 6% smaller battery capacity.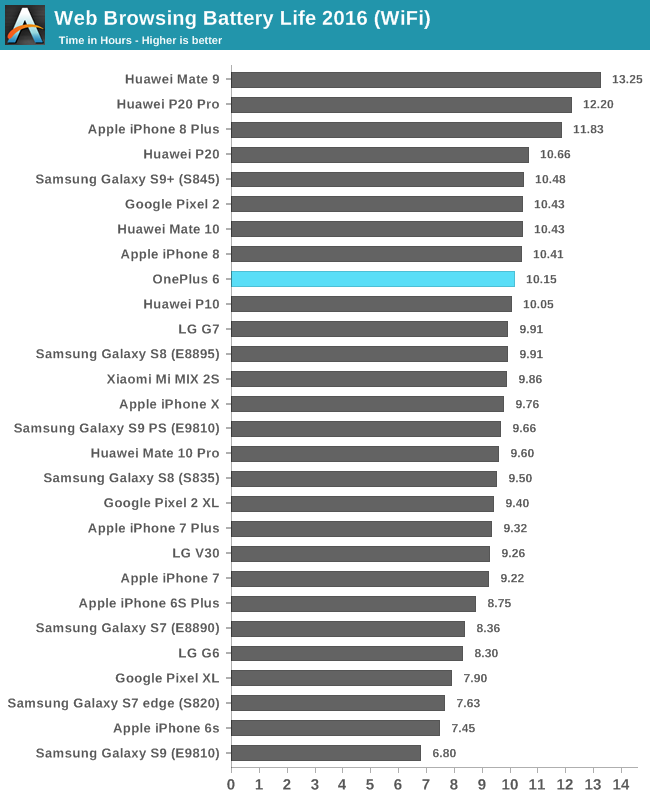 In the web browsing test the OP6 ends up pretty much exactly where we projected it, at slightly above 10 hours of runtime the phone lands on the better side of battery life results for this generation. Only Huawei's phones with larger batteries and phones with more efficient screens end up higher. Overall a very respectable result for the OnePlus 6.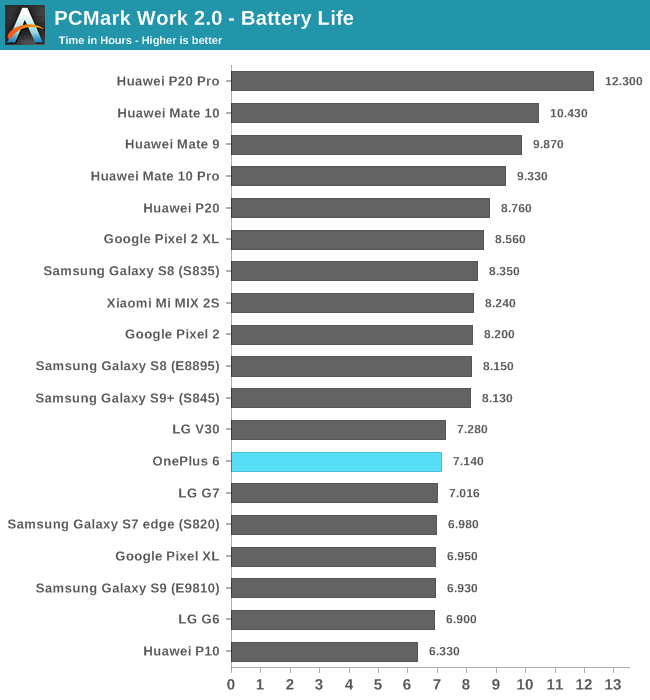 In the PCMark test, the OnePlus 6 ends up below the S9+ - here the OnePlus 6 essentially achieving the highest scores of any Android device bar the MIX 2S also have to be accounted in the result. It's interesting to see the OP6 beating the MIX 2S in the web browsing test yet losing to it in PCMark – the discrepancy could come due to different dynamic brightness behaviours between the phones and we can't maintain a steady backlight level throughout the totality of the scenarios, something that's of particular concern in the LG G7 which we'll be reviewing in the very near future.
Overall battery life of the OnePlus 6 is excellent – of course there's devices beating it, and most of the time this can be attributed to their higher battery capacities. Active heavy usage of the phone will naturally result in more battery drainage, but that's also because the device is able to sustain also very high performance in a variety of use-cases.