Overclocking Performance: GPU Tests
In the third page of the review we showed our overclocking results, with our CPU managing to hit 5.1 GHz stable with a sizeable increase in voltage. 5.1 GHz was also high in temperatures, so for our benchmark suite, we dialed back to 5.0 GHz and run a number of our tests again at this fast speed. We also ran some benchmarks at stock frequency but with increased DRAM frequencies. We initially ran the DRAM in our ASRock provided system at DDR4-3466, slightly overclocked beyond its DDR4-3200 sticker value.
For this page (and the next), we'll show the overclocked results of the Core i7-8086K using the fast memory kits as well as the 5.0 GHz overclocked setting (at base memory). The Core i7-8700K numbers are also included for reference.
Civilization 6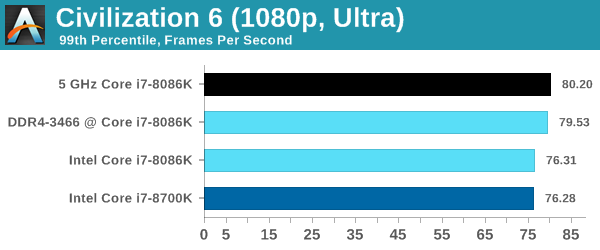 Shadow of Mordor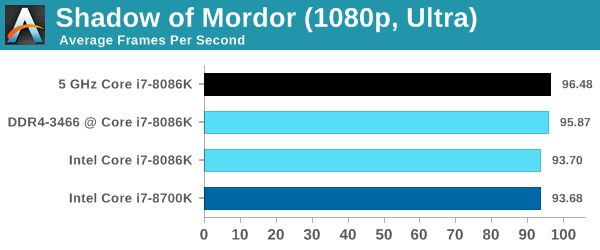 Rise of the Tomb Raider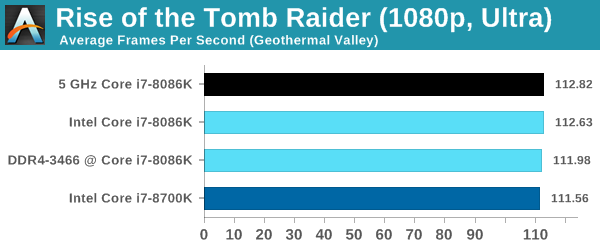 Grand Theft Auto V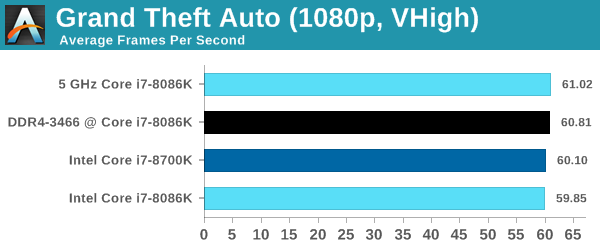 There's not much to say with our GPU testing since we ended up being GPU-bound most of the time against the Radeon RX 580. In a more CPU-limited scenario overclocking should help, but these aren't it. Though at some point I'd like to dig into Civilization 6 turn times with the 8086K, as that stands to prove more impactful.