Design
The Guardian was designed with a little of everything in mind. It comes with modifications, like colored lighting and side panel window, but also includes functionality features like an almost completely screw-less/tool-less design using sliding devices for drive mountings and add-on cards.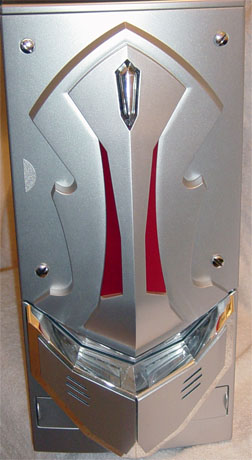 Click to enlarge.
The front bezel brings back memories of the old Transformers cartoons. The face looks robotic and features a blue animated LED. The light serves as the power LED for the case, but connects directly to the power supply by a 4-pin adapter.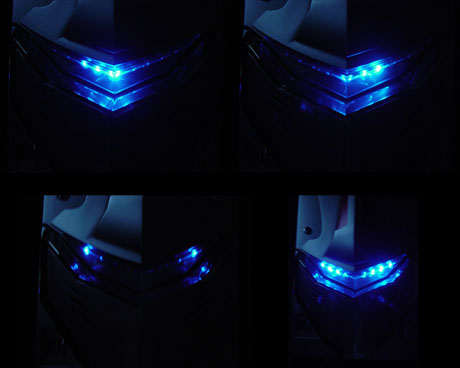 Click to enlarge.
Fading LED (in and out)
(right click to save file)
Fading LED (left to right)
(right click to save file)
At the lower part of the face are two sliding pieces, which reveal two USB ports (left) as well as Audio ports (right) for use with headphones or a microphone.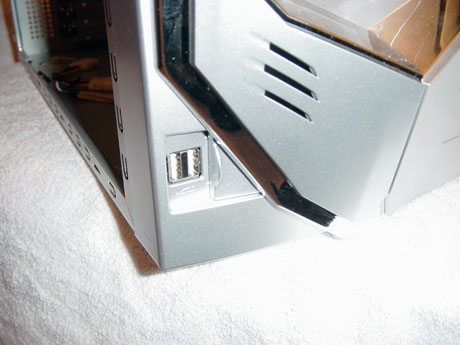 Click to enlarge.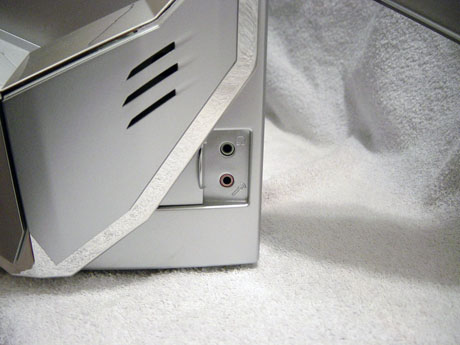 Click to enlarge.
Upon opening the door, the five 5-1/4" bays as well as two out of the five of the 3-1/2" drive bays come into view. Five 5-1/4" drive bays may seem too much for typical uses, since many system rigs consist of, at most, 2 optical drives with the rest being hard drives.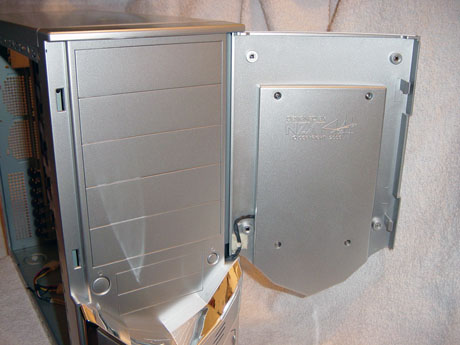 Click to enlarge.
The Power and Reset buttons, which sit on either side of the first 3-1/2" drive bay, are well constructed and are flush to protect from accidental touches. Sitting behind the door instead of exposed when the door is closed also helps to protect from accidental shutdowns.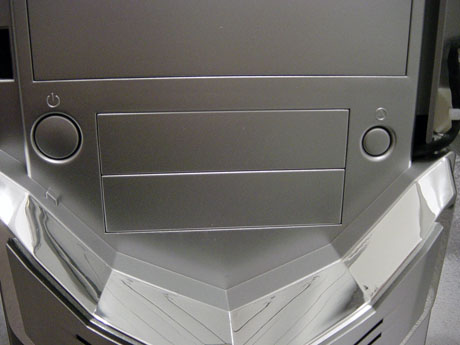 Click to enlarge.
The Guardian comes in a variety of colors, including orange, yellow, green, blue, black, and this silver that we reviewed. The paint is of high quality and adds to the overall value of the chassis.
The left side panel has an artistic design that goes well with the case's façade. The machined design looks like a horizontal shield with a fan opening towards the back. The window is a piece of plastic mounted to the panel on the inside by the 18 black snap-on clips. The panel is easily removable by pulling the handle-like formation at the back and is held in place by thumbscrews, keeping the tool-less design going inside and out. The right side panel has vent holes whose purpose might be to allow for the exhaust of warm air.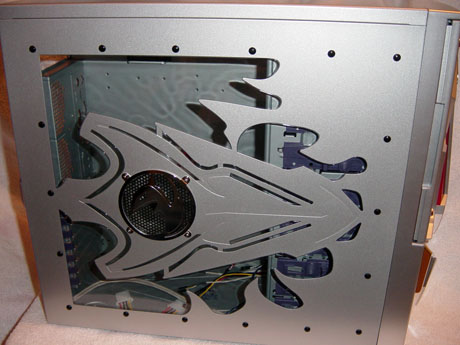 Click to enlarge.