nForce3-250Gb: IDE and RAID Benchmarks
Disk Performance Testing can provide extremely variable results, even when test conditions are well-controlled. For that reason, we were skeptical to drop IDE and RAID tests into our review of the nForce3-250Gb. However, it was certain, given nVidia's past lackluster drive performance, that HD tests should be included in nF3-250 benchmarking.
Some of the most commonly used benchmarks for Hard Drive Testing are HDtach 2.7, PCMark 2004 HD Tests and SiSoft Sandra 2004 File System Benchmark. We have included all 3 test results here for both IDE and nVidia RAID. Tests in both cases were run on Hard Drives about 20% full, with the benchmark run from the IDE hard drive. The IDE hard drive was a 7200 RPM 80GB drive with a 50GB C: boot partition, and tests were run on C:. The RAID array was 2 Western Digital Raptor 10,000 RPM 36.7GB hard drives. Both the IDE and RAID were driven by nVidia IDE drivers in nForce Platform Driver 4.04.
Sandra 2004 shows a 38% increase in throughput with nVidia 10,000RPM RAID compared to a single 10,000RPM SATA drive. PCMark 2004 HDD Test Suite shows a smaller increase in performance with RAID, around 27%. Benchmarks for a single 7200RPM IDE are also included for comparison.
Perhaps even more important for critics of past nVidia IDE implementations is that nVidia and Intel throughput in IDE is now about the same with the nForce3-250Gb. Intel SATA RAID is a bit faster in Sandra, but the difference in measured benchmark performance was very small, at about 6%.
For those who hate the numbers from benchmarks like Sandra and PCMark, the HDTach screen captures provide a very interesting snapshot. The two graphs below, with blue title bars, represent nVidia's nForce3-250Gb drive controller performance.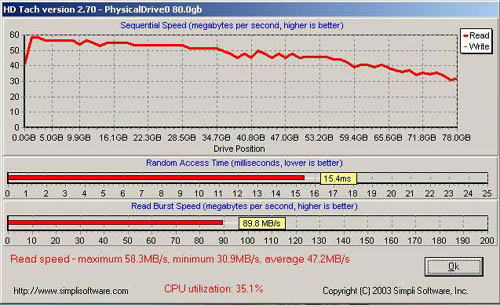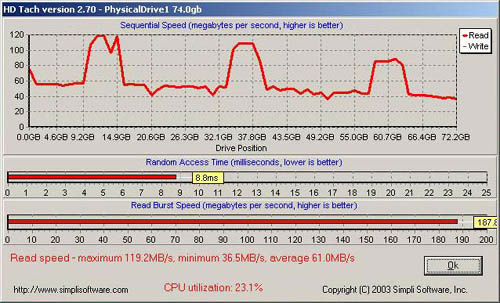 We also tested the Intel RAID controller with another pair of 10,000 rpm Western Digital Raptors. Those results are shown with the green title bar below.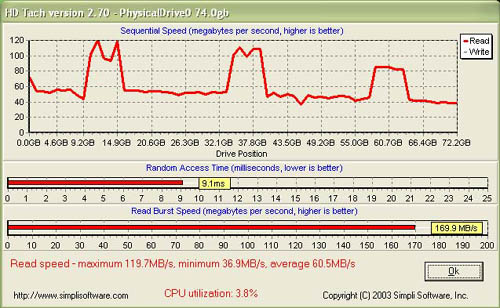 As you can see, performance of the Intel SATA RAID and nVidia SATA RAID are virtually identical.
The biggest surprise in the HD Tach benchmarks was the fact that SATA RAID requires half the overhead of basic IDE in nVidia's implementation. However, the CPU utilization, while greatly improved over numbers we have seen for nVidia in the past, is still very high compared to Intel's SATA RAID. Part of this has to do with the architectural differences between Athlon 64 and Intel processors and chipsets, but there is still a large difference in CPU overhead between the nVidia and Intel RAID solutions. Frankly, the real performance difference is likely to be nil on the typical desktop, but this will matter to some.