nForce3-250Gb Reference Board: Basic Features
 Motherboard Specifications
CPU Interface
Socket 754 Athlon 64
Chipset
nForce3-250GB single-chip
Bus Speeds
200MHz to 250MHz (in 1MHz increments)
PCI/AGP Speeds
Synchronous or Asynchronous PCI/AGP
Fixed at 66/33 to 100/50 (in 1MHz increments)
Core Voltage
None available on Reference Board
HyperTransport Frequency
1000MHz (1GHz)
HyperTransport Width
16-bit Upstream and 16-bit Downstream
DRAM Voltage
None available on Reference Board
AGP Voltage
None available on Reference Board
HyperTransport Voltage
None available on Reference Board
Memory Slots
Two 184-pin DDR DIMM Slots
Single-Channel Configuration
Regular Unbuffered Memory to 2GB Total
Expansion Slots
1 AGP 8X Slot
6 PCI Slots (up to 6 may be available)
Onboard Serial ATA RAID
nF3-250GB (4 Drives, 0, 1, 0+1)
Onboard IDE/IDE RAID
Two Standard ATA133/100/66 (4 drives)
Drives may be configured as IDE RAID
Onboard USB 2.0/IEEE-1394
8 USB 2.0 ports supported by nF3-250
No Firewire - Must use additional chip
Onboard LAN
1Gigabit Ethernet on-chip by nF3-250GB
Onboard Audio
AC '97 2.1 6-Channel supported by nF3-250
BIOS Revision
Reference Board 1/31/2004
Reference Boards are normally quite different from the production boards that will later appear with the Reference Board chipset. While certain component arrangements may be retained from a Reference Board, the board is designed for testing and qualification, and generally not for production. Normally, they are also designed to be tested on the bench, out of any case.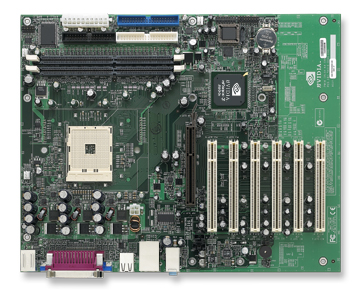 Many, including AnandTech, complained that nForce3-150 was simply out-of-date when it came to integrated features. nForce3-250 definitely does not suffer from that problem. The nF3-250 feature set is as up-to-date as the 150 is not. You could still build an extremely capable system with the nF3-150, but many of the features had to be provided with add-on chips, which increased production costs. nForce3-250 moves from deficient to feature-rich, and competes very well with the best solutions from VIA and SiS. Standard features include 4-drive SATA Raid, 8 USB 2.0/1.1 ports, ATA133 IDE/RAID, AC '97 2.1 6.1 channel audio, and on-chip firewall. The enthusiast version adds on-chip high-speed Gigabit LAN, similar in concept to Intel's CSA. This moves LAN to the chip itself and away from the PCI bus bottleneck.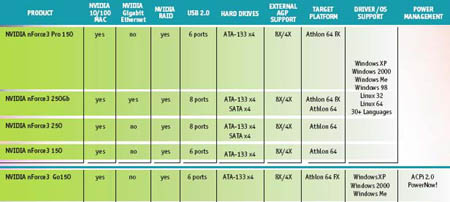 Click to enlarge.
Fully decked out, nForce3-250 provides features available nowhere else, like on-chip 1Gb Ethernet, on-chip firewall, 4-drive SATA RAID, and
both
SATA and IDE RAID that can be combined.