Gaming Performance - Grand Theft Auto V
GTA doesn't provide graphical presets, but opens up the options to users and extends the boundaries by pushing even the hardest systems to the limit using Rockstar's Advanced Game Engine under DirectX 11. Whether the user is flying high in the mountains with long draw distances or dealing with assorted trash in the city, when cranked up to maximum it creates stunning visuals but hard work for both the CPU and the GPU.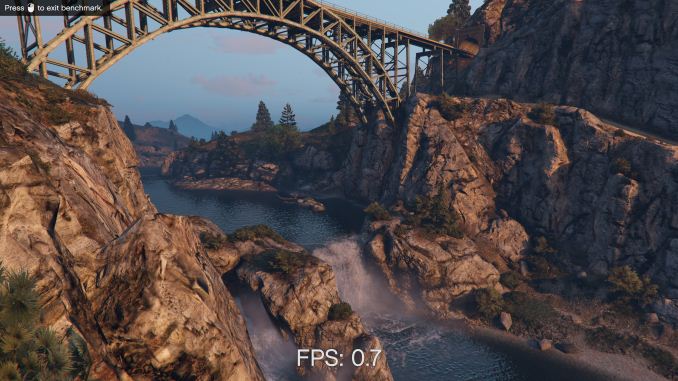 For our test we have scripted a version of the in-game benchmark. The in-game benchmark consists of five scenarios: four short panning shots with varying lighting and weather effects, and a fifth action sequence that lasts around 90 seconds. We use only the final part of the benchmark, which combines a flight scene in a jet followed by an inner city drive-by through several intersections followed by ramming a tanker that explodes, causing other cars to explode as well. This is a mix of distance rendering followed by a detailed near-rendering action sequence.
We processed the benchmark across various resolutions and quality settings. The results are presented below. Further down, we have the various differing aspects in the settings for each set.
Grand Theft Auto V Performance
In almost all cases, the trend is as expected. In the 1080p case with low quality settings, the performance seems to be CPU-limited, allowing the Hades Canyon NUC to match the more powerful systems. The game seems to be friendly to the Hades Canyon NUC only in the low quality settings.
Grand Theft Auto V - Evaluated Quality Settings
Aspect
720p Max
1080p Low
1080p Max
1440p VHigh
4K Low
4K High
Screen Resolution
1280 x 720
1920 x 1080
1920 x 1080
2560 x 1440
3840 x 2160
3840 x 2160
Reflection MSAA
8
0
4
4
0
8
MSAA
8
0
4
4
0
8
Tessellation
3
0
3
3
0
3
Shadow Quality
3
1
3
3
1
3
Reflection Quality
3
0
3
3
0
3
SSAO
2
0
2
2
0
2
Anisotropic Filtering
16
0
16
16
0
16
Texture Quality
2
0
2
2
0
2
Particle Quality
2
0
2
2
0
2
Water Quality
2
0
2
2
0
2
Grass Quality
3
0
3
2
0
3
Shader Quality
2
0
2
2
0
2
Soft Shadows
3
0
3
3
0
3
Ultra & Long Shadows
Y
N
Y
Y
N
Y
FXAA
Y
N
Y
Y
N
Y
PostFX
3
0
3
3
0
3
DoF
Y
N
Y
Y
N
Y
HdStreamingInFlight
Y
N
Y
Y
N
Y
MaxLodScale
1
0
1
0
0
1