Gaming Performance - Civilization VI
The Civilization series of turn-based strategy games is very popular. For such games, the frame rate is not necessarily an important factor in the gaming experience. However, with Civilization VI, Firaxis has cranked up the visual fidelity to make the game more attractive. As a result, the game can be taxing on the GPU as well as the CPU, particularly in the DirectX 12 mode.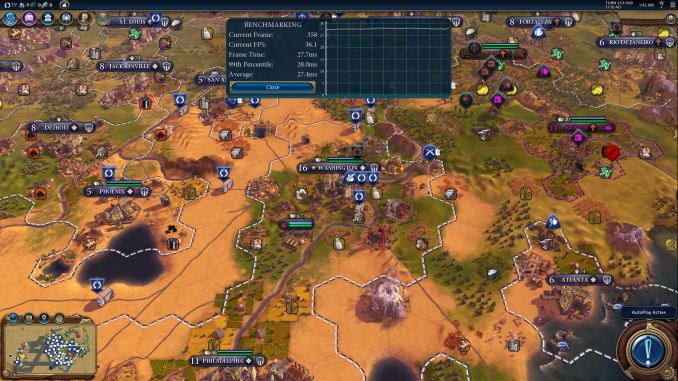 As part of our gaming system reviews, we run the built-in benchmark at two different resolutions (1080p and 2160p), and with two different quality settings (medium and ultra).
Civilization VI (DirectX 12) Performance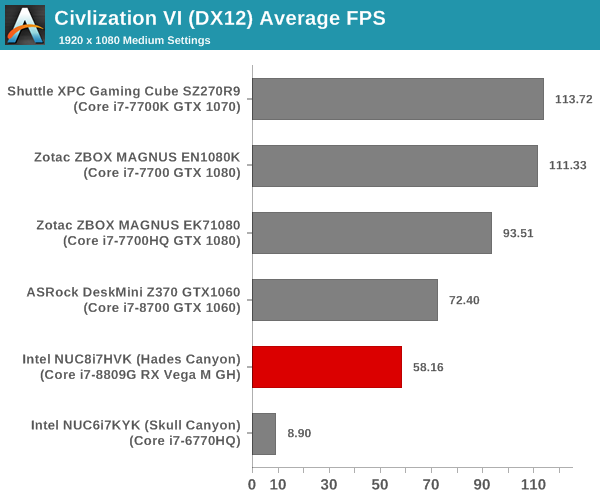 The relative performance numbers across all tested resolutions and quality settings are as expected, with the Hades Canyon NUC managing to comfortably be better than the Skull Canyon NUC with its integrated graphics, but, unable to match the systems equipped with GTX 1060 and better GPUs. That said, users should be able to comfortably play the game at 1080p with medium quality settings in the Hades Canyon NUC.
The differences between the two quality settings are summarized in the table below.
Civilization VI (DX12) - Evaluated Quality Settings
Aspect
Medium
Ultra
MSAA Sample Count
4x
8x
Shadow Map Resolution
4096 x 4096
8192 x 8192
Ambient Occlusion Depth Map Resolution
1024 x 1024
2048 x 2048
Ambient Occlusion Render Texture Resolution
1024 x 1024
2048 x 2048
Terrain Synthesis Detail Level
Low Resolution
Full Resolution
Terrain Quality Level
3
4
Low Quality Terrain and Water Shaders
Yes
No
Screen-Space Reflection Passes
2
4
Video Effects Detail Level
Low
High
Clutter Detail Level
Not a Lot
A Lot
Ambient Occlusion
Disabled
Enabled
Leader Rendering Quality Level
1
3
Motion Blur for Leaders
Disabled
Enabled