Concluding Remarks
The preceding pages presented the performance of the NUC8i7HVK (Hades Canyon) NUC in select modern games. The new games are part of our updated gaming benchmarks suite that we plan to use for evaluation of mini-PCs for the next couple of years. We also presented results from the processing of the benchmarks on some modern small-form factor gaming systems.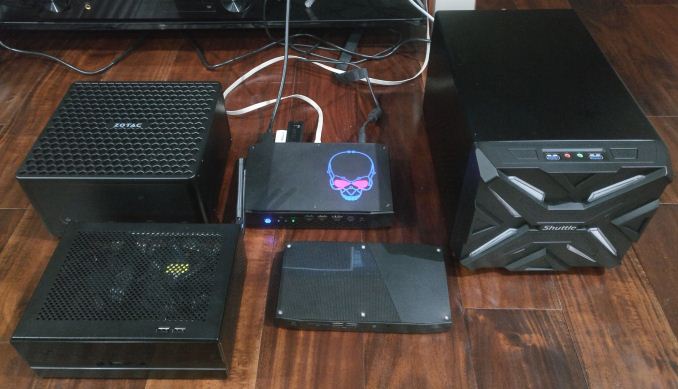 Fundamentally, nothing much changes in terms of our previous conclusions regarding the gaming prowess of the Hades Canyon NUC. It roughly slots in-between the GTX 960 and GTX 980 in graphics performance. In GPU-limited cases, it can barely touch the performance of the GTX 1060. However, in games such as Dota 2 (which are CPU-limited at most resolutions), the extra power budget available helps the Hades Canyon NUC to come out with very good performance numbers.
I do however have to mention my disappointment in Intel and AMD for their poorly thought out (if not bordering on deceptive) naming scheme for the Kaby Lake-G dGPU – the Radeon RX Vega M. As we've since found out and confirmed thanks to telling Linux driver commits, while Intel and AMD are calling this GPU a Vega, it doesn't actually include any of the core features that make up the Vega GPU architecture. Features such as Rapid Packed Math, tiled rasterization, and support for Direct3D feature level 12_1 are all absent from Vega M. The only "Vega" feature is the HBM2 memory controller, which is very important for this product given the integrated nature of Kaby Lake-G, but also not a part of the core GPU architecture. Instead, the heart of Vega M appears to be Polaris, AMD's previous GPU architecture, which itself was a minor update to their 2014 GCN 3 GPU architecture.
Which isn't to say that the Vega M is a bad GPU. The performance we see in all of these benchmarks speaks volumes, and this is by far the most powerful x86 system-on-package processor available today – not to mention it's way faster than Intel's own iGPUs. And we can even understand why Intel and AMD would want to use a Polaris-based design for this product, as the development and integration time for this chip meant that they would want to work with proven hardware first (which is why this is Kaby Lake + Polaris rather than Coffee Lake + Vega). But still, it's an odd scenario when the dGPU being used offers a lesser DirectX feature set than Intel's own iGPU. And at the end of the day, I don't see how calling this a Vega GPU benefitted anyone buying Hades Canyon or Kaby Lake-G in systems today. That said, Intel claims certain performance numbers for Kaby Lake-G, and, our evaluation of the Hades Canyon NUC with real-world gaming benchmarks backs up those claims.