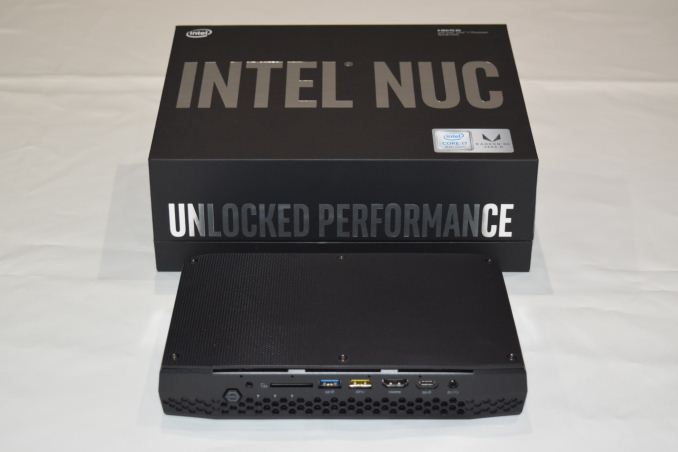 The Intel NUC8i7HVK (Hades Canyon) was reviewed in late March, and emerged as one of the most powerful gaming PCs in its form-factor class. Our conclusion was that the PC offered gaming performance equivalent to that of a system with a GPU between the NVIDIA GTX 960 and GTX 980. We received feedback from our readers on the games used for benchmarking being old, and the compared GPUs being dated. In order to address this concern, we spent the last few weeks working on updating our gaming benchmarks suite for gaming systems / mini-PCs. With the updated suite in hand, we put a number of systems through the paces. This article presents the performance of the Hades Canyon NUC with the latest drivers in recent games. We also pulled in the gaming benchmark numbers from a couple of systems still in our review queue in order to give readers an idea of the performance of the Hades Canon NUC as compared to some of the other contemporary small-form factor gaming machines.
Introduction
The gaming benchmark suite used to evaluate the Hades Canyon NUC in our launch review was dated and quite limited in its scope. Games such as Sleeping Dogs and Bioshock Infinite are no longer actively considered by consumers looking to purchase gaming systems. In addition, our suite did not have any DirectX 12 game. In order to address these issues, we set out to identify some modern games for inclusion in our gaming benchmarks. The intent was to have a mix of games and benchmarks that could serve us well for the next couple of years.
The updated gaming benchmark suite has both synthetic and real-world workloads. Futuremark's synthetic benchmarks give a quick idea of the prowess of the GPU component in a system. We process and present results from all the standard workloads in both 3DMark (v 2.4.4264) and VRMark (v 1.2.1701). Real-world use-cases are represented by six different games:
Civlization VI (DX12)
Dota 2
F1 2017
Grand Theft Auto V
Middle Earth: Shadow of War
Far Cry 5
Most system reviews take a handful of games and process them at one resolution / quality settings for comparison purposes. Recently, we have seen many pre-built systems coming out with varying gaming capabilities. Hence, it has become imperative to give consumers an idea of how a given system performs over a range of resolutions and quality settings for each game. With our updated suite, we are able to address this aspect.
In addition to re-evaluating the Hades Canyon NUC, we also processed the new suite on the Zotac ZBOX MAGNUS EN1080K and the ZBOX MAGNUS EK71080, as well as the Skull Canyon NUC (NUC6i7KYK). We are also pulling in the numbers that were recorded for a couple of upcoming reviews (the ASRock DeskMini Z370 GTX1060, and the Shuttle XPC Gaming Cube SZ270R9). Before looking at the details of the new benchmarks and the numbers obtained, a summary of the specifications of the different systems is presented in the comparison table below.
Comparative PC Configurations
Aspect
Intel NUC8i7HVK (Hades Canyon)
CPU
Intel Core i7-8809G
Intel Core i7-8809G
GPU
Radeon RX Vega M GH Graphics (4 GB HBM2)
Intel UHD Graphics 630
Radeon RX Vega M GH Graphics (4 GB HBM2)
Intel UHD Graphics 630
RAM
Kingston HyperX Impact HX432S20IB2K2/16 DDR4
20-22-22-42 @ 3200 MHz
2x8 GB
Kingston HyperX Impact HX432S20IB2K2/16 DDR4
20-22-22-42 @ 3200 MHz
2x8 GB
Storage
Intel Optane SSD 800p SSDPEK1W120GA
(118 GB; M.2 Type 2280 PCIe 3.0 x2 NVMe; Optane)
Intel SSD 545s SSDSCKKW512G8
(512 GB; M.2 Type 2280 SATA III; Intel 64L 3D TLC)
Intel Optane SSD 800p SSDPEK1W120GA
(118 GB; M.2 Type 2280 PCIe 3.0 x2 NVMe; Optane)
Intel SSD 545s SSDSCKKW512G8
(512 GB; M.2 Type 2280 SATA III; Intel 64L 3D TLC)
Wi-Fi
Intel Dual Band Wireless-AC 8265
(2x2 802.11ac - 866 Mbps)
Intel Dual Band Wireless-AC 8265
(2x2 802.11ac - 866 Mbps)
Price (in USD, when built)
$999 (Barebones)
$1617 (with SSD, and RAM, as configured / No OS)
$999 (Barebones)
$1617 (with SSD, and RAM, as configured / No OS)