Memory Chips: Kingston DDR2 Memory
Another major difference in DDR2 is the use of FBGA (Fine Ball Grid Array) memory chips instead of the current TSOP package.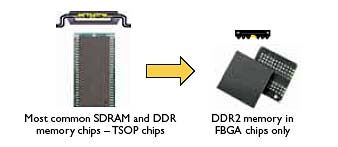 We recently
reviewed Kingmax DDR memory
, which uses BGA memory chips, but every other DDR memory that we have tested uses TSOP chips. FBGA offers the same advantages as BGA with shorter traces/better signal integrity, thinner packaging, and better heat dissipation/cooler operation. FBGA just increases the density of the connections.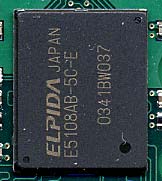 Kingston uses Elpida FBGA chips in their DDR2-533 modules.
Since the same chips can apparently be used in any DDR533 configuration from 256MB to 1GB per DIMM, then pricing and demand will certainly determine what you will see in the market. Kingston Data Sheets state that DIMMs up to 4GB will be available in DDR2. We expect to see 1GB DIMMs rather quickly, but 4GB DIMMs will only come when higher density FBGA chips become available. One of the potential advantages of DDR2 is certainly the greater capacity of DDR2 DIMMs, allowing more memory in fewer DIMM slots.