Basic Features: Kingston DDR2 Memory
The biggest surprise with the new Kingston DDR2 is its introduction as an addition to the Value RAM family.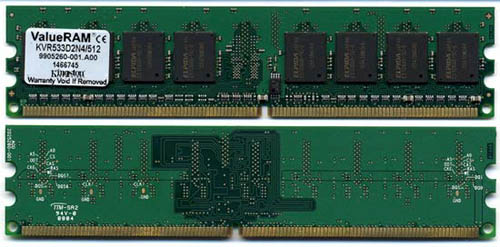 The shipping DDR2 512MB DIMMs are single-sided 533MHz modules. Kingston has also announced 2GB kits (2 x 1GB) at the same timings as the SS 512MB DIMMs. 512MB kits (2 x 256MB), singles of all 3 densities, have also been announced, and DDR400 speed modules were also announced.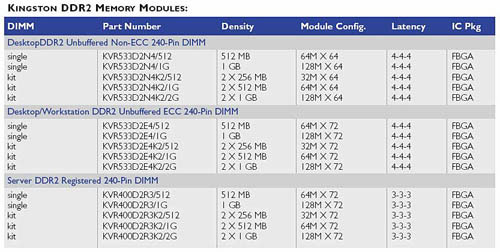 Click to enlarge.
Initially, we will see 1GB (2 x 512MB) DDR2 kits in 533MHz speed. We suspect that market acceptance, pricing, and competition will determine how fast the other densities will appear in the market. The latency and memory timings for the first DDR533 chips is specified as 4-4-4. These look like slow timings for those accustomed to DDR timings, but they are only part of the equation with DDR2. The JEDEC standard for DDR2 is CAS Latencies of 3, 4, and 5. The wider bandwidth and 4-bit prefetch (up from 2-bit in DDR) will improve memory performance. So will the On-Die Termination (ODT) that is used with DDR2 FBGA memory chips; ODT is supposed to reduce signal transmission errors, which improves timing efficiency in DDR2 memory. The point is that while DDR2 is similar to DDR, there are enough differences that memory timings are not directly comparable. Early tests show roughly equivalent performance of DDR2 and DDR with tremendous potential for future memory performance gains. More information on expected performance of DDR2 is available at
AT News Update: DDR2 Memory Performance
.