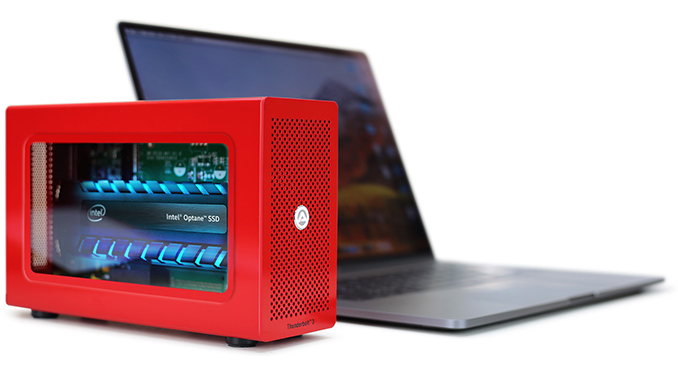 AKiTiO and Intel this week announced plans to release a special product bundle consisting of AKiTiO's Node Lite Thunderbolt 3 box and Intel's Optane 905P SSD. The Node Lite Optane Drive will be the industry's first factory-built external storage solution based on Intel's 3D XPoint memory and will be aimed at content creators with anApple MacBook Pro and other high-end PCs.
The AKiTiO Node Lite Optane Drive will come in an exclusive red aluminum enclosure and will pack Intel's Optane 905P PCIe 3.0 x4 SSD with a 960 GB capacity (or higher, when such drives become available). Since Intel's Optane 905P SSD cards feature LED lighting, the red Node Lite box will have a window to demonstrate the stylish storage device. The Node Lite Optane Drive is targeted at owners of high end notebooks that need about a terabyte of very fast storage and who would like to have it in a red enclosure for all to see.
For performance, we already reported earlier this week that the Intel Optane 905P SSDs will offer up to 2600 MB/s sequential read speed as well as up to 2200 MB/s sequential write speed, whereas its random performance numbers are speced at 575K and 550K for reads and writes, respectively - under Apple's macOS the manufacturers are reporting 2200 MB/s reads and writes. This storage solution will be among the fastest storage options for TB3-enabled computers in terms of random performance and latencies.
Given a very high endurance of 3D XPoint memory, the Node Lite Optane Drive will be offered with a five-year warranty and will be rated for 10 DWPD, a rather massive number for a desktop-class storage device.
As for the price of the new unit, AKiTiO and Intel will not officially publish it before they start taking pre-orders in June. In the meantime, one can make an educated guess based on the fact that the Intel Optane 905P 960 GB carries a $1299 price tag, whereas AKiTiO sells its Node Lite enclosure for $199.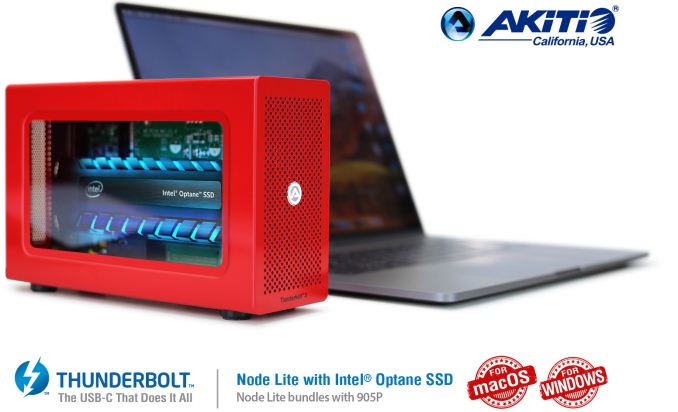 Related Reading
Source: AKiTiO