Design
The TJ03's design differs greatly from the rest of the Temjin line. SilverStone specifies the TJ03 as a "tool-less" chassis, yet the only tool-less aspect about this case is the side panels. Installation for all internal hardware requires the traditional screws used in legacy cases. The Glacier (SST-TJ02) and Gloria (SST-TJ04) models use sliding clips to mount drives in their bays, but like the Temjin (SST-TJ01), the Nimiz (SST-TJ03) requires the provided screws to be used.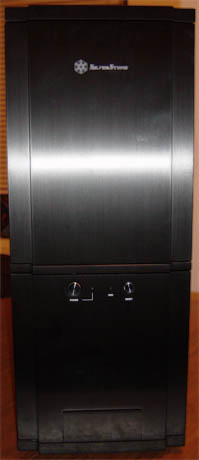 Click to enlarge.
The front bezel consists of two doors that swing open to the right to reveal the six 5-1/4" drive bays and the front fan filter, power and reset button fixtures, and the auxiliary audio/USB/Firewire connectors. Users may find the lack of a 3-1/2" bay opening annoying, since floppy drives and internal Zip drives are still widely used. And since this package does not contain a 5-1/4" to 3-1/2" bay converter, users will have to purchase the part separately from SilverStone's website.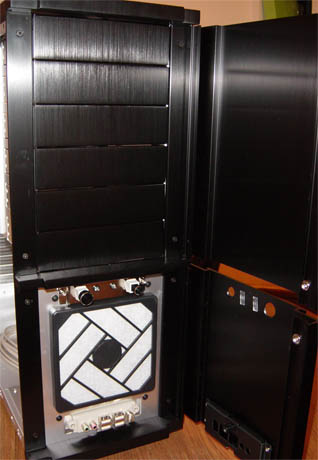 Click to enlarge.
The power and reset buttons are set behind the bottom door along with the power and HDD LEDs. A drawback in the design of these buttons is that they get stuck behind the door when pushed in. While jiggling them to set them free was effective, placing the button fixture on the door itself or creating buttons that went deeper would have eliminated this problem completely.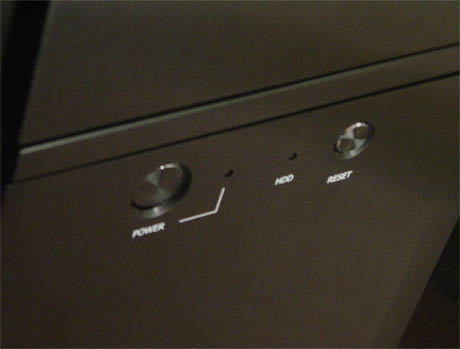 Click to enlarge.
Both the power and HDD LEDs are blue, which go with the all-black exterior finish, to give the Nimiz a sleek, monolithic look.
All of the components on the front panel are connected to the motherboard via 4 bundles of wiring. They are separated by connection type: Audio, USB, and Firewire.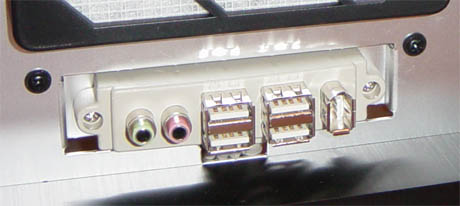 Click to enlarge.