Battery Life - Impressive
Battery life is a fundamental characteristic of a smartphone, and something that Huawei seems to want to pay special attention to due to the CEO's obsession with being personally fed up with smartphones running out of power.
The P20 comes with a 3400mAh battery while the P20 Pro sports a 17.6% larger 4000mAh unit. Both represent an improvement in terms of capacity when compared to the P10 (3200mAh) and the P10 Plus (3750mAh).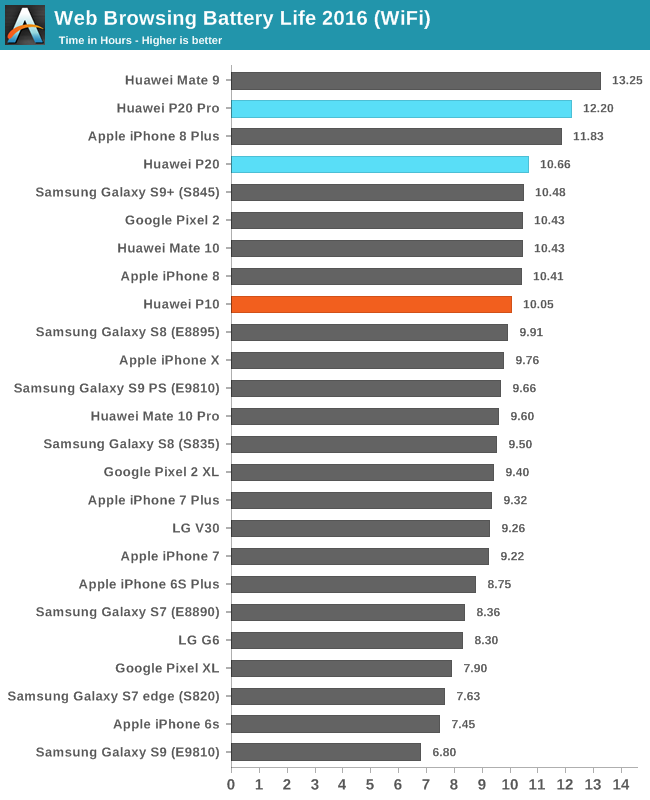 In the web browsing test both P20's perform extremely well, topping the charts. While not quite reaching the Mate 9's figures (due to its very efficient LCD), the P20 Pro outpaces all other modern smartphones that we've tested, coming in at 12.20 hours. The P20 also isn't far behind at 10.66 hours.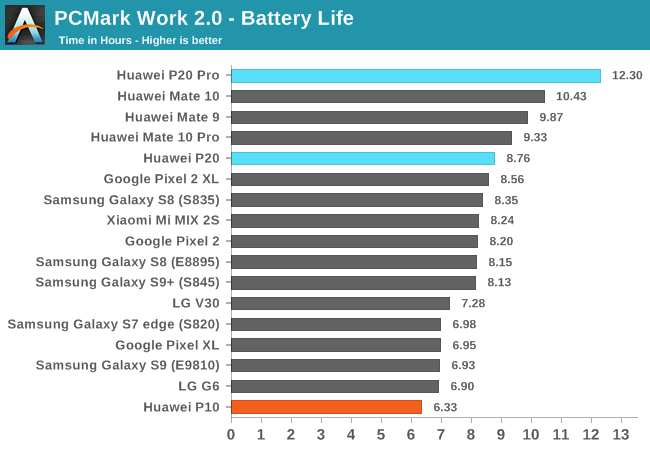 In PCMark, the P20 Pro showcased some record figures coming in at 12.3h, beating all previous flagship devices. The smaller P20 also fares very well – but the LCD screen is holding back the device as PCMark's overall lower APL seems to favour the P20 Pro's OLED display a lot.
This is also an interesting juxtaposition between the P20 Pro and say, the Galaxy S9+ with the Snapdragon 845. Both have similar AMOLED screens and sizes, but the P20 Pro comes in at a 51% longer runtime, even though its battery capacity is only 14% bigger.
Compared to last year's P10 – both P20's mark significant improvements.
In general this perfectly showcases the balance that companies have to make when deciding between performance and battery life. Although the Kirin 970's isn't the greatest performer in 2018, it's able to remain outstandingly efficient. The fact that the P20's have larger batteries while maintaining slim form factors is just a bonus on top what is fundamentally a requirement of having an efficient SoC and device platform.
Over my time with testing the device I did notice a catch in the battery life of the P20s – both seem to have less than impressive idle standby times, however given the overall outstanding on-screen battery results, this should be of no particular concern to everyday users.